Feb - 09
2022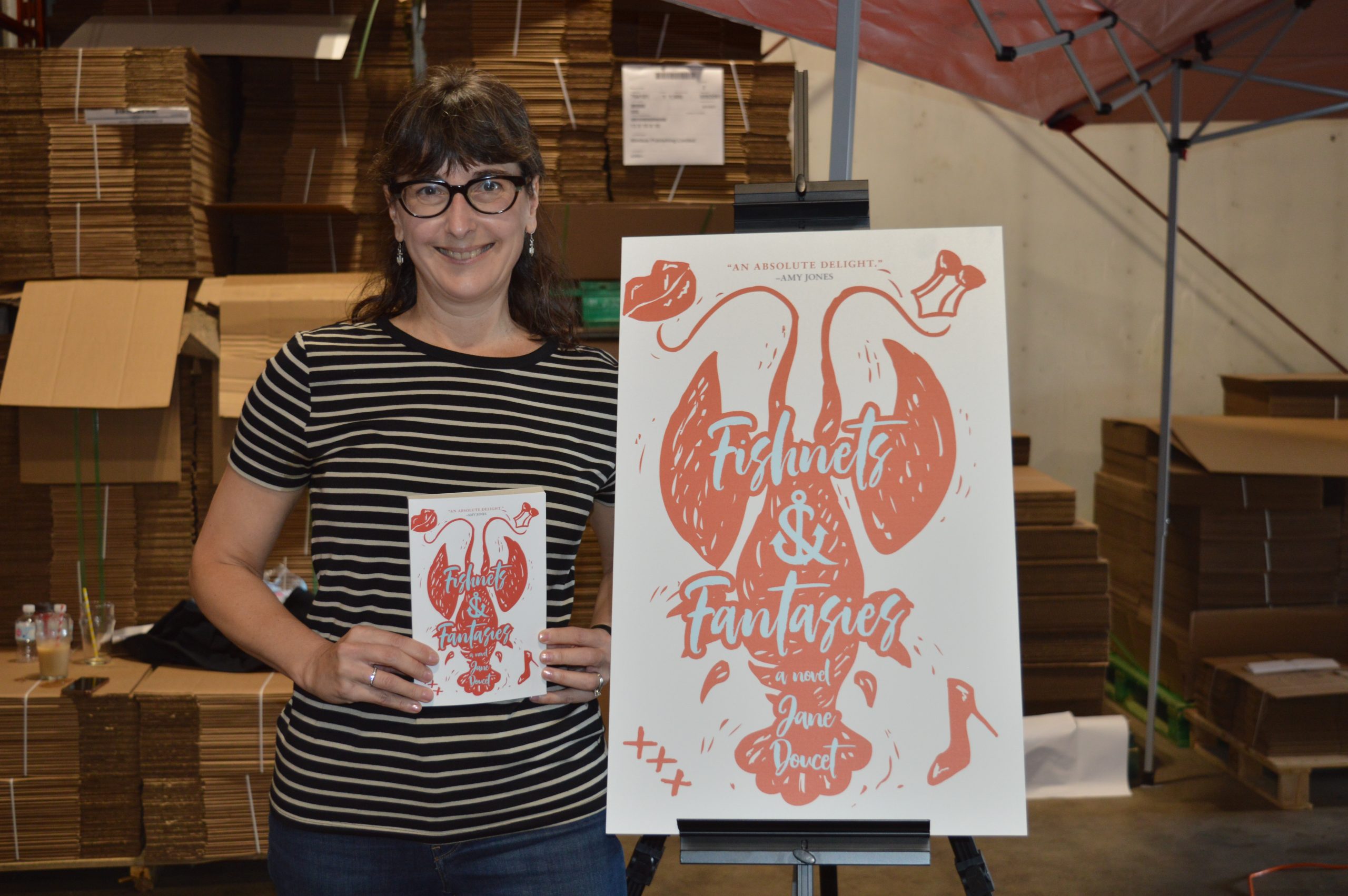 Why Fishnets & Fantasies is the perfect book for your Valentine #ValentineDayGifts
Fishnets and Fantasies by Jane Doucet
Wendy Hebb has been a fisherman's wife for forty years. She has also been a mother, a yoga instructor, and part-time soap maker. She loves her life in picturesque Lunenburg, Nova Scotia, but it's just not enough anymore. With a burning entrepreneurial desire, she decides that when her husband, Paul, retires, it will finally be her turn to live out her dream. The catch: her dream is to open a sex shop. While Paul begrudgingly goes along with Wendy's "half-cocked" idea, it's out of a sense of guilt; a recently spilled secret has their marriage on the rocks. As soon as the townspeople get wind of Wendy's plans, it opens up a whole other can of worms—and Paul finds himself bait for the local rumour mill. Her silent, "invisible" partner in the project, he secretly hopes her plan for the shop will fail.

Orbiting around Paul and Wendy's story is a motley crew of characters, including the Hebbs' daughter, Ellen, a feminist academic who catches the eye of a lady-killer coworker while home for the summer; Wendy's best friend, Betty, a chain-smoking seamstress with secrets of her own; the local minister and her husband, who secretly indulge in role play; and the wealthy Sonya and Booth, who will stop at nothing to make sure the shop never opens its doors—as long as they can avoid discussing their failing marriage.

An irreverent novel full of heart and humour, Fishnets & Fantasies is a story of love and lust at any age, of old grudges and older secrets, and of the relationships that make all the awkward fumbling worthwhile.
Advance praise for Fishnets & Fantasies from Canadian comedy legend Ron James! "The spirit of Stephen Leacock meets a colourful pantheon of contemporary Nova Scotia characters simmering in a sexually charged Lunenburg pheromone chowder!"
Fishnets and Fantasies was the third selection for Dartmouth Book Exchange's Staff Reads and is highly recommended by all staff as a fun, humourous must-read. Check out what our staff and some of our customers have said about this wonderful book. With all these positive words and reviews you'll also be convinced it's the perfect Valentine's Day Gift.
Review: I just adored Jane Doucet's fun, small-town Nova Scotia novel, Fishnets & Fantasies!!! Since most of the books I've read lately, the main characters seem to be in their 20s, I found it quite refreshing to read about people more my age and older. Jane's characters were so well developed that you just want to go, grab a bottle of wine, and join their book club meeting. I must admit that there were spots in the story that I had to stop reading, pull myself together, and share them with my husband so that we both could have a laugh. I really liked the fact that at the end of the story, we see the main character from Jane's first novel make an appearance. Can we hope that Jane is maybe setting us up for another story about Fishnets & Fantasies??? Sue Slade Goodreads June 2021
Review: Fishnets & Fantasies was a light, feel good read that guaranteed a laugh or two. You'll be just as invested in the secrets of the small town as the characters themselves. I personally found the characters relatable, and some of them could easily have been my neighbours. While not my typical genre, wouldn't hesitate to recommend it! Erin O'Neill Goodreads August 2021
Review: I read this book several months ago but the characters were so good and the book so enjoyable I still often think about them. It's so great to read a book that's set in a locale you are familiar with. I found myself saying "I know this place', Or 'I know what you mean' when the characters had some of the same experiences with aging! I couldn't help but keep picturing them in one of those weekly CBC shows I used to enjoy 'Schitt's Creek'. Loved that show and loved this book. Highly recommend. Amy McIsaac Goodreads February 2022
Review: Literally the first sentence made me laugh! I hope there are more books about the characters and the shop. I was so invested in this book to the point where my husband and I were out for a drive close to Lunenburg and I almost said " let's continue on so I can check out the new store". Caught myself! I still half expect to see the sign hanging on a street corner. The characters are so real and feel like they could be part of my social circle. I laughed, I cried then laughed some more. Jen Robley Goodreads September 2021
Review: I can only imagine how much fun the author had writing this because it was a joyful read! I laughed and grinned like a fool throughout the whole book. Who wouldn't love to see a sex shop in Lunenburg?
The characters were so real and I became quite attached so I'm watching for the sequel! Anne Louise O'Connell Goodreads June 2021
Review: Fishnets and Fantasies was hilarious! Loved the characters and didn't want the story to end. I really appreciated the local setting in Lunenburg and knew many of the places that were mentioned in the book. I am giving gifts of this book to friends. Well done, Jane Doucet! Cindy C-S Goodreads July 2021
Review: Written by local author Jane Doucet, and set mainly in Lunenburg, Nova Scotia, this is a rollicking good tale of a fisherman's wife who brings her fantasies to reality. Let's face it, we all have fantasies … and Wendy Hebb's are somewhat unconventional, especially for a small town like Lunenburg. As secrets are revealed, there are lots of ups and downs in Wendy's marriage as well as in her relationships with others in her town. However, she perseveres, and against all odds, she succeeds. Jane Doucet has created lovable characters, sure to give you some giggles. I highly recommend this one. Liz McCoombs Goodreads December 2021
Review: I've watched author Jane Doucet in several interviews and found her to be witty, down-to-earth, and oh-so-refreshingly candid. I was so intrigued that I picked up a copy of "Fishnets & Fantasies" for myself. And guess what? Her writing is just as charming and funny as I hoped it would be. I blushed on occasion, but more often I smiled and chuckled over the author's clever turn of phrase and knack for placing her characters in awkward but authentic situations. I can't wait to read her next book! Hope Dalvay Goodreads August 2021
Review: If there is a book set in Nova Scotia that talks about lobster fishing, you know I'm going to read it. I picked this up at the Dartmouth Book Exchange and had it read in under 24 hours. Wendy Hebb has been the wife of a lobster fisherman for forty years. When her husband retires at sixty, she decides to follow her dreams – which just happens to be opening a sex shop in picturesque Lunenburg. This was such a fun book and very true to how things are in small-town NS. I loved the gossipy bits and could only imagine what it would be like if someone opened a sex shop in my area! It was funny and light-hearted, even in the saddest of moments. The author really paints a vivid picture of Lunenburg (so much so that I realised I haven't been there for years and booked a trip there right after finishing the book haha) The only con is that I wish it was longer and talked more about Wendy running the shop – it would be interesting (and hilarious) to see what the townsfolk would get up to in there. Also, is it sad that I, a twenty-five year old, while reading about the characters throwing out their backs during sex and all their aches and pains was nodding along and thinking 'mm, same'? 😅 (And to the ladies at the DBE, unfortunately, it didn't mention any fish-themed toys, but I like to imagine Wendy ordered some once the shop was up and running – if only for the tourist season 😂). Amy Goodreads June 2021
Review: Opening an adult emporium in the middle of any town in Nova Scotia would be an interesting story. Opening it in Lunenburg is brilliant!! Ordinary people with very ordinary lives…or at least that's the perception of most small coastal towns. Until Jane Doucet pulls back the curtain and introduces us to people who are anything but ordinary! To people whose lives are filled with love, loss, hope, and desire! This is a warm-hearted story about the courage it takes to realise your dreams. Loved it! Louise Goodreads June 2021
Review: Well, well, well. Jane Doucet, you have done it again. Just like your first novel, The Pregnant Pause, you have given your reader delightful, multi-faceted characters and laugh-out-loud passages that made this reader blush. The title of this book could not be more appropriate for what a reader will encounter within its 267 pages.
Hilarious scenes involving backs being "thrown out" and adult children catching their "aged" parents in the act" are tastefully written. There is no need for a reader to fear any graphic details. The author is clearly making the correlation between sex, the consequences of the act, and the deeper feelings that are often overlooked when discussing sex. The author has taken the "taboo" out of talk about sex among the geriatric set.
As Wendy Hebb and her "silent partner husband" Paul, prepare to open an "adult emporium" in a small town, they face varying reactions from all sectors of the town. Prudish high rollers, uptight locals and even the silent partner husband Wendy gets lots of support, however, from some she never, and this reader would never, have expected to give that support. I grew up in a small town in Nova Scotia and could easily imagine the reactions of people I knew there would be similar to the reactions of the people in Fishnets and Fantasies. Fishnets and Fantasies could not be a more fun name for the shop or the book.
The cast of characters here includes an irreverent, female Reverend, a geriatric mayor, and a chain-smoking seamstress with a secret past. Characters who live in small towns everywhere. Characters who never get suspected of leading lascivious lives behind closed doors! "The last time I checked, Thou shalt not impersonate a member of the clergy for carnal pleasure wasn't one of the Ten Commandments. And anyway, it's not like I'm holding tarts-and-vicars workshops in the church basement after Sunday Service."
Jane Doucet has a flair for writing the inner dialogue of characters as they struggle through their triumphs and challenges. The character's inner dialogue establishes the unspoken thoughts and feelings that ensure the reader can follow along with why they react the way they do. Each character's backstory here leads the book through to what this reader felt was a satisfying and believable conclusion.
Well-paced, funny, and full of slap-stick comedy this book makes perfect reading in the privacy of your own home, but I encourage you to read it at the beach or while waiting at the doctor's office. I would love to be a fly on the wall when you give your answer to the inevitable question – "what's that book about?" Atlantic Book Reviews February 2021