10 of the Best/Most Common Overheard  Comments in our Store.
Seasoned customers regularly catch my eye with a smile when they overhear some of the comments made by new customers on their first visit to the store. We never tire of hearing these!
1- It's much bigger than I expected from the outside!
2- Boy do they ever have a lot of books!
3- I could spend all day in here!
4- I can't believe how organized it is!
5- Check it out, they have Blind Dates with Books! Fun!!
6- Wait, they have all their books on a database?
7- This has just become my happy place!
8- I can't believe how good the conditions are of the books!
9- This is a real hidden treasure trove for book lovers!
10- I will definitely be back!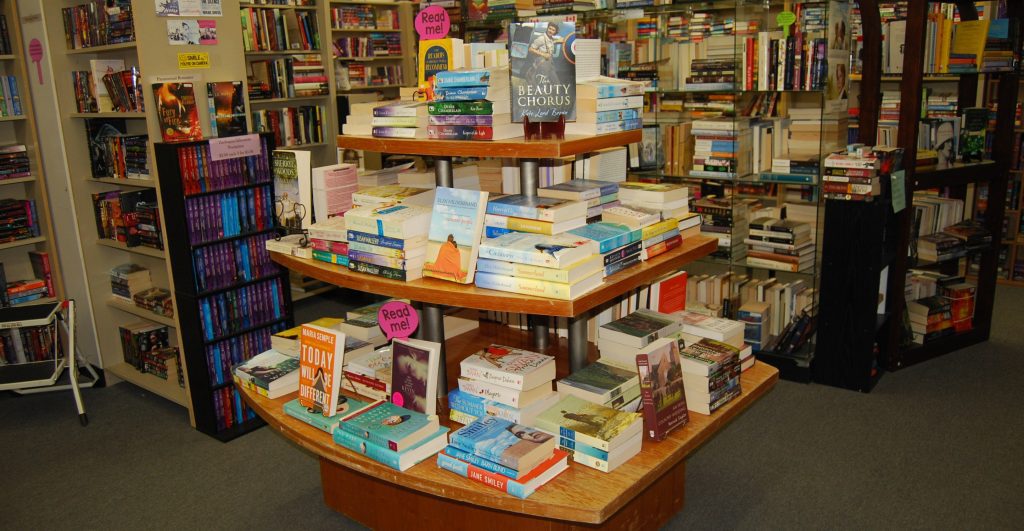 Upcoming Events
For a complete list of all upcoming events, please visit our 'Events' page
Local Author Ellen E. Sutherland will be here to launch her second book in her Jamie Poole series 'Resurrection of the Druidess' March 7th.
Two women. Two tied destinies. Two millennia.
One enigmatic sword.
Jamie Poole's destiny is to help the Departed. She hears dead people. They cry on the wind, begging for help and vindication. They visit like the grandmotherly ghost who foretold a year ago things would happen.
Then Jamie and her dad accidentally resurrected an ancient Celtic woman named Eliyana using a magical sword. Turns out she's not just Celtic, she's a Druidess haunted by her past…
Ellen will also have copies of her first novel in the series 'The Isle of Osiris'. There will also be artwork available from the author.
***This event is cash only to the author.
"All that glitters is not gold, but when that glitter comes from the sea, it carries a treasure known only to the heart."

"Local author Wayne Turner revives Nova Scotia's Oak Island mystery in his debut novel- Seaside Glitter- a mysterious adventure about dangerous family ties."

Join Dartmouth Book Exchange in welcoming Wayne Turner & his debut novel 'Seaside Glitter', Saturday March 28th from 1-4pm. 'Seaside Glitter' is a mysterious adventure with a romantic twist, tied to a young woman's 1796 diary. Wayne joins history, romance, mystery and adventure to keep readers captivated as the main characters uncover this family's ghostly past.

A young family is devastated by the loss of their parents and grandparents in a tragic accident. In the aftermath, they rediscover their ancestor's fragmented past- through a young woman's diary.
#dbextoteadventures
Now that several of our Canvas Tote Bags have found homes with our customers, we have started an album of places the Totes have visited. From the beach to the cottage, the grocery store to Cuba, we would like to see pictures of your Tote's Adventures & we will share & add them to our album on Facebook  #dbextoteadventures Canvas Totes are $10.00 plus tax each, No Book Credits
Hours of Operation:
Monday – Friday: 10:00 am – 8:00 pm
Saturday:  10:00 am – 6:00 pm
Sunday: 11:00am – 5:00pm
Please Note: On Storm Days or Holidays, we may have reduced hours or not open at all.
The following Holidays we remain closed: New Years' Day, Heritage Day, Good Friday, Easter Sunday, Canada Day, Labour Day, Thanksgiving, Remembrance Day, Christmas Day and Boxing Day.
The following Holidays we have reduced hours: Easter Monday, Victoria Day, Natal Day, Christmas Eve and the week between Christmas and New Year's including New Year's Eve.  We post our hours for these days the week prior to the date.
Please see our blog page for up-to-date information or visit us on our Facebook Page or Twitter Feed.
902-435-1207