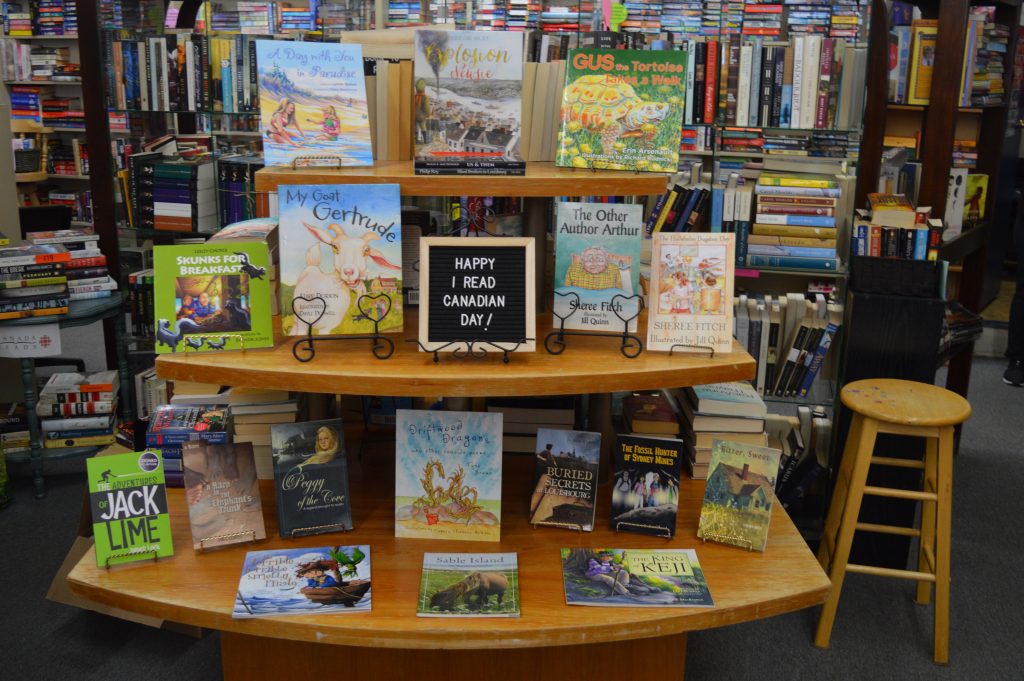 2020
In following healthy social distancing practices, we will be delaying all our events until further notice.
Saturday, March 28th, 1-4pm- Wayne Turner will be here with his romantic, adventurous, mystery novel 'Seaside Glitter'.
Saturday, April 25th, 1-4pm- We are pleased to host Kenville Author Laura Churchill Duke, Author of 'Two Crows Sorrow'.  Her book is about the life of Theresa McAuley Robinson, a woman who lived on Nova Scotia's North Mountain at the turn of the century. This is the true story of Theresa's love and devotion to her children and her farmland, which ultimately led to her demise. In May 1904, Theresa was found murdered and her farm burnt to the ground. Her second husband William Robinson was accused of the murder. Two Crows Sorrow follows Theresa's life to her death, then William's court trial to its dramatic conclusion.
Wednesday April 29th- 6-8pm- We are pleased to announce that Open Heart Forgery will be here at the store, to do some readings from their 10th Anniversary Anthology!!!  The anthology contains selected poems from their monthly issues from 2011-2018 and will also be for sale at the event.
Thursday May 7th, 6-8:00pm- Janice Landry will be here to do a reading from her new Inspirational book 'Silver Linings', about Gratitude and Resiliency as part of Mental Health Awareness Month.  We will also have copies of her other books here as well.
Saturday, May 9th, 1-4pm-  We are so excited to be celebrating Nova Scotia's official Gaelic Month by hosting 2 authors from Bradan Press; Terri M. Roberts who wrote 'Fionn MacCool and the Salmon of Knowledge', a read-aloud action story that retells a Gaelic folktale and teaches 9 Gaelic words.  We will also be launching Shelayne Hanson's brand new book 'G is for Gael', an alphabet picture book in English about Gaelic language and culture.
Saturday, June 2oth, 1-4pm- We are so pleased to host local Author Marlene Stanton and her debut mystery/crime novel 'Mercy, Mercy', featuring the smart, sarcastic, TV reporter Mercy Pepper.
Saturday, July 11, 1-4pm  We are so excited to host our very first local author who writes Young Adult Paranormal. Shawna Romkey is the author of several novels including her Speak of the Devil Trilogy and 'Becca Redford and the Big Bad Wolfhound' to name a few.
Saturday, August 15th, 1-4pm– 'The Second Annual Bookstore Romance Day' spotlighting local New York Times Bestselling Author Donna Alward.  Returning for her second Romance Day is Taryn Blackthorne and her newest Paranormal Romance to-be-published.
Bookstore Romance Day is a day designed to give independent bookstores an opportunity to celebrate Romance fiction—its books, readers, and writers—and to strengthen the relationships between bookstores and the Romance community.
September– Dartmouth Book Exchange's 20th Anniversary Celebration
September 19th, 1-4pm- We are hosting "Tales From The Dark Side' a new collection of short stories by Dartmouth author Robert Schwarzmann.  This eight-story collection ranges from tales of psychological suspense to magical realism similar to The Twilight Zone.  Some verge on horror- but none of them are gory or violent.  The title of the book is a playful reference to Dartmouth, or the 'dark side' as people in Halifax like to say.
Saturday October 17th, 1-4pm We are jumping into the Halloween Spirit with Paul Carberry and his book series; Zombies on the Rock.  Book 1 Outbreak" is about  an evil pharmaceutical company that creates a virus that turns people into the walking dead. He will also have book 2, 'The Viking Trail', and Chillers From The Rock, a collection of twenty‐five short stories written by a diverse mix of some of the best suspense and horror authors in Atlantic Canada, and his other Anthologies including: Fantasy from the Rock and Flights from the Rock.
Saturday November 14th, 1-4pm- Cindy Tingly will be here with her 2nd book in her Children's Bible Story Series: Lily's Adventures: Lily's Desert Adventure.  She will also have copies of her first book Lily's Secret.  These stories are unique in that they are told from Lily, the Donkey's point of view.
Young Adult Author Nicole Bea will be joining Cindy for the afternoon with her book 'Forever Summer'. 
Saturday November 21st, 1-4pm- Andrea Miller author of the children's books; My First Book Of Canadian Birds, Awakening My Heart and The Day The Buddha Woke Up will be joining us. #SignedBooksMakeGreatGifts
2021
Wednesday January 27, Family Literacy Day TBA #FamilyLiteracyDay
Wednesday February 17th, I Read Canadian Day TBA #IReadCanadian
Saturday March 6th 1-4pm Ellen E. Sutherland will be here with her 3rd installment of her Jamie Poole Diary Series.
Thursday April 15th 6:30-8:30pm Titanic Stories Night
In the early morning hours of April 15th, the British passenger liner the RMS Titanic sunk after hitting an iceberg on her maiden Voyage from Southampton to New York City. Of the estimated 2,224 passengers and crew aboard, more than 1,500 died. Join us on the 108th anniversary of this historic event for an evening of Titanic stories of tragedy and survival with local connections conducted by storyteller Cindy Campbell-Stone. Seating is limited.
April 24- 1-4pm David Wimsett will be here with his Fantasy series the Carandir Saga!  Book 1, out now, Dragons Unremembered: A man and a woman must work together as equals to prevent sorcerers from waking the evil dragon, Baras, from a 5,000 year sleep to bring a reign of terror while rival baronies, unaware of the common threat , prepare for civil war. The story takes place in a gender balanced world where women and men earn the same respect, opportunities and authority.
***If you are a Local Author interested in doing an event at our store, please contact us through our contact page. Thank-you