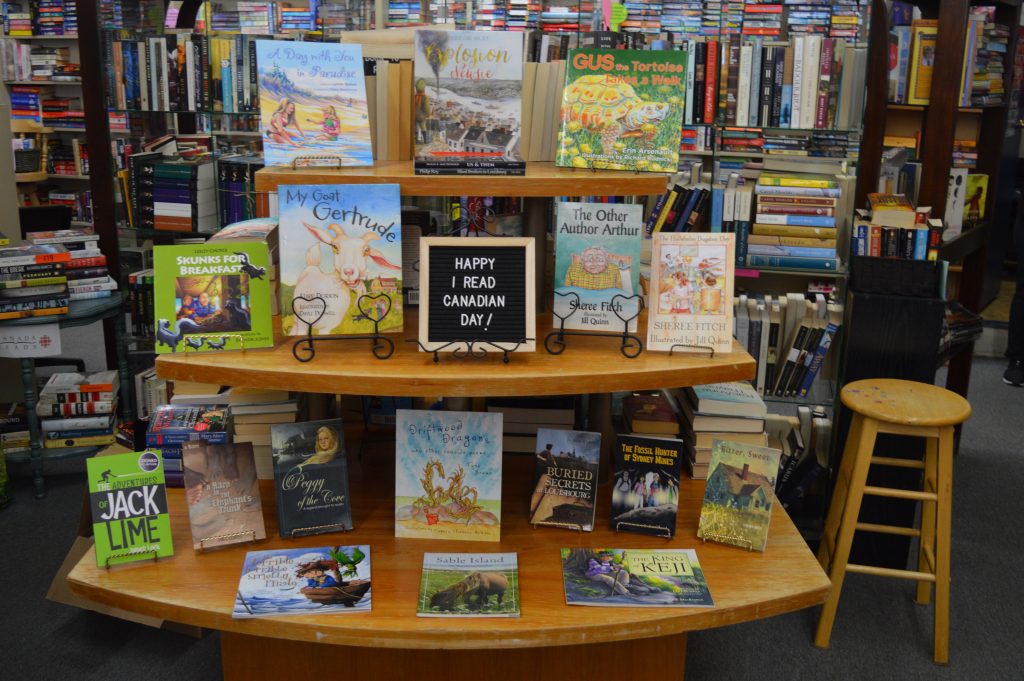 Online Facebook Spotlights
July 5th-11th- Michelle Bryan
July 12th-18th- Jason Young
July 14th- Locally Authored Book Club 6:30pm-7:30pm
July 19th-25th- N/A
August 1st at 2pm. Together with the Cole Harbour Heritage Farm and Museum, will be be hosting a book event with local Author Ronan O'Driscoll and his book Poor Farm in the Museum's Farmyard.
August 3rd- Deadline for
The
Reopening Draw
for a stack of 5 ARCs- Submit a review for a locally published/authored book to our Facebook Page for a ballot. Each review gets a ballot- enter as often as you'd like.
August 3rd-9th- Corinne Lewandowski
August 9th-15th- Hope Dalvay & Acorn Press book launch
August 18th- Locally Authored Book Club 6:30pm-7:30pm
August 16th-22nd- Bookstore Romance Day TBA
August 23rd-29th- Ailsa Keppie & OC Publishing Book Launch
August 30th- September 5th- N/A
September 7th- 12th Mike Hebb
September 13th- 19th- Bruce Bishop
September 15th- Locally Authored Book Club 6:30pm-7:30pm
September 21st- October 3rd- The Almost/ But Not Quite 5th Phase Draw. Submit a review for a locally authored book to our Facebook Page for a ballot to win a stack of 6 ACRs. Each review gets a ballot- enter as often as you like.
October 4th- 10th- Keith & Diane Capstick
October 12th- 17th- Nicole Bea
October 20th- Locally Authored Book Club 6:30pm-7:30pm
October 18th- 24th- Lorraine McQueen & WindyWood Publishing
October 25th- 31st- Paul Carberry
November 1st- 7th- Michelle Thornhill
November 8th- 14th- Wendy Heyman-Marsaw
November 15th- 21st- Ellen Sutherland
November 17th- Locally Authored Book Club 6:30pm- 7:30pm
November 22nd–28th- Sarah Jane Conklin
November 29th- December 5th- Brittni Brinn
December 6th-December 12th- Alice Walsh
Events 2022
January 3rd- Feb 13th- 6 weeks of Middle Grade I Read Canadian Authors TBA
February 14th- February- 16th- I Read Canadian online event
February 21st-27th- Susan MacLeod
April 4th- 10th 2021- Lynda Schmidt
Wednesday January 27th- 2022- Family Literacy Day #FamilyLiteracyDay
Wednesday February 2nd- 2022- World Read Aloud Day #World ReadAloudDay
Thursday February 3rd- 2022- #HarryPotterBookNight 2022- celebrating the 25th Anniversary of Harry Potter and the Philosopher's Stone
Wednesday February 16th- 2022- I Read Canadian Day #IReadCanadian
Saturday August 20th- 2022– Bookstore Romance Day #BookstoreRomanceDay
Tuesday September 6th– 2022- National Read A Book Day #NationalReadABookDay
***If you are a Local Author/ Publisher interested in having an online spotlight done on our social media pages, please contact us on our contact page. Thank-you
Our Locally Authored Book Club Exchange
We generally meet once a month on Wednesday evenings from 6:30pm to 7:30pm.
• Each participant will bring a locally authored novel that they have recently read and can part with. Locally authored will be defined as an author living within the Atlantic Bubble.
• During the meeting, each person will take a turn telling everyone what they liked about the book they brought and why the others should read it.
• Each book will go into a basket and at the end of the meeting, if a book sparked your interest, you'll be able to take it home to read.
• If there is more than one person interested in reading the book, it will be brought back to the next meeting, for another person's turn.
• We may even host an author occasionally and Dartmouth Book Exchange may even seed the basket once in a while.
• All are welcome to come and listen during the meetings, but only the people who brought a book will be guaranteed to leave with a book.
Our Book Club aims to promote local authors, their books and the writing of reviews. #supportlocalauthors