Nov - 08
2022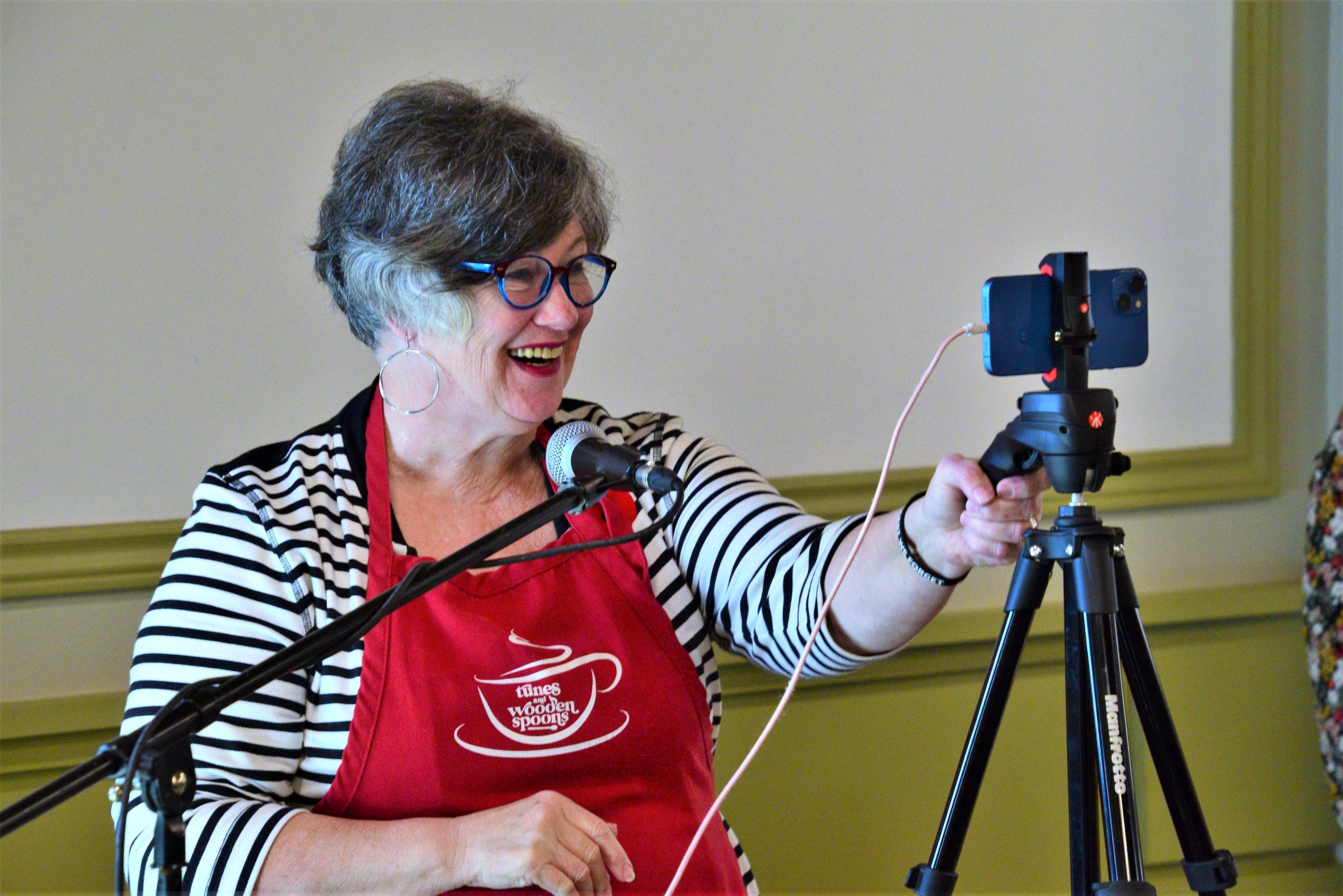 Tunes and Wooden Spoons- by Mary Janet MacDonald
Mary Janet MacDonald launched her Facebook page in the spring of 2020, near the beginning of the pandemic when everyone was 'Staying the Blazes Home'. Her 2 pm live Sunday shows feature her cooking or baking a new creation each week with an added dash of Cape Breton wit and a pinch of Island Tunes. Little did she know that her cinnamon rolls would turn her into an overnight social media sensation. Now, 2 years later, she is the author of 2 cookbooks Tunes and Wooden Spoons, and her new release Tunes & Wooden Spoons; Love Without Measure co-written with her daughter Margie MacDonald.
"During the COVID-19 confinement in 2020, my daughter suggested I do a live-stream on a Sunday in March, 2020, and give a tutorial on how to make my much-loved family cinnamon rolls recipe. Thinking this would just be seen by my own family and a few friends and having never done live-streaming, and with no-one but myself to set it up – I went live from my personal Facebook account and demonstrated how to make my cinnamon rolls. The video went viral and the love received from people around the globe was overwhelming – the personal messages received touched my heart – people alone in their confinement needed a comforting distraction, people wanting to bake with their children, people who just wanted to watch, and not bake, but just listen to my ramblings, and some feeling they could connect with me and that I was a comforting presence."- Mary Janet MacDonald
"Everything that's good and tasty has so many calories in it."
― Mary Janet MacDonald, Tunes and Wooden Spoons: Recipes from a Cape Breton Kitchen
On Sunday, November 6th we had the pleasure of hosting Mary Janet's Live Sunday Show in the Avery Room at the Fairbanks Centre in Shubie Park. This is the recipe she created during the show:
Potato, Bacon, & Cheddar Soup
Cook about 5 slices of bacon, cool and crumble and set aside.
3 tablespoons butter
1 medium onion, chopped fine
2 cloves minced garlic
Sauté the onion and garlic in the butter (about 5 minutes on medium-low heat) in a 5-quart Dutch oven. Potatoes and Carrot Peel about 5 medium/large potatoes and 1 small carrot or half-large carrot. Dice the potatoes into ½ inch pieces and dice the carrot very small (1/4 inch). Add the potatoes and carrot to the onion mixture
Plus 1 box (900 ml) chicken broth.
Add salt and pepper to taste and bring to a boil.
Simmer for about 20 minutes or until the veggies are soft. When veggies are cooked, turn the heat off and blend the soup with an immersion blender (or leave it as is).
Add 2 cups milk (I use 2%) and ½ cup, blend cream (10% fat)
After adding the milk/cream, turn the heat back on and bring it to a simmer.
Add most of the crumbled bacon and add about ½ cup shredded cheddar (I use old cheddar) and ½ cup corn (optional) (I LOVE CORN). Mix until the cheddar is melted.
Serve it up and garnish with a small dollop of sour cream, some crumbled bacon, and either a sprig of parsley or some green onion.
This makes about 4 good servings – or 6 servings giving each person about a ladle and a half.
Mary Janet's talented family provided the 'tunes' part of her show.
The afternoon was described as an entertaining and first-rate Cape Breton Kitchen Party brought to Dartmouth!
"Don't trust your memory- live by the kitchen timer."
― Mary Janet MacDonald, Tunes and Wooden Spoons: Recipes from a Cape Breton Kitchen
After the soup was done, Mary Janet drew 3 names from the audience to come up and join her in a bowl of soup. The rest of us were allowed to come up grab a spoon and sample the dish.
"Bake extra and share with family, friends, and essential workers."
― Mary Janet MacDonald, Tunes and Wooden Spoons: Recipes from a Cape Breton Kitchen