Nov - 15
2022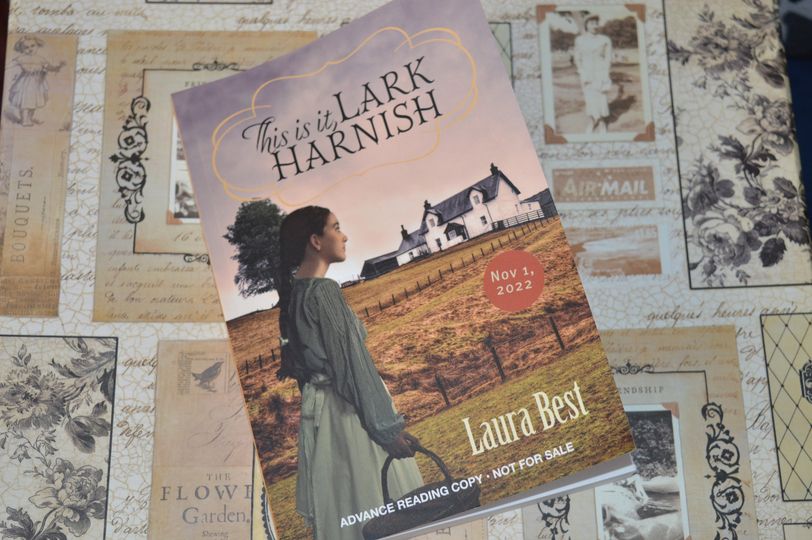 This is it, Lark Harnish by Laura Best
Released November 1st by Nimbus Publishing, This is it. Lark Harnish by Laura Best.
Lark Harnish, plucky and chatty and full of hope, is starting a new life. It's 1919 in rural Nova Scotia and at just thirteen years old, she has to leave her mother and siblings to go work at the McMasters house. Her father has died and her family desperately needs the money.
She arrives expecting another version of her own family—bruised and saddened by the loss of a parent, but still full of love and laughter and stories. Instead she finds a family in tatters, with devastated adults raising sad and lonely children. When Lark barrels in with her big personality, she disturbs a long-held silence in the McMasters house. The well-being of Lark's family is on the line, and so are the hearts of the McMasters. Can Lark find her way in this new life, or are two families about to fall apart?
In her newest historical middle-grade novel, celebrated author Laura Best brings another delightful group of characters to her readers, along with all the complexity of families finding hope in hard times.
"Life gives us challenges, and it's up to us to decide what to do with those challenges."
― Laura Best, This is it, Lark Harnish
Review: Set in 1919 rural Nova Scotia 'This is it, Lark Harnish' was a fun middle-grade novel. Lark who is a very chatty 13-year-old, reminds me of the famous Anne with an 'e', and should Anne's circumstances have been different, she could have been Lark. After her father passes away, Lark goes to work for Mrs. McMaster to help pay down the grocery bills. Mrs. McMaster runs the local post office out of her home and looks after her grandchildren, as her daughter-in-law passed when her youngest grandson was born. Mrs. McMaster reminds me of Marilla in the Green Gables stories; very stern, rigid, and unsmiling at the beginning of the story. She even has the nosy and gossipy neighbour. I enjoyed the historical facts woven within the story. Lark had 3 dresses made from flour sacks, water needed to brought in, and laundry day was a large production. Those, young and old, who love historical fiction and the Anne of Green Gables series in particular, will enjoy 'This is it, Lark Harnish'. Goodreads Sue Slade- November 2022
"Never settle for things just because folks think you should," Mama told me later. "You can do whatever you set your mind to. Don't be afraid to dream big, Lark."
― Laura Best, This is it, Lark Harnish
"…a person should always be looking around for new experiences. Life just ends up being the same old thing every day if you don't."
― Laura Best, This is it, Lark Harnish