Dec - 31
2018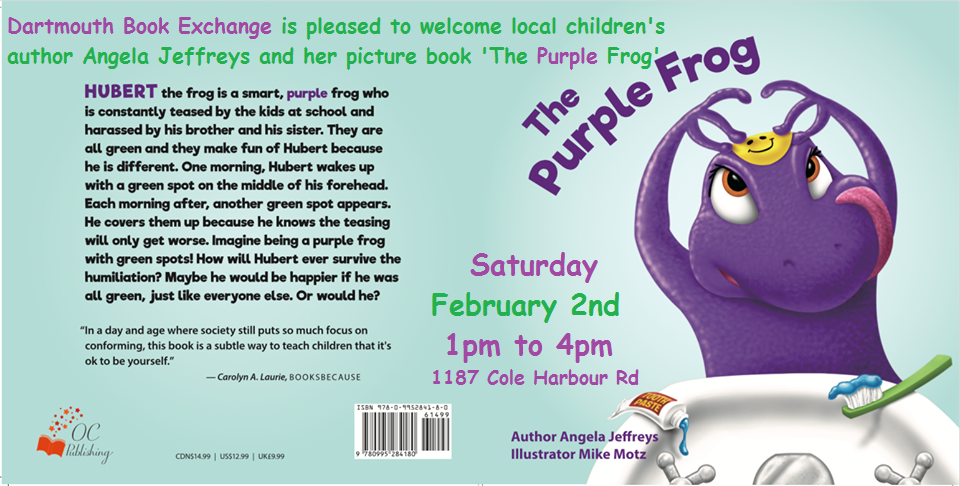 The Purple Frog by Angela Jeffreys February 2nd 1-4pm
Dartmouth Book Exchange is pleased to welcome local children's author Angela Jeffreys and her picture book 'The Purple Frog' Saturday February 2nd 1-4pm . In celebration of Mi'kmaw History Month in October, 'The Purple Frog' was published in both English and Mi'kmaw. Both versions will be available during our event!!!
Hubert the frog is a smart, purple frog who is constantly teased by his classmates and harassed by his brother and his sister. They are all green and they make fun of Hubert because he is different. One morning, Hubert wakes up with a green spot on the middle of his forehead. Each morning after, another green spot appears. He covers them up because he knows the teasing will only get worse. Imagine being a purple frog with green spots! How will Hubert ever survive the humiliation? He doesn't mind being purple but maybe it would be easier if he was all green like everyone else.
"In a day and age where society still puts so much focus on conforming, this book is a subtle way to teach children that it's ok to be yourself." Carolyn A. Laurie, BooksBecause
As a reminder this is a cash only event to the Author. The soft cover picture book is $15.00 and the Hubert Lunch Bag is $8-. Buy both for $20.00. Watch for a promotional draw in the weeks leading up to the event on our Facebook Page.