Aug - 15
2022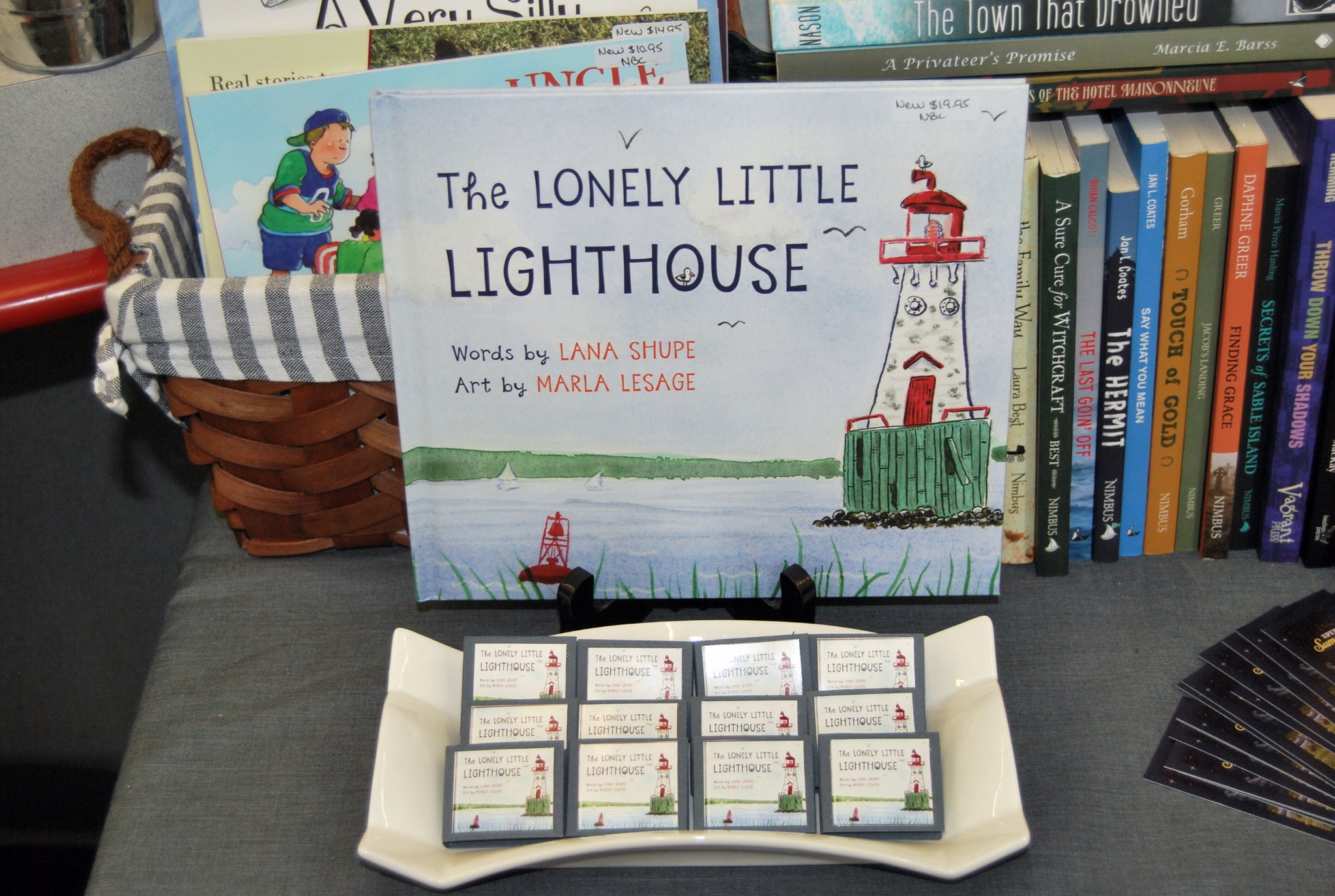 The Lonely Little Lighthouse by Lana Shupe
We had the great pleasure of helping to launch Lana Shupe's debut picture book The Lonely Little Lighthouse. This beautifully illustrated/ heart-tugging book is based on the true story of Nova Scotia's Sandy Point Lighthouse, in Shelburne. Lana came up with the idea and started writing this book back in 2017. In 2019 she pitched the idea to the publisher at Read By the Sea in River John. That autumn Lana was offered a contract with Nimbus Publishing and in July of this year, Lana was excitedly holding her very first published book in her hands.
Book blurb: A heartfelt picture book about a neglected lighthouse and the small coastal community that comes together to make her light shine again, featuring informative backmatter.
The Lonely Little Lighthouse remembers. She remembers the cool chill of foggy nights, when she sang loudly to warn passing ships of her rocky shores. She re- members the billowing sails of schooners, the proud majesty of naval vessels— and even the flags of pirate ships! She remembers the lightkeeper, who once kept her company, and kept her light shining. And most of all, she remembers the sounds of children's laughter, as they played on her sandy beach.
It has been years since her light shone, or her foghorn sang. Now she has only the clanging harbour buoy and the scuttling crabs for company. Her paint is peeling and she is falling into the sea. She is beginning to forget. But then, the community remembers her. And they work together to save her from her fate.
Based on the true story of Nova Scotia's Sandy Point Lighthouse, this heartfelt story follows the incredible history of these coastal sentinels, from construction to automation, and eventually, restoration. Featuring a short history of lighthouses and current preservation efforts, and vibrant artwork from Maritime artist Marla Lesage.
Review: What a stunning book! If you love Nova Scotia or lighthouses or the underdog who finds their way, if you love an author full of passion and who gives the best hugs ever – this book is for you! A treasure in itself with its words and illustrations, it's the story of many lighthouses that are being phased out due to advancement in technology but finds a way to survive! Sarah Butland Goodreads July 2022
Review: I had the honour of listening to Lana Shupe read her debut picture book The Lonely Little Lighthouse at Word Play- An Extraordinary Literary Festival for Children of all ages, which is part of the Read by the Sea festival in River John, Nova Scotia. As she read, I was glued to each word of the story and I will admit, I had to battle back the tears upon its completion.
Once I was back home I read the book for myself, amazed at the beautiful illustrations by Marla Lesage in this spectacular picture book that is based on the true story of Nova Scotia's Sandy Point Lighthouse in Shelburne. I very much enjoyed the facts and history of Nova Scotia lighthouses that were included in the back of the book. Then I found myself rereading the story again, yes this 50-plus was rereading a picture book, catching details that I had missed prior.
What an amazing yet emotional picture book for ALL ages, depicting an important part of Nova Scotia's Heritage. The Lonely Little Lighthouse would make a wonderful addition to any child's home library. Despite the price of gas, I can see a road trip to Shelburne in my future. Sue Slade Goodreads July 2022
On Sunday, August 14th, we held an amazing book event at the store with Lana, which included a reading, some colouring, lots of great questions, and some sweet treats. Check out some of the pictures of the event:
To find out more about Lana Shupe and what she is currently working on check out her website at www.lanashupe.com or her Facebook Page at: https://www.facebook.com/lana.shupe.