Oct - 27
2023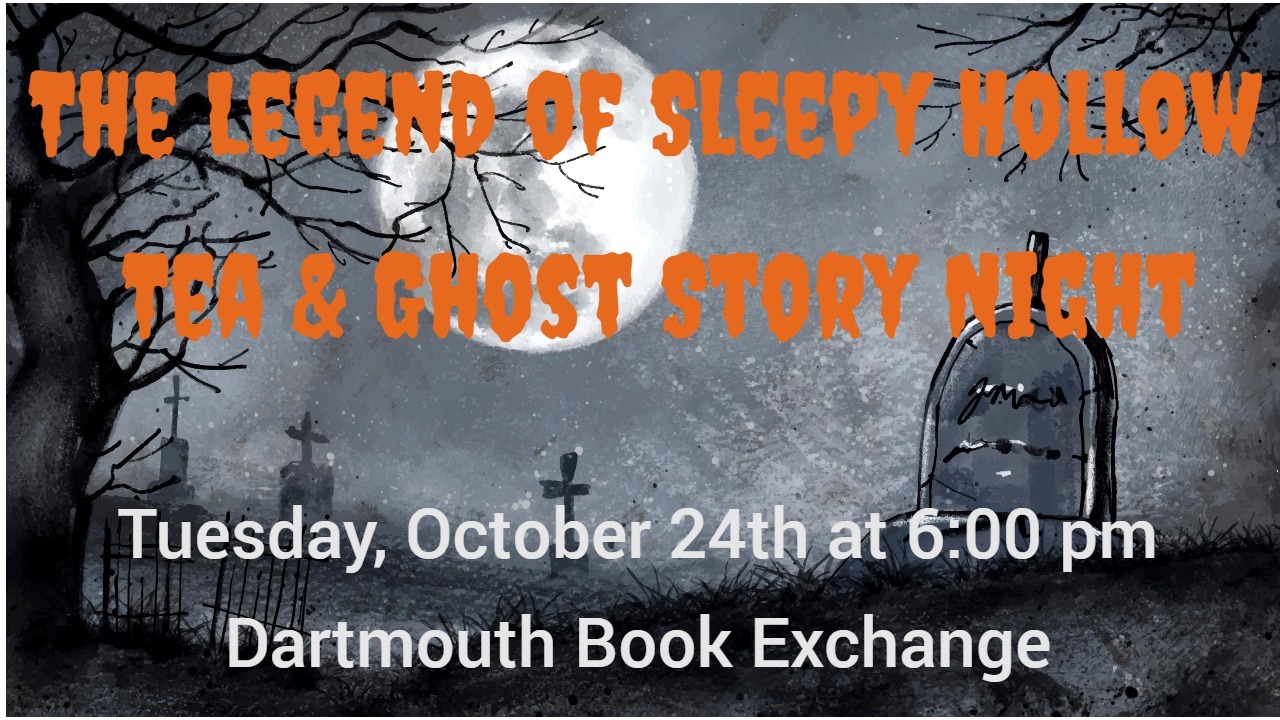 The Legend Of Sleepy Hollow Tea and Ghost Story Night
On October 24th we celebrated Halloween as only select bookstores know how, we had a 'The Legend of Sleepy Hollow Tea and Ghost Story Night'. We served Washington Irving's Sleepy Hollow Tea, which is Pumpkin Chai Black Tea from NovelTea's Fall line.
The store manager, Sue, then welcomed everyone to the event by reciting a quote from The Legend of Sleepy Hollow, which she noted that she only just read for the first time last month and that the quote was only two sentences long, yet it was a whole paragraph.
"Another of his sources of fearful pleasure was, to pass long winter evenings with the old Dutch wives, as they sat spinning by the fire, with a row of apples roasting and spluttering along the hearth, and listen to their marvelous tales of ghosts and goblins, and haunted fields, and haunted brooks, and haunted bridges, and haunted houses, and particularly of the headless horseman, or galloping Hessian of the Hollow, as they sometimes called him. He would delight them equally by his anecdotes of witchcraft, and of the direful omens and portentous sights and sounds in the air, which prevailed in the earlier times of Connecticut; and would frighten them woefully with speculations upon comets and shooting stars; and with the alarming fact that the world did absolutely turn round, and that they were half the time topsy-turvy!"
― Washington Irving, The Legend of Sleepy Hollow
We then had Professional Storyteller and Liaison of the Helen Creighton Society, Cindy Campbell-Stone entertain us with a story from Bluenose Ghosts about A.B. Thorne, which startled the young and old alike. She even dressed up as A.B. complete with his black jacket and suspenders. Cindy brought along copy of Bluenose Ghosts by Helen Creighton, donated by the Society to give away in a draw which Liz won.
Bretton Loney was our guest author for the night. He read two great ghosty selections from his book Joe Howe's Ghost, one from the point of view of Joe Howe and the other from the point of view of his aid and fellow ghost, Ennis. He brought along a T-shirt printed with his book cover on it as a giveaway which Lily won.
"It's not every day that a spirit who looks like one of the most famous Nova Scotians in history wishes you good evening."
― Bretton Loney, Joe Howe's Ghost
For the finale, Professional Storyteller and author of several ghosty books Steve Vernon then took the floor. He told us several stories including one from Sable Island and one from Mushaboom. He brought a copy of his latest release, More Maritime Murder as a giveaway which Conner won.
At the end of the night, the Authors signed books and we also had a selfie station set up with a Sleepy Hollow backdrop for those interested.
 Just loved the detailed descriptions of Ichabod Crane:
"He rode with short stirrups, which brought his knees nearly up to the pommel of the saddle; his sharp elbows stuck out like grasshoppers'; he carried his whip perpendicularly in his hand, like a sceptre, and as his horse jogged on, the motion of his arms was not unlike the flapping of a pair of wings." ― Washington Irving, The Legend of Sleepy Hollow
"He was tall, but exceedingly lank, with narrow shoulders, long arms and legs, hands that dangled a mile out of his sleeves, feet that might have served for shovels, and his whole frame most loosely hung together. His head was small, and flat at top, with huge ears, large green glassy eyes, and a long snipe nose, so that it looked like a weather-cock perched upon his spindle neck to tell which way the wind blew. To see him striding along the profile of a hill on a windy day, with his clothes bagging and fluttering about him, one might have mistaken him for the genius of famine descending upon the earth, or some scarecrow eloped from a cornfield."
― Washington Irving, The Legend of Sleepy Hollow