Feb - 12
2018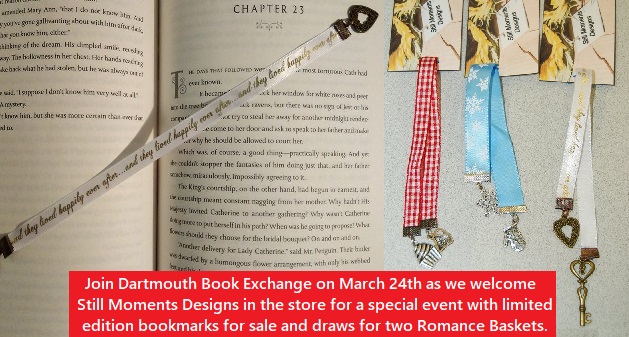 Still Moments Designs Bookmark Event
"Give them a gift they will remember long after they've read the book!"
Join Still Moments Designs on March 24, 2018 at Dartmouth Book Exchange from 11:00am – 3:00pm.
Stop by the book store and see our unique designs of ribbon and silver-tone hook bookmarks highlighted with beautiful charms.
Love a good mystery, romance, or fantasy story? We'll have bookmarks to hold every reader's page. Dragons, fairies, skulls, swords, colourful stones, and more!
During the event, we'll be selling our hand-made bookmarks for a low cost of $4.50.
We'll also have two Romance in a Basket giveaways filled with romance books, candles, chocolates, and more! Buy one bookmark and have your name automatically entered in the draw for one basket, buy two bookmarks to have your name entered in both Romance Baskets. Two chances to win!
Come early as we'll only have a limited supply of themed designs.