Oct - 21
2019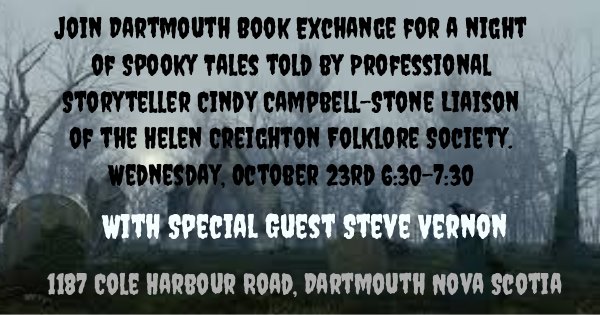 Spooky Tales by Professional Storytellers Cindy Campbell-Stone & Steve Vernon
Join Dartmouth Book Exchange for a Night of Spooky Tales told by Professional Storytellers; Cindy Campbell-Stone, liaison of the Helen Creighton Folklore Society & local author Steve Vernon!!!
The first 25 people to register will be guaranteed a seat- after that it is standing room only. To register just call, e-mail, message or visit the store. All advanced registrants will be entered into a draw to win a copy of Bluenose Ghosts donated by the Helen Creighton Folklore Society.
**Winner of the draw must be present to win.
***This event is appropriate for children 10+, but they must be accompanied by an adult, as it is not for the faint of heart.