Dec - 12
2020

Redford Falls Spotlight- a contemporary romance series by Darlene Fredette
This week's Spotlight is on local Contemporary Romance Author Darlene Fredette, her Redford Falls Series, and her stand-alone Romance Law Of Attraction. For a chance to win a signed copy of Law Of Attraction see our pinned post on Facebook.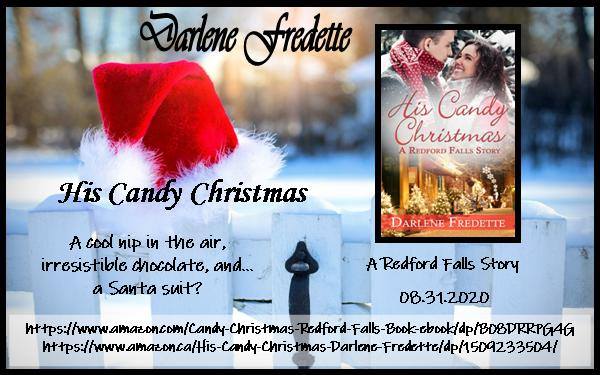 His Candy Christmas
A Redford Falls Story ~ Book 1
Who knew returning home would contain a cool nip in the air, irresistible chocolate, and a Santa suit?
It's going to take more than a few pieces of chocolate to fill this Scrooge's heart with Christmas cheer. Luckily Candy has a whole shop full.
Candice Cane is not proud of the way she acted after her last encounter with Jackson Frost. Sure revenge was fun, but now Jackson is angry and looking for answers, and standing on the welcome mat in her chocolate shop. Now he's after some revenge of his own.
Jackson returned to his small hometown for one reason and one reason only. So, he's not sure how he ended up in a Santa suit in the middle of a chocolate shop, at the behest of its beautiful owner, instead of high-tailing it back to the city as fast as he can.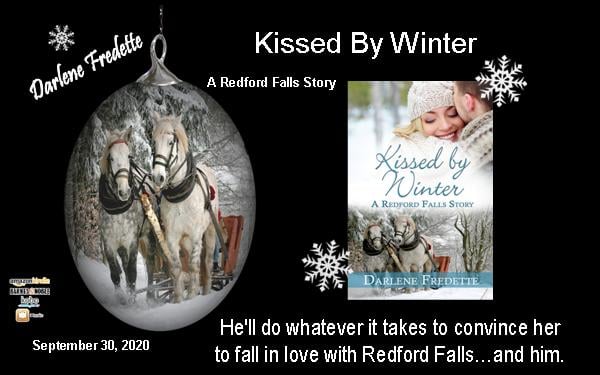 Kissed By Winter ~ A Redford Falls Story ~ Book 2
A woman who knows what she wants and a man who knows what he needs.
She's been on a flight from hell for over eight hours, lost four hours of daylight, and arrived in temperatures twenty degrees lower than accustomed to. Disliking winter for a reason she refuses to discuss, Danielle Lerato would rather be anywhere than in Redford Falls. She needs to get the job done and return home before getting caught up in the small town's charm—and the arms of the handsome, brown-eyed restaurant owner.
Andrew Bailey's first encounter with the buttery blonde didn't go so well, and he well-remembers the chill of the glass of water she dumped over his head. Now, nine months later, a raging storm drops Danielle back into his life. She's determined to leave, but he'll do whatever it takes to convince her to fall in love with Redford Falls…and him.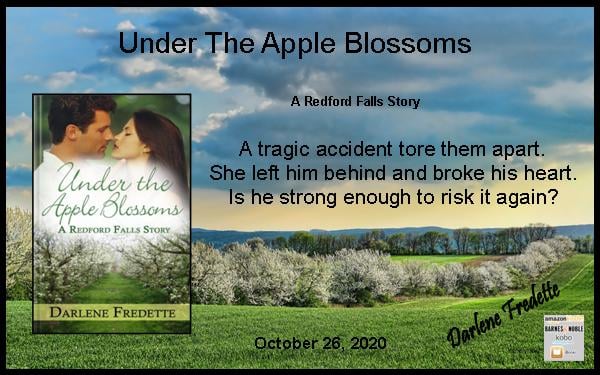 Under The Apple Blossoms ~ A Redford Falls Story ~ Book 3
This spring the blossoms aren't the only thing blooming in Redford Falls.
A tragic accident tore them apart. She left him behind and broke his heart. Is he strong enough to risk it again?
Police officer, Tyler Kringle, keeps his heart locked behind bars. His first and only love, Maripier Nadeau, left Redford Falls many years ago after a family tragedy. She moved on, leaving him to pick up the shattered pieces of his heart. But now Maripier is home to care for her father and to attend a dedication ceremony in her mother's honour. Her return rattles Tyler's cage, causing old emotions to resurface. Once he discovers the truth from the past, can he reclaim the love of his life and lock-down their future before she leaves again?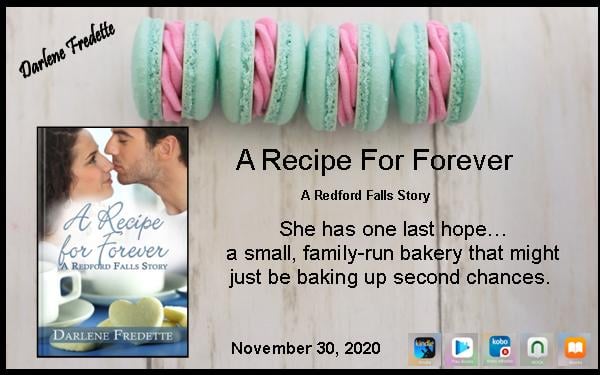 A Recipe For Forever ~ A Redford Falls Story ~ Book 4
She has one last hope – a small, family-run bakery that might just be baking up second chances.
Dwindling finances has Jess Robinson running out of options. With a past filled with failures, she longs for a new beginning. Applying for a job she isn't qualified for may be another crazy mistake, but at this point Jess has nothing to lose.
Juggling two jobs, Travis Cooper has absolutely no time for a relationship and isn't looking for one. But when his mother hires an unqualified baker, he has more to worry about than three-tiered wedding cakes and fighting fires. Will he break his own no-dating-employees rule and make a little room in his life for love?
Author Web Site: http://darlenefredette.blogspot.com/
Blog: http://findingthewritewords.blogspot.com