Jul - 25
2023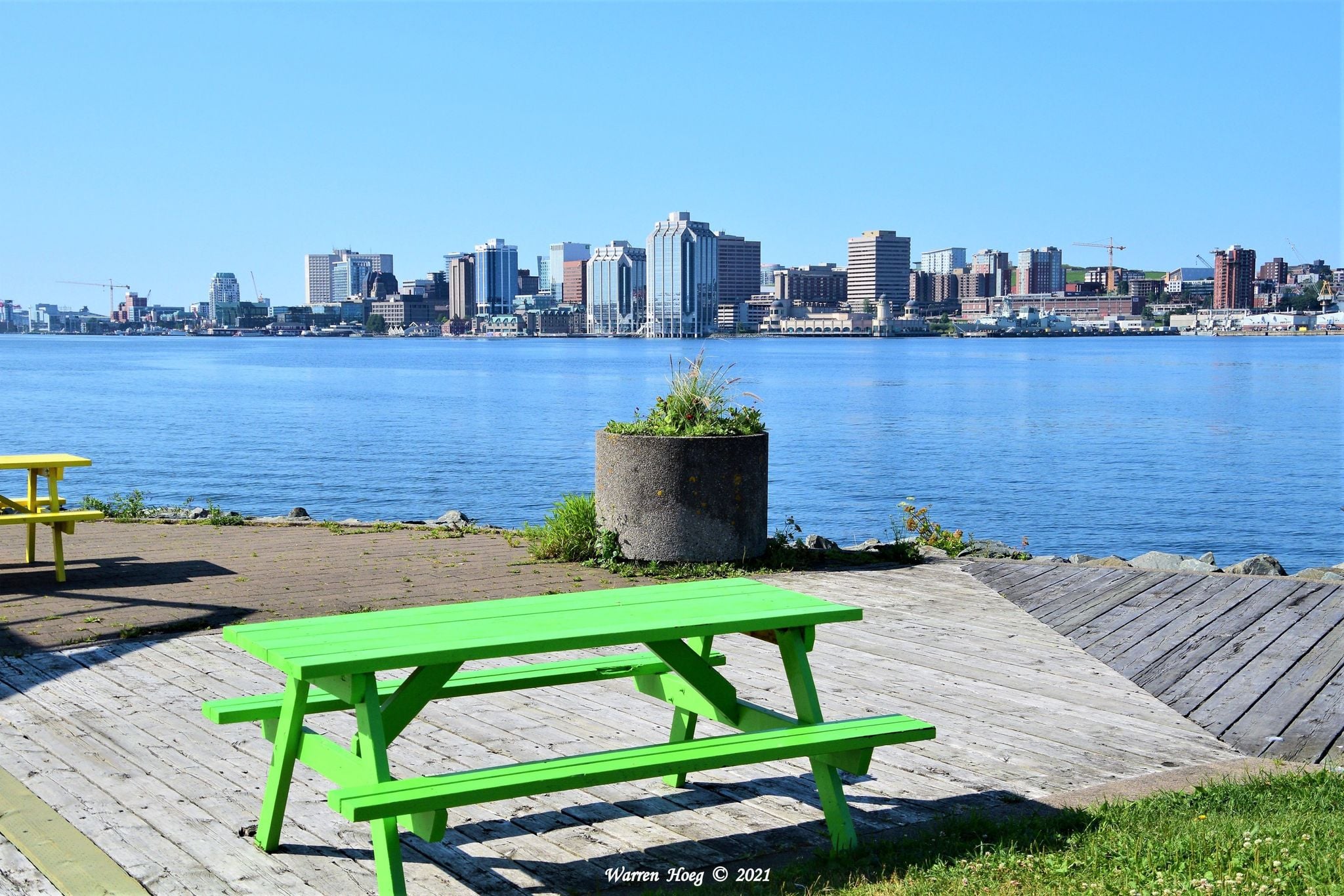 Our Top 5 books Set in Halifax, Nova Scotia
Wouldn't it be fun to read a book set in Halifax instead of say, New York? To have the main character drive past Citadel Hill instead of the White House? To look out the office window and at George's Island instead of the Golden Gate Bridge? With Natal Day right around the corner, we thought we'd post our top 5 picks (from our current stock) that are set in Halifax. The books are from all different genres and are set in a variety of time periods:
#1- Shoot Me by Lesley Crewe
In the words of her psychology student daughter, Elsie Brooks is an enabler. She mothers everyone: her social work clients, her husband, her twenty-something daughters, and her reclusive sister who lives in the attic. Elsie is committed to taking care of everyone–everyone but herself. So, when crazy Aunt Hildy writes to demand a bedroom in their Halifax home, Elsie can't help but say yes. When Hilda arrives, she enchants and enrages the family with her moxie. That and her proclamation that she has hidden treasure in the house and the king's ransom will go to whoever loved her most. When someone threatens Aunt Hildy, she responds with her trademark sass: Go ahead. Shoot me. I dare you. Whoever it is takes her up on it. Suddenly, the house is turned topsy-turvy as Elsie's family searches for a treasure that Elsie doesn't believe even exists, and for a killer that could be any one of them. Shoot Me is a funny and sometimes heart-wrenching story about family, fortune, and figuring out who you are and who you love. In Elsie, Crewe has created a character who speaks with humour and honesty to conflicts that exist in the lives of so many women: between work and home, between loving one man and wanting others, and between feeling fulfilled not only as a wife and a mother, but as a woman.
#2- A Dangerous Diversion by Michelle Helliwell (set in 1874)
Elouise isn't simply Charming by name…Charming is the job.
When trouble strikes Everwell Manor, headquarters of her fellow Scandalous Spinsters and the only real home she's ever known, being charming isn't enough. Especially when the job calls for her to pick the pocket of a handsome blue-eyed stranger at a high society function.
After a suspicious fire killed his brother, Detective Dominic Ashe pointed the finger at one of Boston's elite and found himself out of a job. With his reputation in tatters, he's come north in a last ditch effort to find justice and maybe a little peace…but he's unprepared for the well heeled beauty who seems determined to get in his way.
When Dominic is injured helping Elouise''s students, she wonders if she can trust the illusive American with her secrets. But trusting a man has only led Elouise to ruin…and Dominic doesn't know how to deal with a woman who doesn't play by society's rules.
The clock is ticking…will Dominic steal Louisa's heart? Or is Dominic little more than a Dangerous Diversion?
Please note that A Dangerous Diversion is the first book in the Scandalous Spinster series set in Halifax. The second book, A Captivating Caper is already on our shelves and we are looking forward to the upcoming release of Michelle's third book!
#3- Decoding Dot Grey by Nicola Davison (set in 1997)
A heartfelt YA coming-of-age novel set in an animal shelter from the award-winning author of In the Wake, exploring grief, first love, and growing pains.
Eighteen-year-old Dot Grey doesn't hate people; she's just not especially fond of their company. It's 1997, and she's just left home in favour of a dank, cold basement, where she lives with several small animals, including a chorus of crickets, a family of sowbugs (they came with the apartment), a hairless rat, and an injured crow.
Her job at the animal shelter is her refuge — so long as she can avoid her father's phone calls. He's trying to get Dot to visit her mother, but Dot knows there's no point. No one ever understood her like her mum, who helped Dot channel her vibrating fingers into Morse code, their own private language. But her bright, artistic mother was terribly injured a year ago and Dot can't reach her, even with her tapping fingers. Left with only a father who refuses to face the truth, she focuses on saving the little lives at the shelter.
When Joe starts working there, everyone thinks he has a crush on Dot. Dot thinks he's just awkward and kind. He shows his good heart when they rescue an entire litter of puppies together, and Dot finds herself warming up to him. But Joe waits too long to tell her his deepest secret, and soon she is forced to deal with two losses. In the end, Dot's weird way of looking at the world is the one thing that will, against the odds, help her connect with it.
With breakneck wordplay and the most motley of crews — human and otherwise ̬ Decoding Dot Grey is a tender and delightful novel from the award-winning author of In the
#4- We Have Few by Aren A. Morris (set in 1945)
As part of the city's war effort, Polly Tremblay decides to train and work as a welder at the Halifax Shipyards. Affirmed by her work, Polly's journey toward personal and professional independence begins. Soon, Victory in Europe is declared and Halifax erupts into riotous chaos – along with Polly's future. Navigating the V.-E. Day mobs, Polly searches for her mother, the courage to forge her own path, and the soul of the city she adores.
Inspired by the real-life Halifax Five (a group of wartime female welders from across Nova Scotia), Aren A. Morris shares the provocative story of an exceptional young woman torn between being true to herself or the expectations of others. At its heart, We Happy Few is about women's work and pleasure, and who gets to decide what that is.
#5- Joe Howe's Ghost by Bretton Loney
Erin Curran is a rookie Government MLA when a startling encounter with the ghost of Joe Howe, Nova Scotia's most famous politician and journalist, changes the trajectory of her career and her life.
Howe has been silently walking the halls of historic Province House for more than 150 years and Erin is the first living soul he has spoken to in all that time.
At first, it is Erin who learns from Howe, the master politician and communicator, who brought responsible government to Nova Scotia, defended free speech and bitterly opposed Confederation.
But as their friendship grows, Howe gains an appreciation of our times as Erin faces the trials of today's politics and the unique challenges facing female MLAs—from sexist colleagues to misogynist social media trolls.
Joe Howe's Ghost is a reflection on Howe's tumultuous political era and of provincial politics today, and an exploration of the personal struggle between the desire for political power and upholding heartfelt personal convictions that are common to both.
Series set in Halifax
Cathryn Fox's Scotia Storm Series
There are currently 7 books in this New Adult Romance Hockey series which are mostly set in Halifax. Each book features a different hockey player that plays for the Scotia Storms team based out of a University in Halifax, but in some of the books, the players may go home for a visit to P.E.I or Bass River or get even stuck in a snowstorm on the Cobequid Pass. But these stories are all close enough to Halifax that you may even read about a player visiting Dartmouth Book Exchange to purchase a book.
Pamela Callow's Kate Lange series
*Not currently in stock, but Pamela Callow's Kate Lange series are all set in Halifax and are all "Must Reads". For more on this series see our blog at: https://dartmouthbookexchange.ca/kate-lange-series-by-pamela-callow/