Apr - 28
2022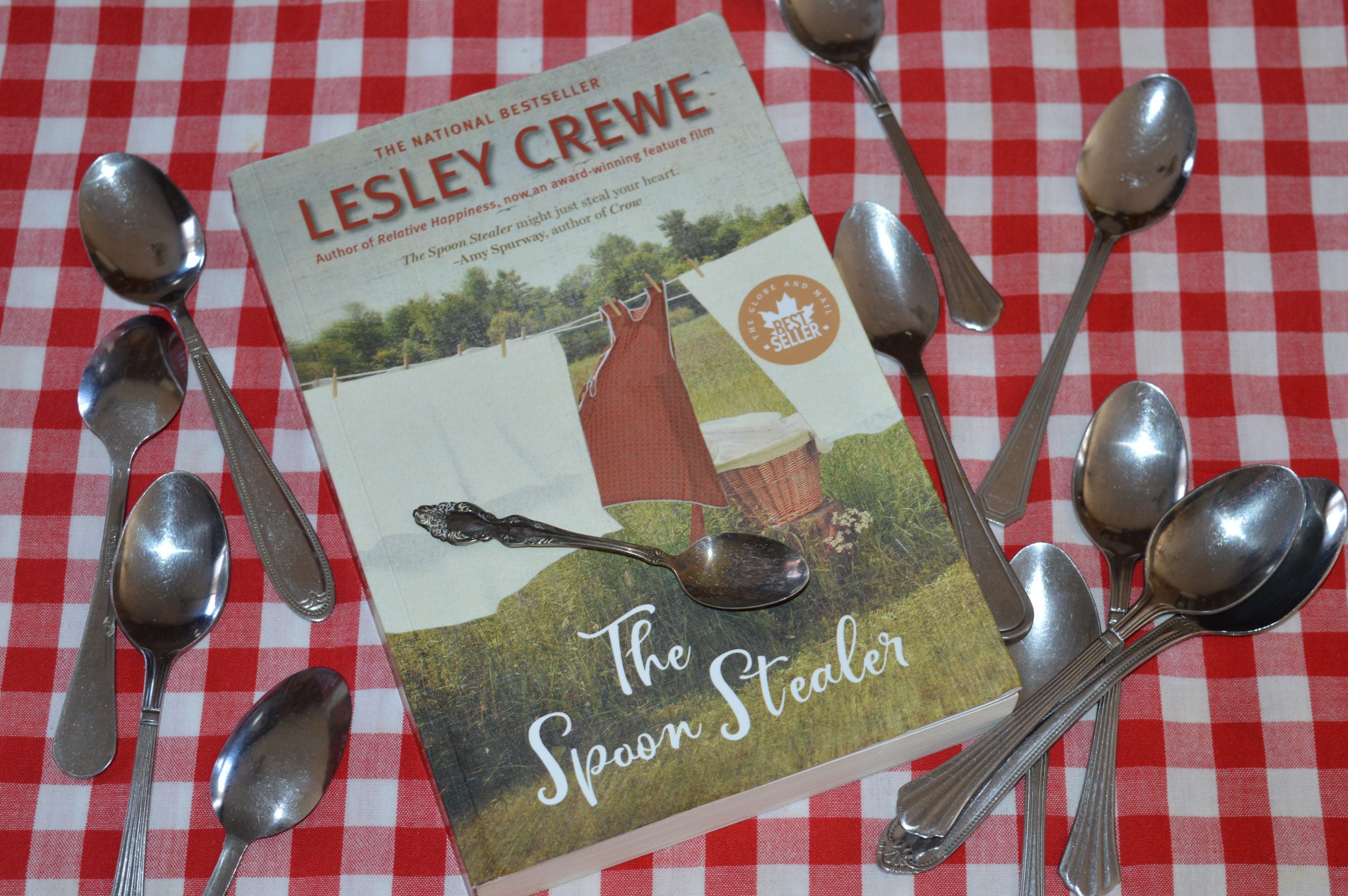 Our Staff Reads 'The Spoon Stealer' by Lesley Crewe
With Lesley Crewe's next novel due out in June, we thought we'd pick her last full-length novel, The Spoon Stealer as our next Staff Reads. For those of you who are unfamiliar with the book here is the book blurb:
Born into a basket of clean sheets—ruining a perfectly good load of laundry—Emmeline never quite fit in on her family's rural Nova Scotian farm. After suffering multiple losses in the First World War, her family became so heavy with grief, toxicity, and mental illness that Emmeline felt their weight smothering her. And so, she fled across the Atlantic and built her life in England. Now she is retired and living in a small coastal town with her best friend, Vera, an excellent conversationalist. Vera is also a small white dog, and so Emmeline is making an effort to talk to more humans. When she joins a memoir-writing course at the library, her classmates don't know what to make of her. Funny, loud, and with a riveting memoir, she charms the lot. As her past unfolds for her audience, friendships form, a bonus in a rather lonely life. She even shares with them her third-biggest secret: she has liberated hundreds of spoons over her lifetime—from the local library, Cary Grant, Winston Churchill. She is a compulsive spoon stealer.
When Emmeline unexpectedly inherits the farm she grew up on, she knows she needs to leave her new friends and go see the farm and what remains of her family one last time. She arrives like a tornado in their lives, an off-kilter Mary Poppins bossing everyone around and getting quite a lot wrong. But with her generosity and hard-earned wisdom, she gets an awful lot right too. A pinball ricocheting between people, offending and inspiring in equal measure, Emmeline, in her final years, believes that a spoonful—perhaps several spoonfuls—of kindness can set to rights the family so broken by loss and secrecy.
The Spoon Stealer is a classic Crewe book: full of humour, family secrets, women's friendship, lovable animals, and immense heart.
Pat Hillier states: "It wraps you in the reality of life, the importance of family in your life, and how important accepting who you are in your own skin. Certainly one of my top ten of all time reads." Facebook comment April 20th- 2022
Review: I don't think I've ever found a character as likeable as " Emmeline". Despite all her hardships and heartbreak throughout her life – she always chose kindness. We could all take a page out of her book and remember that. Vera comes a close second to the most loveable character and the relationship they have would warm even the coolest of hearts. One thing is for certain I now have a new appreciation for the silhouette, form, and significance of a spoon …They represent a hug. ❤️ Jen Robley Goodreads August 2021
Jen will be bringing Cinnamon Drop Cookies to Emmeline's next Memoir Writing Class/Meeting. This is her Grandmother Adele's recipe:
What the Staff thought:
Sue Slade: After watching Lesley Crewe's latest novel fly off the shelves since it was released last September, I figured I would read it and see what all the fuss was about. Well…. I quite enjoyed it. All the characters, including a sweet little dog named Vera, were very well developed. I liked that it was historical fiction and we get to see the world's events as they influenced and impacted Emmeline's life. I really liked how the author creatively presented the highlights of Emmeline's life to the reader, by Emmeline reading parts of her memoir to her writing class at the library. It made the reader feel like she was sitting with the other women in that class listening to how Emmeline's life unfolded and wondering what kind of treat she could make to bring to the class the following week. Goodreads August 2021
"The last get-together seemed to cry out for cake." "Even as she was icing the lemon pound cake…"

"After nine weeks together, they seemed to be of one mind. Mrs. Tucker brought a sponge cake, Una had chocolate brownies, Sybil made a trifle, and Harriet a banoffee pie." page 145 –The Spoon Stealer
Sue will be bringing an Iced Lemon Pound Cake to Emmeline's next Memoir Writing Class/Meeting.
Ingredients:
2/3 cup shortening

1 ¼ cup sugar

2/3 cup milk

1 tsp lemon extract

2 cup flour

½ tsp salt

½ tsp baking powder

3 eggs
Cream the shortening & sugar. Add milk & extract and mix. Sift dry ingredients and add to wet, Beat until smooth. Add eggs one at a time, beating after each. Pour into a greased loaf pan. Bake 275 degrees for 1 hour 15-35 minutes. Ice when cool.
Icing
1 cup icing sugar
1 Tbsp shortening
1 Tbsp milk
½ tsp vanilla
Beat until smooth
Amy McIsaac: Staff Reads #10- The Spoon Stealer by Lesley Crewe. This was my second Lesley Crewe novel and if possible, my favourite. Like most people of a certain age, I could picture the setting as my own mother grew up on a similar farm with hardworking parents and siblings. Life wasn't easy and family relationships were sometimes difficult. To this day my mother at 101 still swears her mother never liked her. So, as I was reading The Spoon Stealer, I felt like I was reading my own mother's story, minus the adventurous trek across the sea. Emmeline Darling was a wonderfully inspiring character; all the characters, although fictitious, felt very real. Lesley Crewe is amazing at making you feel like you're just having a cup of tea and she's telling you a story. I never wanted to rush to the end, savoring every page, every chapter. Another 5-star book for me!
"So much of our lives depend on just one move, one way or the other. If I'd turned left instead of right that day…" pg 317 –The Spoon Stealer
Amy will be bringing Brownies made from a recipe she found in Tunes and Wooden Spoons: Recipes From A Cape Breton Kitchen by Mary Janet MacDonald
Atlantic Book Reviews by Lana Shupe– reposted with permission
Reading a novel by Lesley Cynthia Crewe is like covering yourself in an old quilt. You know you can settle in and get cozy, wrap yourself in the words and let the characters and their memories keep you company as you read.
Emmeline Darling, the book's main character, revisits her past as she reads aloud from her memoir at a writing class she takes in her retirement years. Mental illness and loss are the themes running through the book, but the author deals with these subjects with the grace, humor and love I have come to know through reading her books. Lesley is adept at writing humor, heart and good old fashioned values.
Emmeline is indeed a spoon stealer. She is also a tour de force. She lovingly blunders into the lives of friends and estranged family in her desire to help and heal. She believes that "a spoonful of kindness" can go a long way to mending hurt and misunderstandings and I, for one, would agree.
I will never forgive Lesley for breaking Emmeline's heart on page fifty six! How could you Lesley Crewe?! I know, I know. You authors have to rip out our hearts and stomp on them so you can spend the rest of the book redeeming yourselves with the rest of the story. I might one day forgive you, but it will be a long while.
There is also a little white dog in this book. If you know me you know I own a little white dog. The fact that this book's little white dog happens to be a great conversationalist is not lost on me. Although my own little white dog has never spoken aloud to me, I do imagine that he can understand what I am saying as I catch myself talking to him throughout my day.
Nimbus and Vagrant Book Club I would love to see this novel as a book club choice. We could all make Emmeline's "Queen's Lunch Squares" and share them virtually. Goodreads July 2020
"And the Queen Anne Squares are cooling on the rack." Page 189- The Spoon Stealer
Lana will be bringing Queen Anne Squares to Emmeline's next Memoir Writing Class/Meeting. Her recipe comes from Barry C. Parsons rockrecipes.com.
Ingredients
For the bottom layer
2/3 cup butter melted

2/3 cup brown sugar

1 cup flour

4 Tbsp cocoa

1 tsp vanilla extract

1 extra large egg, or 1 1/2 medium
For the coconut layer
1 can sweetened condensed milk, (300 ml can) 14 oz in US

2 cups dried unsweetened coconut, medium or fine cut

1 tsp vanilla extract
For the chocolate frosting
2 cups icing sugar, powdered sugar

3 tbsp cocoa

1 tsp vanilla

2 or 3 tbsp milk

1/4 cup butter
Instructions
To make the bottom layer
Beat together all ingredients until smooth, then spread evenly into the bottom of a lightly greased and parchment paper lined 9×9 inch baking pan.
To prepare the coconut layer
Mix together the 3 ingredients until completely blended then drop by heaping teaspoonfuls onto the cake batter layer. Spread out carefully.

Bake at 350 degrees F for 25 -30 minutes. Cool completely before adding the chocolate frosting on top.
To make the chocolate frosting
Beat together the icing sugar, cocoa, vanilla butter and a little of the milk.

Add only enough milk to bring the frosting to a smooth but spreadable consistency. A frosting that is a bit on the thick consistency side works best here.

Spread on the cooled cookies and cut into squares or bars.