Jun - 09
2023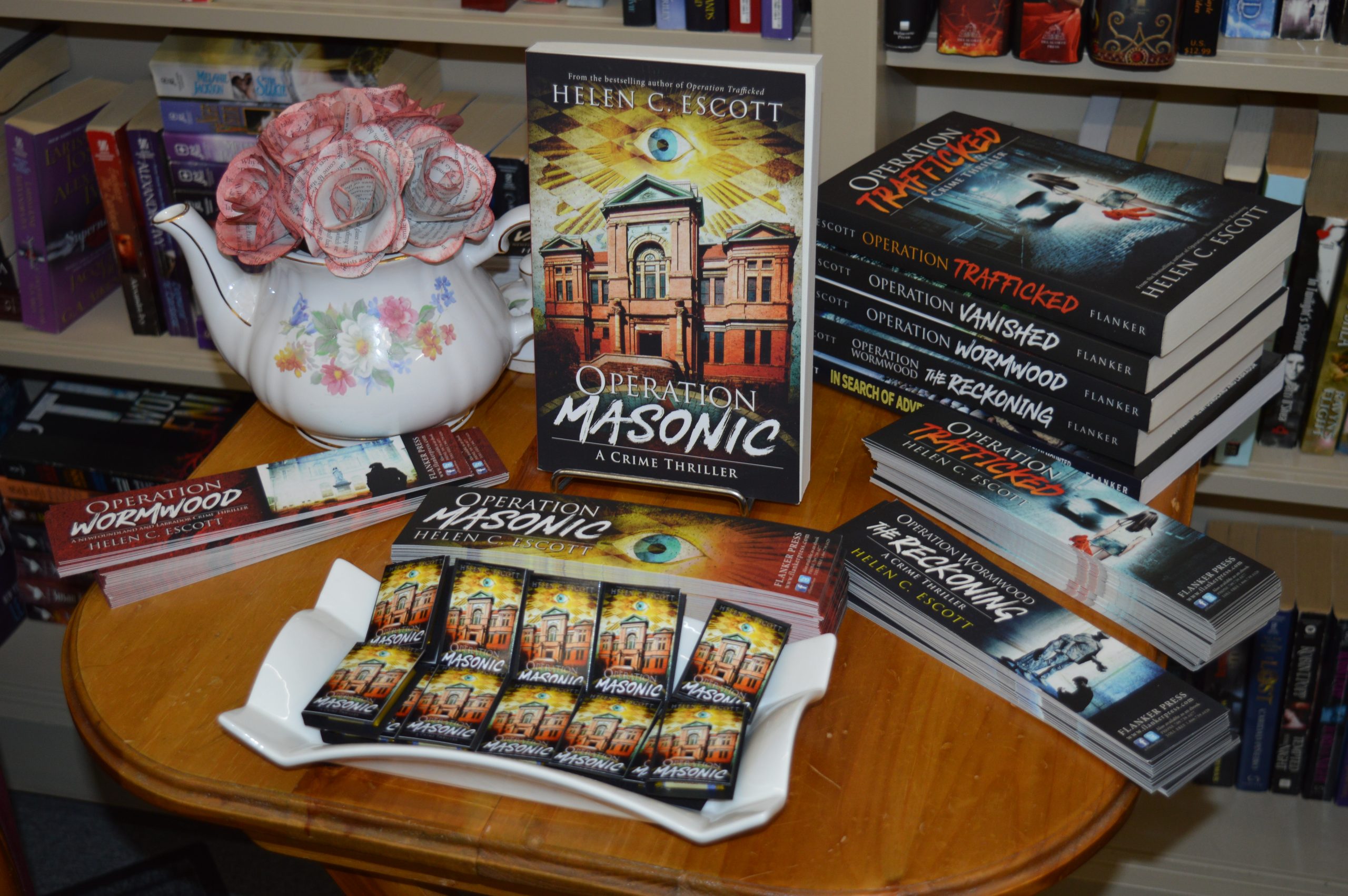 Operation D.B.E. with Newfoundland Crime Writer Helen C. Escott
On Sunday, June 4th we welcomed Newfoundland's bestselling award-winning author, queen of suspense, and crime thriller extraordinaire Helen C. Escott to our Operation D.B.E. event.
The store manager, Sue, began with a quick introduction and then jumped right into an interrogation of Helen, with some insightful questions about her one-woman crime spree including:
What started you down the road to being an author?
Why do you write fiction crime thrillers and not true crime?
Do you fall down rabbit holes while doing research?
If one of your books became a movie, who would you like to see playing your characters?
Where do you get your ideas from and how do you plot your murders?
Do you think you are on a government watch list based on your Google Search History?
From start to finish, how long does it take you to finish a book?
Do you have another novel in the works?
Helen was quite the prolific speaker and I'm sure we could have talked about her books for hours. Some of the highlights we discussed are as follows:
Helen feels that being a writer is similar to being a singer or a painter, it's a skill you're born with. She always remembers writing and filling notebooks with short stories and poems. In her teens, she figured out that being an author does not pay the mortgage, and that she needed a real job, so she went into media. After 10 years in radio and TV, she joined the Royal Canadian Mounted Police as a communication strategist. It wasn't until she retired that she realized her 14-year-old dream of becoming an author, however, she feels that all of her earlier experience was the perfect storm of careers to becoming a better writer.
All of Helen's novels are based on true crime, but they are fiction. None of the crimes are made up or from her imagination, they come straight from the newspapers. As well, all her characters are based on real people or a combination of people. Helen loves writing and reading fiction. In saying that, she does plan to write a true crime book at some point.
Helen says that if any of her books become a movie, they must be filmed in Newfoundland, using local talent. The locations and the local dialect cannot be replicated anywhere else.
Helen then did a short reading from chapter 2 of her latest novel, Operation Masonic which can be seen on our Facebook page. Operation Masonic was shortlisted for the Atlantic- Published Book Award by the Atlantic Publishers Marketing Association. You can get the first chapter of Operation Masonic free when you sign up for her A Novel Idea Newsletter at https://www.helencescott.com/.
A statement made by Helen during our event piqued our curiosity. She said that each of the names in her Wormwood stories were a mystery or a secret in themselves. When we asked her to elaborate, this is what she said: for the Operation Wormwood Duology: Google the character's name and try to uncover the hidden secrets in each chapter. For example: Nurse Agatha Catania – The patron saint of nurses is none other than St. Agatha of Sicily. Agatha was born in Catania, part of the Roman Province of Sicily. St. Agatha of Sicily has been the saint whom nurses look up to because of her noble acts and values. She embodies a kind of character that every nurse recognizes and hopes to embrace. At the same time, she is a symbol of hope for those who need reassurance, especially during hard times. Can you figure out where the following names came from? Sgt. Nicholas Myra, Dr. Luke Gillespie, Father Peter Cooke or Sister Mary Pius. We have the answers at the store.
For the finale of the event, we did 6 draws, one for each of her 5 Operation books and one for her book; In Search of Adventure: 70 Years of the Canadian Mounted Police in Newfoundland and Labrador, all donated by Helen.
Some of the comments from those who attended our event included:
Was a most entertaining afternoon!!! And of course, came home with a few new reads… of which one I was lucky enough to win!!! She's a born storyteller!!! Sylvia Mannette
It was a great afternoon & so interesting.- Lynn Surette
I really enjoyed the afternoon with Helen! She is such a great storyteller!- Pat Teasdale
Thank you. Wonderful afternoon.- Diane Hill
Great visit… love the books so far.- Carolyn O'Malley