Jun - 07
2021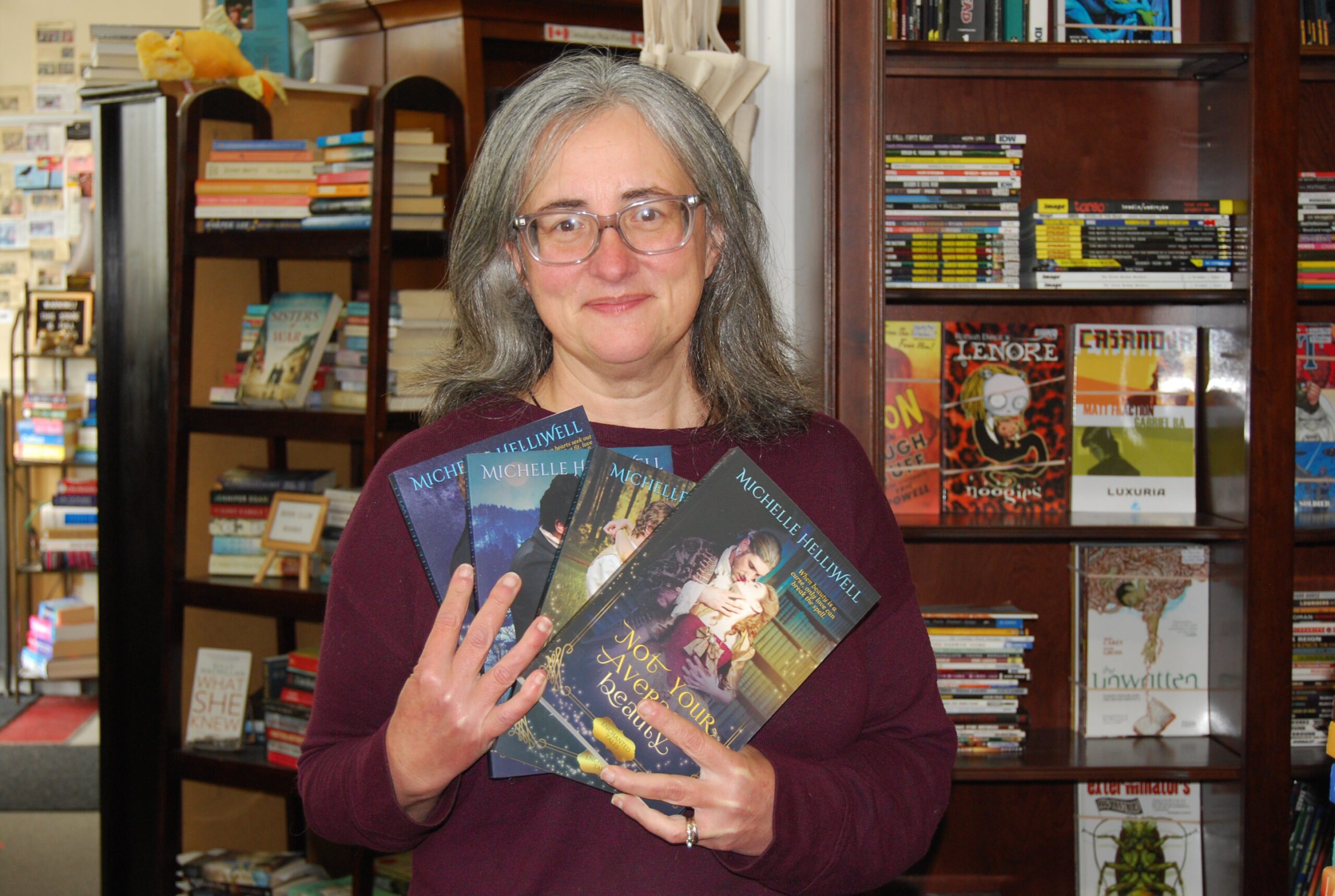 Michelle Helliwell's Enchanted Tales
***Author Spotlight and Book Give-a-Way***
This week, Historical Romance Author Michelle Helliwell is in our spotlight and we will be giving away a signed copy of the first book in her Enchanted Tales series: Not Your Average Beauty. For your chance to win, see our pinned post on Facebook. The draw will take place Sunday, June 13th. The winner must be able to pick up their winning book at the store. Good luck.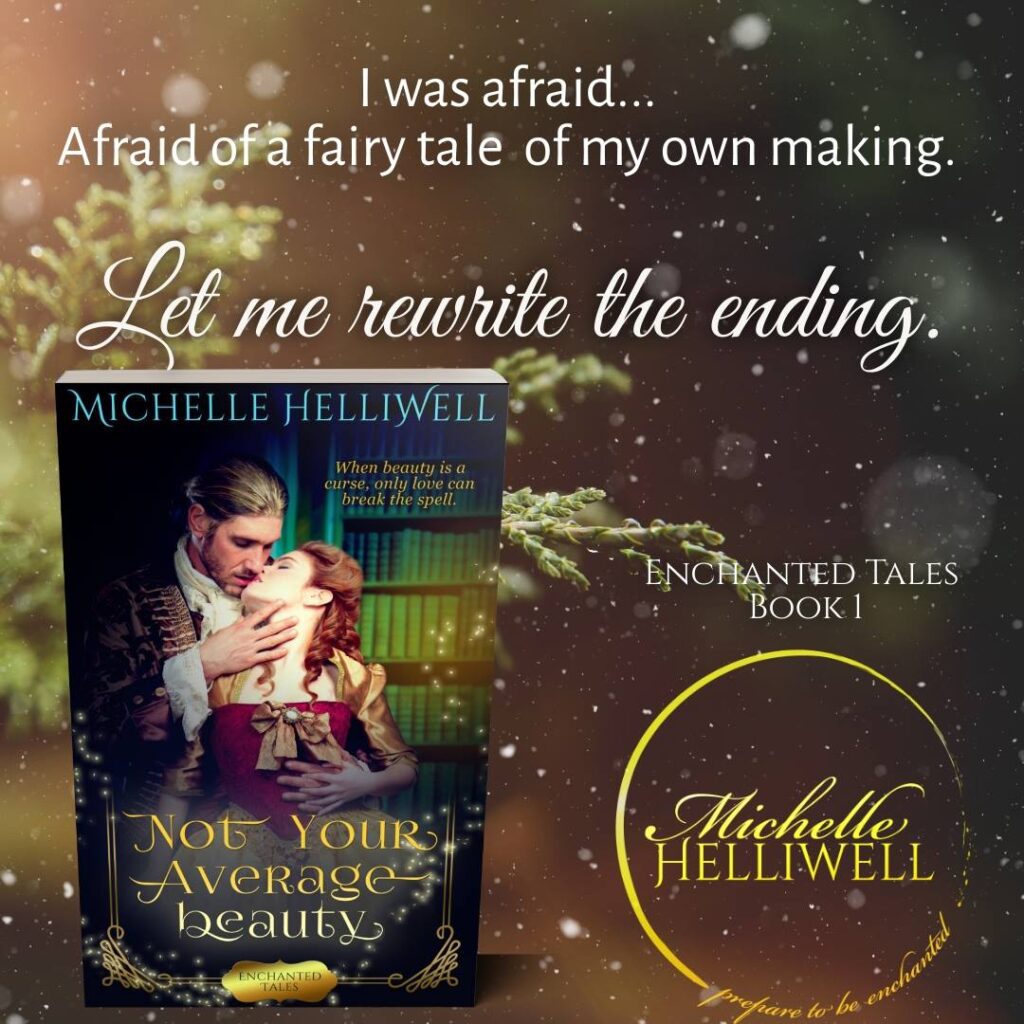 Not Your Average Beauty- a Beauty and the Beast-inspired Historical Romance. When beauty is s curse, only love can break the spell.
Stephen Pembroke, the Marquess of Barronsfield, believes that where his love of beauty goes, death follows. Cursed to a loveless existence, and with his legacy at stake, Stephen makes a desperate proposal of marriage to Rosalind Schofield, his steward's new ward – and the plainest girl he has ever met. Rosalind has spent a lifetime being overlooked for prettier faces. When she is singled out for her lack of beauty by the Marquess, she begins to doubt if she is deserving of the love she inwardly craves.
When unusual things start happening around her, Rosalind can't help but wonder if Lord Barronsfield or his curse are who and what they appear to be. When she openly challenges Stephen about the curse, he begins to doubt everything – and comes to realize that this apparently plain, ordinary woman is not as unremarkable as he believed. Strange things are happening in Barronsfield. As they move closer to the truth, Rosalind unwittingly finds herself in the sights of the real beast in Barronsfield, and Stephen must decide if his growing love for Rosalind will be his salvation or her doom
I loved this fairy tale retelling of the Beauty and the Beast story. The characters were refreshing, the imagery was gorgeous and the conflict was palpable. I couldn't put down the last third of the book. I also really enjoyed the nods to the elements from the fairy tale and even the Disney movie that were sprinkled here and there.

I'm shocked that this is a debut novel, as it is so well crafted and written. I very much look forward to reading more from this author. Shawna Romkey Goodreads May 2016
This take on Beauty and the Beast has a powerful opening and escalates quickly. Not the paranormal I expected, but there's a delicate touch of mystery and Gothic notes. Rosalind is a strong and practical character, and I appreciated how she tamed the beast. Tim Covell Goodreads July 2019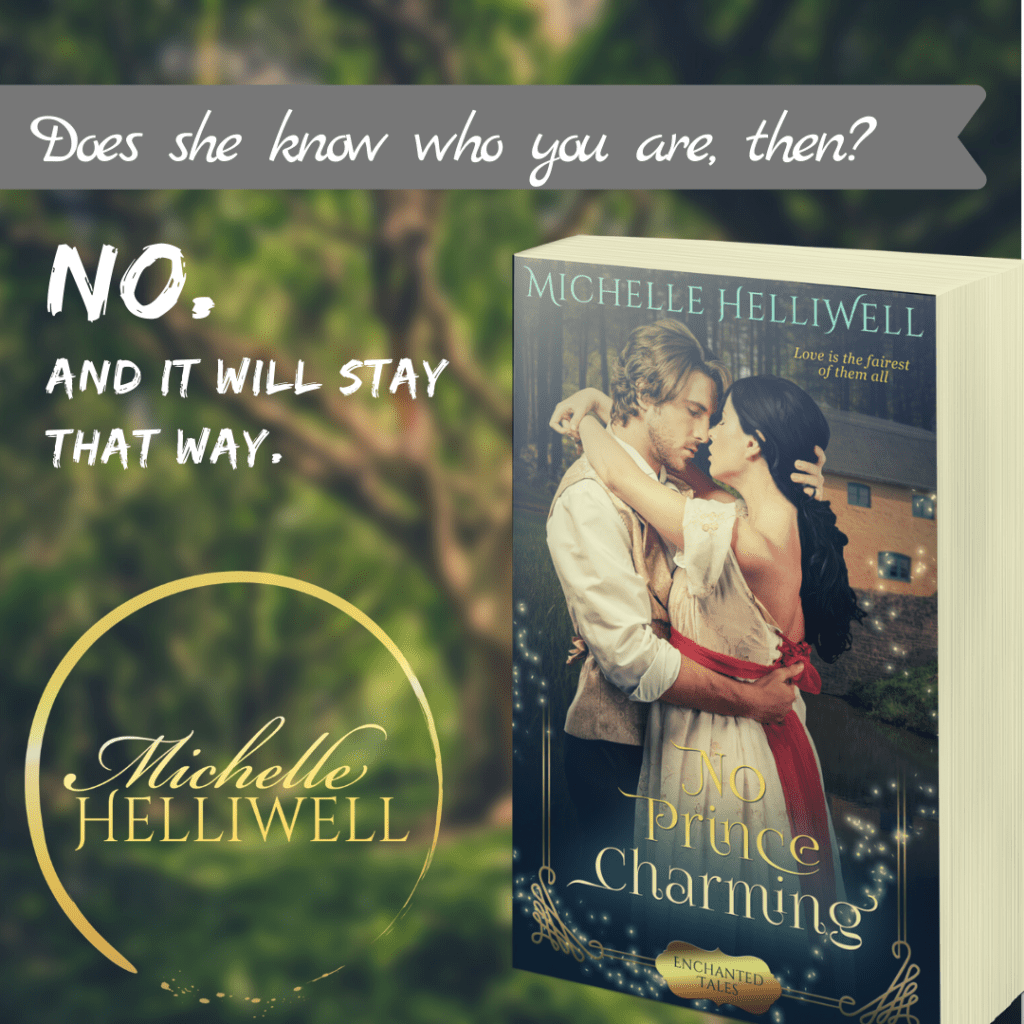 No Prince Charming- Snow White-inspired Historical Romance
Dashing off in a daring elopement with a prince, handpicked by her mother, Lady Gwyneth Snowdon anticipates an extravagant, secure future. But when a mysterious stranger kidnaps her, Gwyneth fears her happy ending is doomed.
Used by his maniacal father, Edmund Pembroke turned his back on society. Seizing the opportunity to say good-bye to his past forever, he makes a deal to separate the pampered countess from a gold-digging imposter. But when Edmund discovers her life is in danger, he is forced to protect the beautiful, well-born Gwyneth Snowdon and to confront his ghosts.
Separated from her plush surroundings, Gwyneth learns she's capable of so much—including love for a man with neither title nor fortune. But she begins to suspects there is more to her rugged, handsome guardian than he's chosen to reveal. After finding herself at the center of a sinister deception, can she dare to trust her heart to a man who's spent years deceiving himself?
The fairy tale references are initially subtle, and later this is more of a retelling than others in the series, but the references are clever and creative. Lady Gwyneth is naive and occasionally annoying, with a bad habit of putting herself in danger and not taking advice, but she does have good character growth. While most characters in the series are wealthy, this one starts the trend of paying attention to the working class. Tim Covell Goodreads July 2019.
I loved 'No Prince Charming', book 2 in Michelle Helliwell's Enchanted Tales series. After reading her other books, I knew to expect a fairy tale theme to be present within the story, but I was even more surprised when little bits of other fairy tales popped up as well. The predominant fairy tale theme being Snow White, with bits of Sleeping Beauty and The Frog Prince also seen. With each reference to a fairy tale bringing great pleasure to the reader. I usually steer clear of historical romances preferring contemporary- but Michelle's series has me rethinking this philosophy. Sue Slade Goodreads June 2020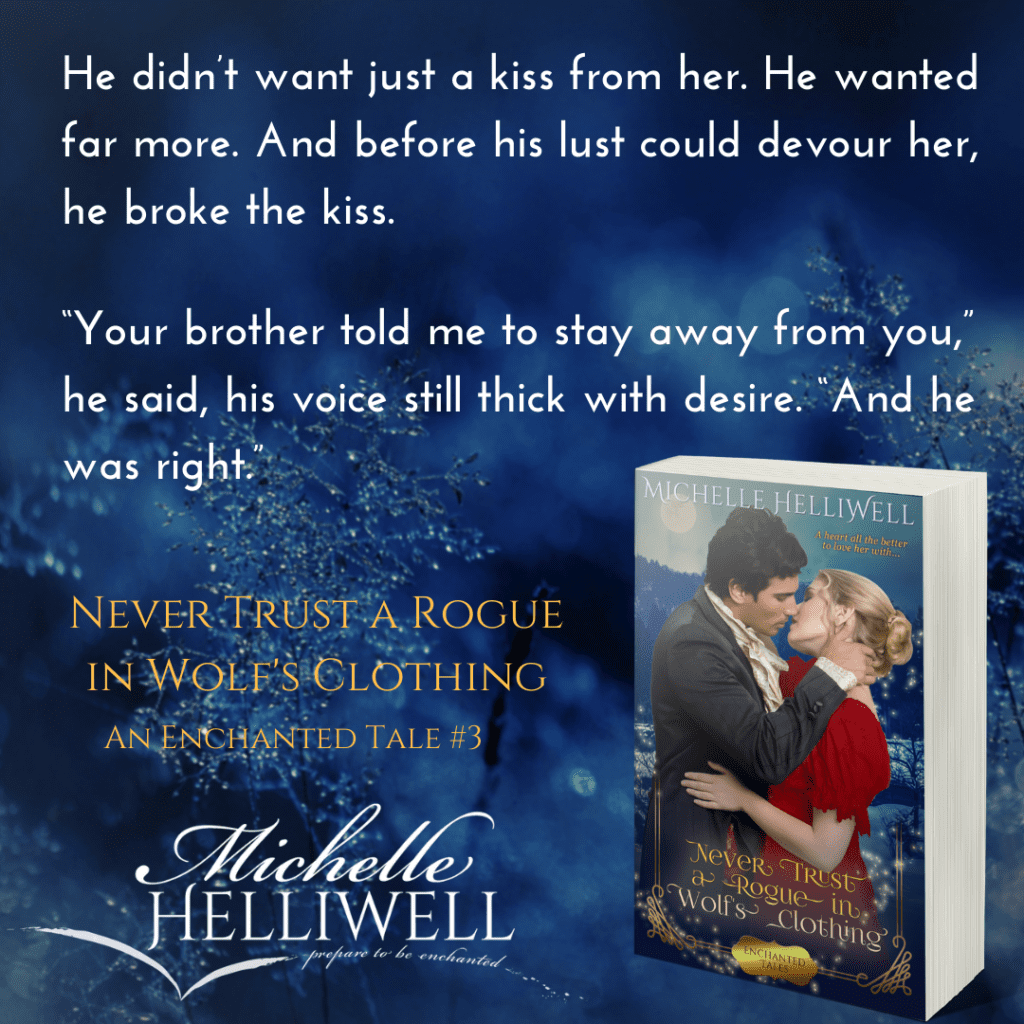 Never Trust a Rogue in Wolf's Clothing- Little Red Riding Hood-inspired Historical Romance
After three torturous seasons, Lady Eleanore Pembroke is finished with husband hunting and happy ever after. Following the scandal of a broken engagement, eager to bury herself in her work at the local infirmary, she returns home shocked to discover their trusted physician gone, replaced by a dashing scoundrel. Bastien DuMont is a talented doctor, but Eleanore senses his restless heart. She's no longer prepared to risk hers, nor the trust of the people who've come to depend on him.
Caught up in a revolution that dissolved into terror, Bastien learned that devotion is for fools. On the run from a growing list of men who'd love to see him dead, he's forced out of the shadows and into the shoes of a respectable country physician, putting him under the scrutiny of Lady Eleanore, a local do-gooder immune to his roguish charms. When a mysterious figure emerges, threatening his life and the safety of those around him, can Bastien hunt down his opponent before he becomes the prey? Or is exposing his heart the greater danger?
Helliwell increases the intensity and depth of the series with this one, moving from personal fortunes and jealousies to the historical event of the French revolution. In some ways darker, with increased attention to the working class and the double standards facing women, but lightened by playful dialogue between "the wolf" and the lady in the red cape Tim Covell Goodreads July 2019
I adore historical romance and with the added fairy-tale element…I'm in heaven. Love all the books in this series, but I was especially happy to see Bastien DuMont get his turn at a happy ever after. Can't wait for the next one! Donna Alward Goodreads October 2017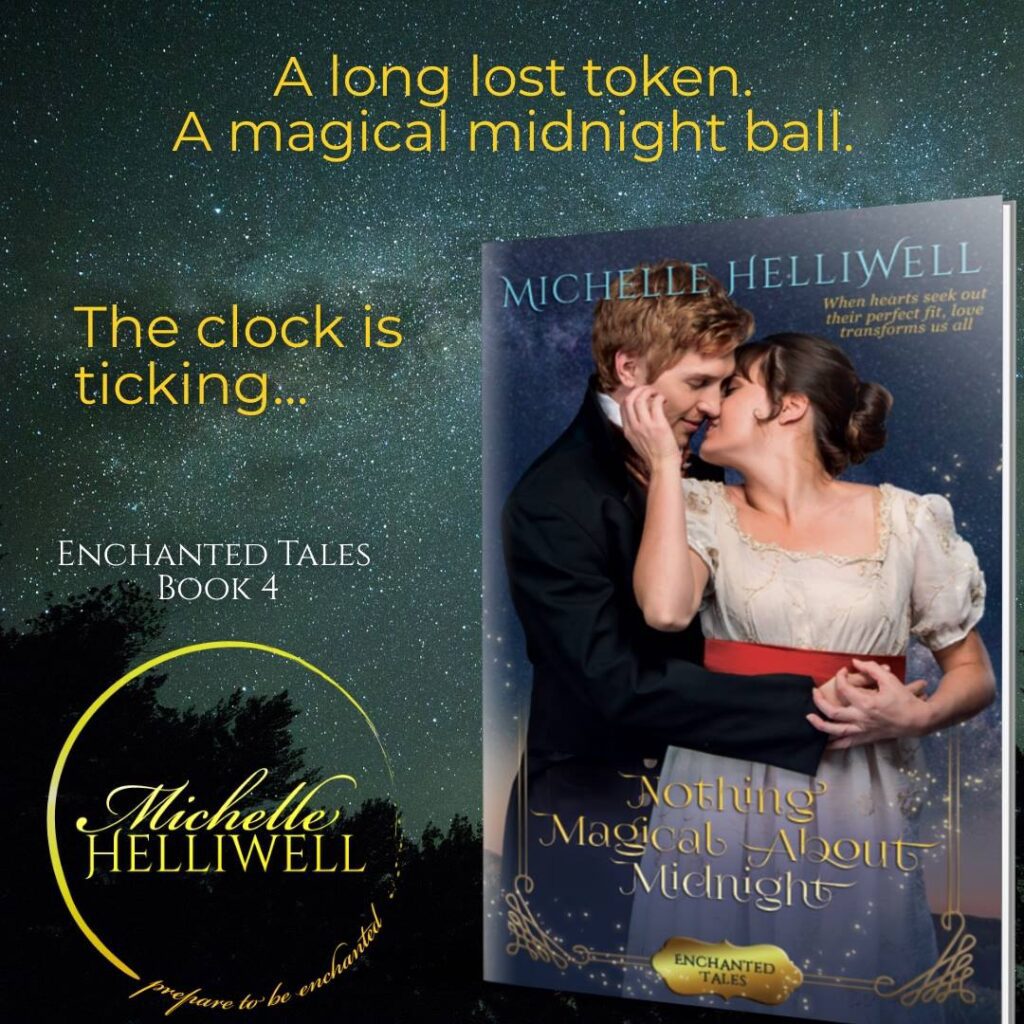 Nothing Magical About Midnight- A Cinderella-inspired Historical Romance
Kitty Boxford isn't the sort of girl that gets invited to the ball of the century, but she has other plans to find herself a husband. The very serious but oh-so handsome Marquess of Ellsworth needs an assistant for his observatory, and it's the perfect opportunity to earn the money she needs to hatch her husband-hunting plan. What isn't in her plans is to fall in love with a Duke-in-waiting…someone as out of reach as the stars.
For Colin Middleton, Lord Ellsworth, his scientific endeavors have been the distraction for his broken heart, not the bevy of ladies his marriage-minded parents have invited for a grand ball. When a gamekeeper's daughter demands the job as his assistant, he initially discounts her as far too unqualified and far too female for the job. But the alluring Miss Boxford is more than just an excellent assistant, and there is nothing logical about the way she makes him feel. Still, there is a formula for marriage in the peerage…and marrying a gameskeeper's daughter is not part of the equation. When Colin's father becomes ill, the pressure to take his place in the family – with an appropriate bride and the requisite heirs – mounts.
Logically, Kitty is the last woman he should want to marry. But there's nothing logical about love…
This last entry in the series is my favourite. This time there's no suspense subplot, so there's more emphasis on the romance. Great complex and interesting characters, who both grow. The references to Cinderella are delightful, as is a scene where Kitty pretends to be a man, which turns out to be more difficult than it is novels. Tim Covell Goodreads July 2019
Although I am not a lover of Historical Romance, my Romance Book Club assured me that this series by Michelle Helliwell leaned towards Fairy Tale themes and that I should give it a try. As it was the pick for this month, I choose to gamble and I purchased the book. My second gamble was in reading the 4th book in the series 1st. I was very pleased with my gambles & have since placed the first 3 books in the series on my 'Want To Read' list. I have to say I absolutely loved this book. Even though it was the 4th in the series, I was not lost at all when reading it. I found it to be a fast-paced, romantic & magical read. I loved the Cinderella theme that was woven throughout the storyline and especially loved the twist at the end with an application, which I cannot explain more about without spoiling the book. Thanks, Michelle for this Magical Adult Fairytale. Sue Slade Goodreads November 2019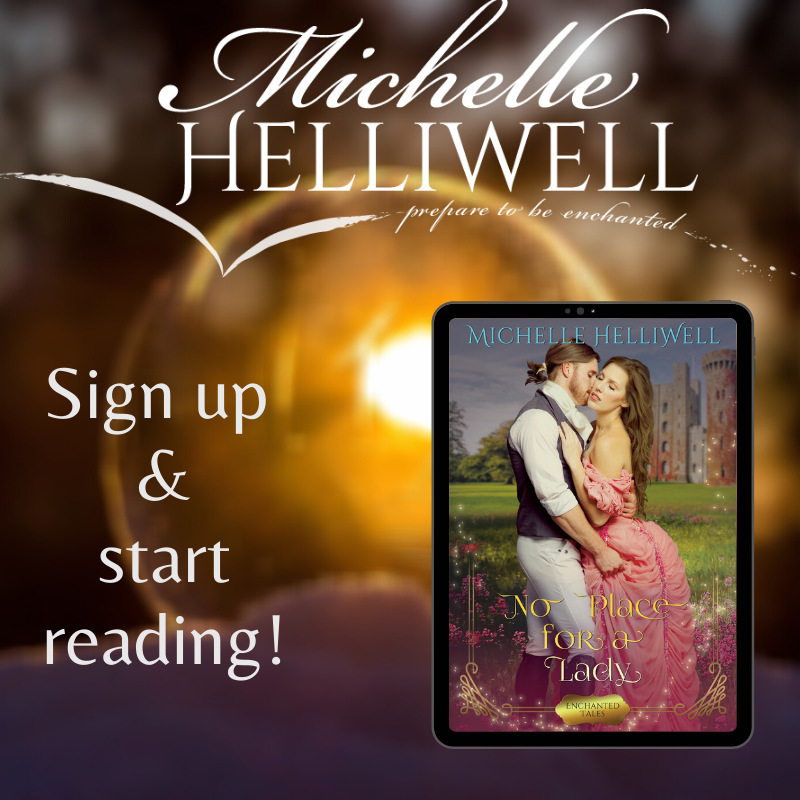 Sign up for Michelle's monthly newsletter on her Website and get an electronic copy of her prequel No Place for A Lady at www.michellehelliwell.com
No Place For A Lady- A Rapunzel- inspired Historical Romance
Lady Sara Whitmore is destined to be the bride of a rich, powerful man, worthy of her family's impeccable connections and flawless lineage. So she shouldn't be at all distracted by her estate's fetching assistant gamekeeper…a man who's everything her intended is not—kind, honorable, and commonly born. But when Harry Boxford is arrested for intervening on her behalf, Sara feels obligated to help him, even if it means tossing aside everyone's expectations of what it is a well born lady should do.
Harry Boxford knew Lady Sara was trouble from the moment he'd laid eyes on her. He should have kept on walking and left the nobility to their own troubles, instead of getting himself right in the middle of them, but he couldn't help but protect the beautiful Sara from the blackguard her family has tied her to. Now imprisoned and awaiting an aristocrat's justice, his chances at a new start—and possibly his life—are all but ended. Until Sara calls to him at his window with a tantalizing offer. One he cannot possibly accept.
She's a Viscount's Daughter. He's the son of a blacksmith. But the more time Sara spends with Harry, the more certain she is that her heart can only be safe with him. Can Sara convince the dashing gamekeeper to let down his guard and accept her into his heart?
This is a prequel to Nothing Magical About Midnight, and best read after that. Like others in the series, it references a fairy tale, with twists, and presents a strong female character. Also like others in the series, there's attention to the working class, and I particularly liked how that is handled here. It's hard to make a prequel interesting, since we already know the outcome, but Helliwell has done that. Tim Covell Goodreads July 2019