Oct - 01
2020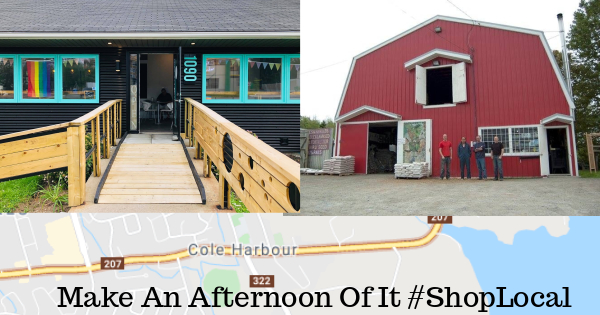 Make An Afternoon Of It #ShopLocal
Make An Afternoon Of It #ShopLocal
Have you ever said to yourself "I really want to go to Dartmouth Book Exchange today, but it's just too long a drive for just books"? Then this is the Blog for you.
On this side of the Forest Hills Parkway, a short walk from our store, are several great small businesses that you may be interested in visiting after you leave our store:
Need a Haircut??? Next door to us and in the same building, 1187 Cole Harbour Road is Legends Barber Shop– look great– feel great. They specialize in the newest haircuts and styles. Fades, Line & Designs.
Across the street, 88 metres away is Creative Cuts Salon and Spa at 1172 Cole Harbour Road. Creative Cuts offers all hair services. Color specialists, chemical services, Olaplex, fantasy colors, cutting, and barbering. They also have a spa where they offer full esthetic services and have a registered massage therapist for all of your therapeutic needs. https://www.facebook.com/creativecutssalonandspa/
Towards Dartmouth-
Selby's Bunker Coffee and Gifts– Bring your friend to the store and afterward head up to have a locally roasted, fair trade & organic coffee, locally baked goods, or shop for those stocking stuffers. They have a large selection of fun gift items! Selby's is across the street and 350 metres from us– a 5-minute walk at 1090 Cole Harbour Road. https://www.facebook.com/SelbysBunker/
Into The Mystic New Age Gifts/ Teas and Psychics is 450 metres/ a 6-minute walk. Their is Shop located at 1082 Cole Harbour Road and offers readings, unique gifts, crystals, books, jewelry, and teas that are organic, fair trade, and aroma-therapeutic. Nuwati herbal tea tinctures and balms our specialty. Great place to meet open-minded people who share the same interests. Their shop is also scent-free.
Need to burn off those calories you consumed at Selby's Bunker Coffee and Gifts? A 13 minute, 950 metre walk from our store across the Forest Hills Parkway is Vibe Energy at 971 Cole Harbour Road. They offer a wide variety of services – Ideal Protein, exercise programs, reflexology, Indian Head Massage & pain management, infrared sauna bed & much more. https://www.facebook.com/vibeenergyfitness/
Towards Lawrencetown-
Fabricville– Making masks for the Holiday season, or maybe taking up quilting? Did you know that Fabricville is only 130 metres away and on the same side of the street as our store at 1211 Cole Harbour Road?
Most Wanted Pawn is 400 metres/5-minute walk away at 1245 Cole Harbour Road. https://www.facebook.com/mostwanteddartmouth/
Walker's Livestock Feed and Supplies is 880 metres an 11-minute walk away at 1397 Cole Harbour Road. A family-owned and operated business dealing with everything from pet foods, livestock foods, landscaping & garden supplies, trees & shrubs and so much more, and catering to both retail and wholesale customers. https://www.facebook.com/WALKERSFEEDS/