Jan - 23
2023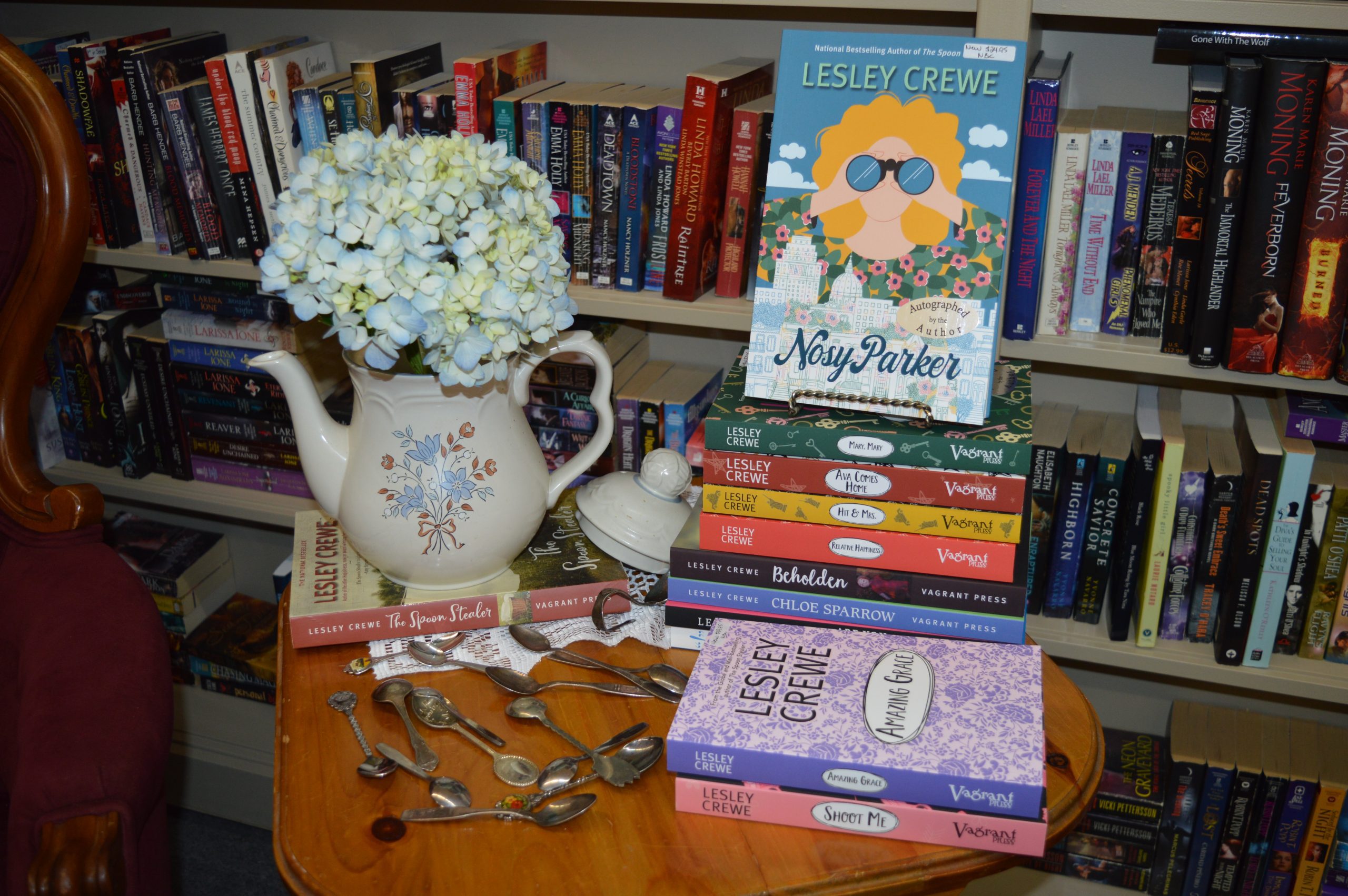 Let's Chat with Lesley Crewe
On January 21st we had the privilege of hosting a talk with Cape Breton Author, Lesley Crewe. Lesley published her first book, Relative Happiness in 2005 with Nimbus Publishing. Since then she has published 12 full-length novels, with her 13th coming out this summer. She also has 2 books which are collections of her newspaper columns, and are described as side-splitting, heartwarming, Cape Breton–flavoured celebrations of the 'little things'.
Lesley Crewe is such an entertaining speaker! This is why we choose to format this event as a "Let's Chat with Lesley Crewe" instead of just a book signing or reading. During the evening, she talked about everything from her writing process to the settings of her books, to her future plans. Here are just some of the neat things we learned throughout the evening.
Her first novel Relative Happiness was originally named Big Girl and she wrote this book for herself with no intention of ever publishing it. She actually said no the first time Nimbus asked her if they could publish it. After some thought, she reached out for advice from the Writer's Federation of Nova Scotia about publishing and she was told to always keep the filming rights to her novels. She did so and when she was approached to film Relative Happiness she was even able to help write the screenplay. Directed by Deanne Foley, the feature-length film won Best Feature Film at the Atlantic Film Festival in September 2014.
This past Fall, Lesley was contacted to find out if the house she featured in her second novel, Shoot Me was a real house and if it was, where it was located. It turns out; it is indeed a real house on Jubilee in South End Halifax. The lady who had contacted her then paid a visit to the owner of said house and told the owner that Lesley's book was set there. The owner then offered to host their book club meeting at the house with an invitation for Lesley to attend. I guess Lesley was pretty bang on in her descriptions of the interior of the house, without ever setting foot in it, although there are no secret passageways in and out of the house (that they know of).
This summer Lesley is heading to England! The library where Emmeline attended her memoir writing class in The Spoon Stealer is hosting her in an event to promote the book to the British market! Lesley also told us that she modeled Emmeline after Mary Poppins, but she couldn't have her being too good, so she had her stealing spoons. This made her a little bad, but not enough to go to jail. She also talked about the property in Marshy Hope that she envisioned as the farm in The Spoon Stealer while writing the book.
I think the audience was surprised to hear that Lesley did not take any creative writing courses to help her become the great writer she is today, although she does thank her editor over and over again for keeping her in line.
Comments made by just some of the people who attended the event:
Thank you for hosting this! It was energizing. Lesley was so gracious with her time, her motivation for writing and the actual mechanics of creating such a wealth of content, stories that inspire and touch people of all ages. She has tapped into something universal. It was a great event. Thanks Lesley, thanks Dartmouth Book Exchange, one of my favourite bookstores in all the world. -Gregory Turnbull
Very enjoyable, looking forward to her next chat after her next book comes out.- Marilyn Parker
Thank you for hosting this get together. Lesley is such a charming storyteller. I could have listened to her all night!- Cindy Millar
Wonderful evening!! She's such an entertaining speaker!!- Sylvia Mannette
Thank you for holding this chat. She's just fascinating!- Vicki Lynn
I really enjoyed meeting her and listening to her stories.- Victoria Hopkinson
Delightful evening! Many thanks to Lesley Crewe, and to Sue and Amy of DBEx- Lyn E. Thomson
I'm a sucker for Lesley Crewe events, especially at my favourite book store.- Chloe Kenney
It was a wonderful evening. Lesley is one of the most open and honest people I've ever met. I've already started her book.- David Wimsett
I had so much fun at our 'Let's Chat With Lesley Crewe' event tonight at the store. I picked Mary, Mary as the book for her to sign for me. It wasn't until later that I noticed that it matched the top I was wearing. I loved listening to her stories and I can't wait until her next book comes out this summer.- Sue Slade