Mar - 09
2022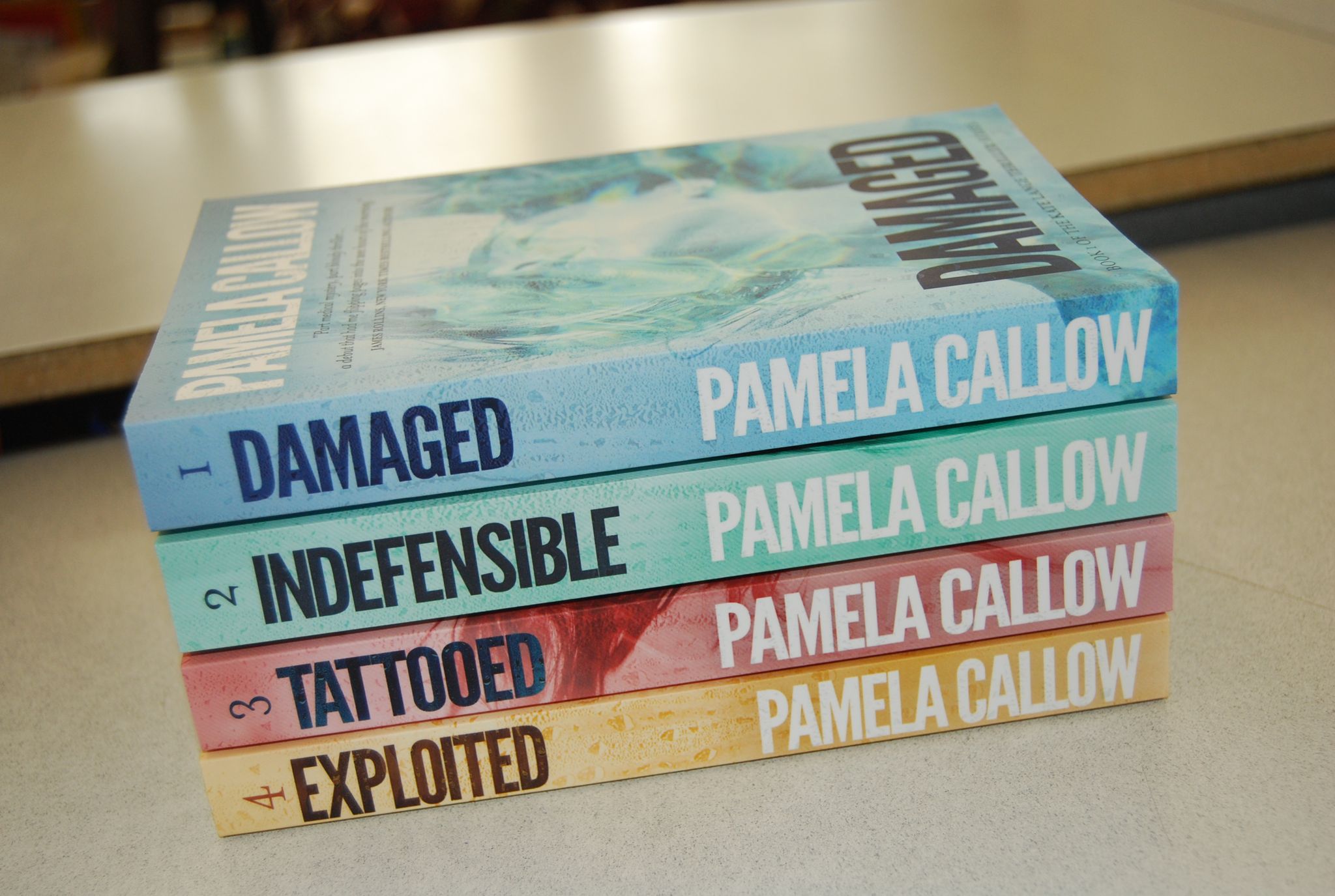 Kate Lange series by Pamela Callow
Damaged by Pamela Callow was our 5th staff reads pick and… the rest of the series quickly followed suit with Amy going as far as ordering the entire series as a gift for her sister.
This legal thriller/suspense series is set right here in HRM with the majority of the events happening in Halifax. It's refreshing to read about Kate taking the dogs for a run at Point Pleasant Park or the characters peering out into the harbour at George's Island. Pamela's books are compared to John Grisham's, Robin Cooks's, or Tess Gerritsen's.
Damaged
How far are you willing to go to forget your past?
Haunted by the death of her sister and wounded by her ex-fiancé's accusations, Kate Lange throws herself into her new career at a high-powered law firm.
When the grandmother of a lonely private school student seeks her counsel, Kate thinks it's just another custody case. But then the teen is brutally murdered. And it isn't only Kate who wonders if her legal advice led to the girl's death.
How far are you willing to go to redeem yourself?
Put on notice by Randall Barrett, the firm's charismatic managing partner, Kate must fight for her career, for her reputation – and for redemption.
Unwilling to live with the damage she may have caused, Kate pursues the case on her own and unearths some chilling facts.
Facts that lead straight to the heart of a legal conspiracy.
Facts that lead Kate directly into the surgically skilled hands of the Body Butcher.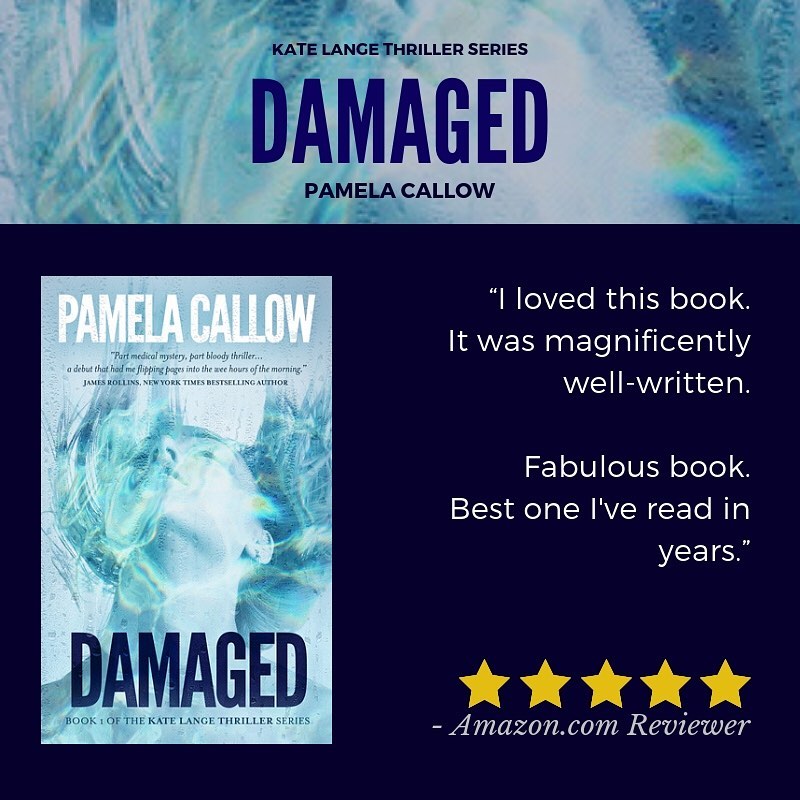 Review: Damaged by Pamela Callow has been on my radar as a book I'd like to read for quite a while now. I've heard many raving reviews from customers about this locally authored book. Finally, the opportunity arose and I was able to secure a copy to read. In other words, we finally caught up on the long waitlist of customers wanting to read this first title in Pamela Callow's Kate Lange series before reading her others.
Damaged was well worth the wait. I loved that this legal thriller was not set in New York or Toronto, but little old Halifax. I could see in my mind where things were taking place even though some of the places had slight name changes. I zoomed through the last half of the book, I just couldn't put it down, I needed to find out what happened next. I will be definitely on the hunt for Callow's second book in the series, Indefensible. I am very much looking forward to revisiting and seeing what is next for Kate Lange, her dog Alaska and even her fixer-upper house. Sue Slade Goodreads February 2022
Review: Staff Read #5
The last couple of Staff Reads we've read were set locally in Nova Scotia. I've mentioned how enjoyable it was to read books that you can actually say that you've been there or recognize the points of interest mentioned in the storyline. Well, I quickly found out that this doesn't apply when there's a serial killer on the loose in your hometown! Pamela Callow's first book 'Damaged' (in her Kate Lange series), Kate is an up-and-coming lawyer trying to make her mark in a highly competitive legal world. She is given a case that will ultimately challenge her moral, legal and ethical beliefs not to mention putting her in grave danger. This is by far one of the best 'thriller/mystery books I've read in a long time. I often find in a lot of the newer psychological thrillers that the women are often clingy, whiny, or manipulative creatures that I don't like. Thank goodness Kate Lange does not fall in any of these categories. She's a strong female character that I love. When I got close to the end I literally couldn't fall asleep until I finished it. This is a fantastic read and I have already started book 2 'Indefensible'. One hundred pages in and I'm loving it! Now I can see why so many of our customers love this series. Highly recommend. Amy McIsaac Goodreads February 2022
Review: While crime thrillers are not my typical genre, Damaged proved to be an exciting read with a satisfying ending. Callow well understands the importance of adding accurate details into the narrative, making the plot believable. Living near Halifax, it was fun and easy to imagine Kate in such a familiar setting. Definitely worth reading if you're looking for your next crime thriller! Erin O'Neill Goodreads March 2022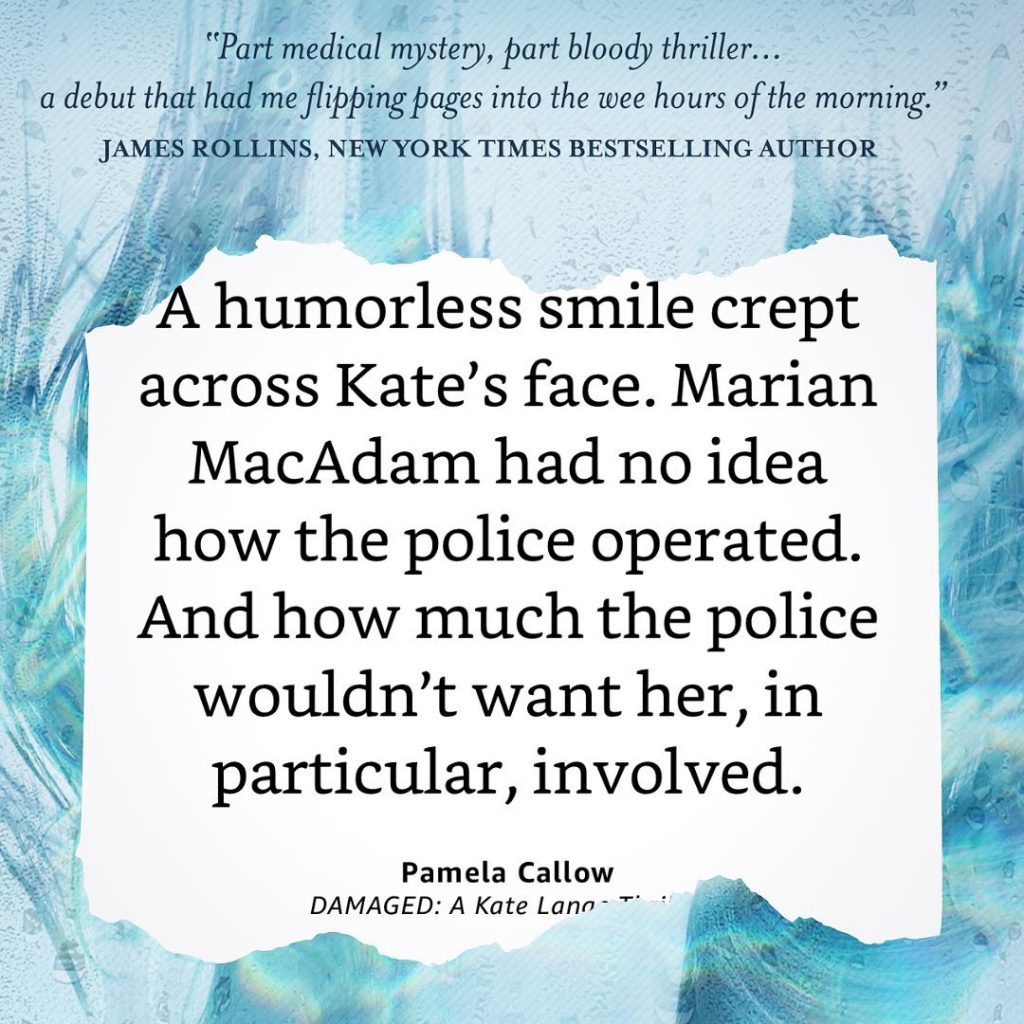 Indefensible
Lawyer Kate Lange takes on an unwinnable case in the second book of the bestselling legal thriller series.
When Elise Vanderzell plummets from her bedroom balcony one gorgeous summer night, her children awaken to a nightmare.
Their mother is dead.
Their father is charged with her murder.
Lawyer Kate Lange knows all about nightmares. She's survived the darkest period of her troubled life and the wounds are still raw. Now she's been handed a case that seems utterly unwinnable: defending her boss, high-profile lawyer Randall Barrett. A prosecutor's dream suspect, Randall is a man who was cuckolded by his ex-wife. A man who could not control his temper. A man who had argued bitterly with the victim the previous day in full view of his children.
With limited criminal law experience, Kate finds herself enmeshed in a family fractured by doubt. Randall's teenage son is intent on killing him. His daughter wants only to feel safe again. And the entire legal community would like nothing better than to see Randall receive a public comeuppance. As Kate races to stay a step ahead of the prosecution, a silent predator is waiting for the perfect time to deal the final blow.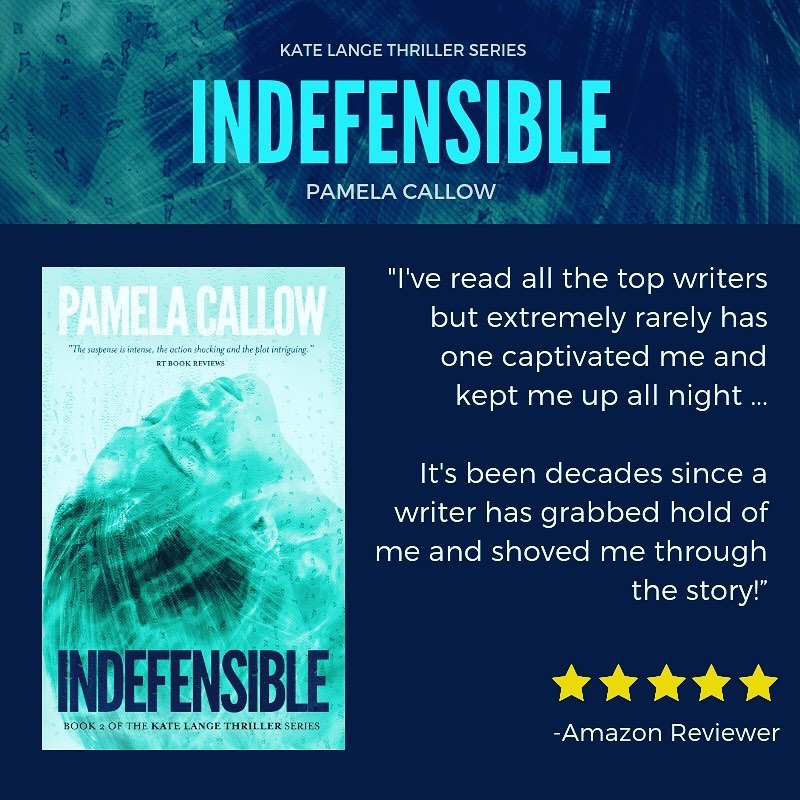 Review: The suspense/ psychological thriller 'Indefensible' by Pamela Callow was the perfect follow-up novel to Damaged.
Do you know what the best thing is about starting such a great series late in the game??? It's the ability to finish the first book in the series and then read the next one right afterward, back to back, with no waiting in between. Callow's first book was set in May and this one starts over the Natal Day long weekend. (It makes me giddy to say Natal Day weekend- a Nova Scotia holiday, which would be Mid-summer for those of you not in the know.)
I really enjoyed reading the continuation of Kate Lange's story, seeing what was happening next in her life, how she was healing and progressing in her job, and her home renovations. I liked revisiting old characters and being introduced to new ones. It was also refreshing to read a completely different story than the first, with twists and unexpected turns that kept me interested in the story until the very end. I am also super pleased to know that Callow currently has two more books published in her Kate Lange series which definitely equals binge reading for me. Sue Slade Goodreads February 2022
Review: Staff Read #6
I couldn't wait to start book 2-Indefensible in Pamela Callow's 'Kate Lange' series. We had just finished book 1-Damaged, as a staff read when it was unanimously decided that we just HAD to read the next one in the series'Indefensible'. And it didn't disappoint!
With the introduction of a couple of new characters, Kate is drawn into yet another delicate case and I once again found myself totally absorbed. I love all the characters, especially her elderly neighbours whom Kate has come to rely on, and the new lawyer with who Kate partners towards the end. I hope we see him and Kate team up in the next book. I am loving this series so much that I ordered all four books, (that's all that's out so far) so that I can share them with my sisters and staff. I highly recommended this series! Amy McIsaac February 2022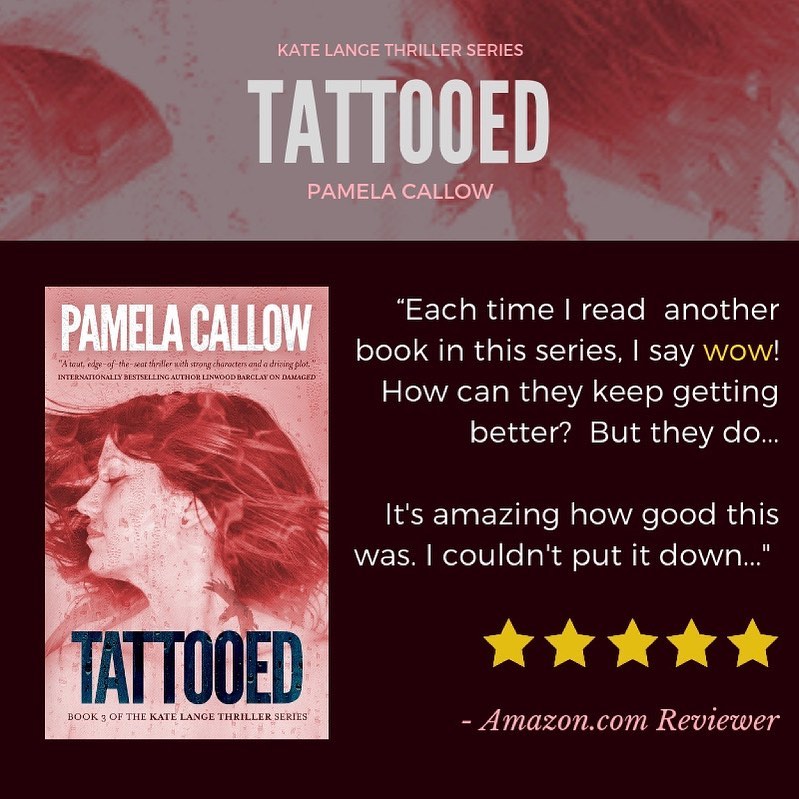 Tattooed
The discovery of a bog body could crack a cold case that has haunted the city – and unravel the darkest secrets of Kate's oldest foe in the third installment of the Kate Lange thriller series.
She is obsessed with tattoos.
He is obsessed with her.
When a body is found on the outskirts of Halifax, rumors run wild about the victim's identity. But tattoo artist Kenzie Sloane knows exactly who she is. They share a tattoo… and a decade-old secret.
Lawyer Kate Lange remembers Kenzie Sloane. The former wild child was part of the same crowd that attracted her little sister, Imogen, before her death. Now Kenzie needs her help. And Kate needs answers.
But there are others who know about the tattoo and its history. And one of them is watching Kenzie's every move, waiting for the perfect moment to fulfill a dark promise that had been inked in her skin.
"The vibration of the V8 engine dug pleasantly deep into his bones as he drove across the bridge and headed to Cole Harbour, Fifteen minutes later, he turned down Bissett Road…and drove to the turnoff for Rainbow Haven Beach."- Page 28 Tattooed by Pamela Callow

Right before he turned on Bissett Road he passed right by Dartmouth Book Exchange.
Review: Tattooed by Pamela Callow is the 3rd book in her Kate Lange series, and the 3rd I've read in as many weeks. I'm very much looking forward to starting the 4th book tonight.
I'm really enjoying these fast-paced Thrillers, which are set in Halifax, Nova Scotia just across the bridge from where I live. In this novel, one of the villains did take a side trip to Rainbow Haven, which is located close to where I reside, which was incredibly neat to read. But with Callow's characters being so realistic and well written, I ask that the murders be kept on that side of the bridge; I'd like to sleep at night. Sue Slade Goodreads February 2022
Review: Staff Read #7-Pamela Callow's 'Tattooed' book 3 in her Kate Lange series.After reading the first two books in the series I couldn't wait to read book three-Tattooed. This time Kate finds herself taking on the social issue of the day, medically assisted suicide for a client, and gets embroiled in a decade-old murder with ties to her late sister Imogen. As Kate is forced to remember her late sister's involvement with the people who are trying to kill her and bring these people to justice, she ends up face to face with the killers. With the characters I've come to love in her previous books and a climax that you can't put down, I once again thoroughly enjoyed this read. Can't wait to read her next instalment-Exploited! Amy McIsaac Goodreads March 2022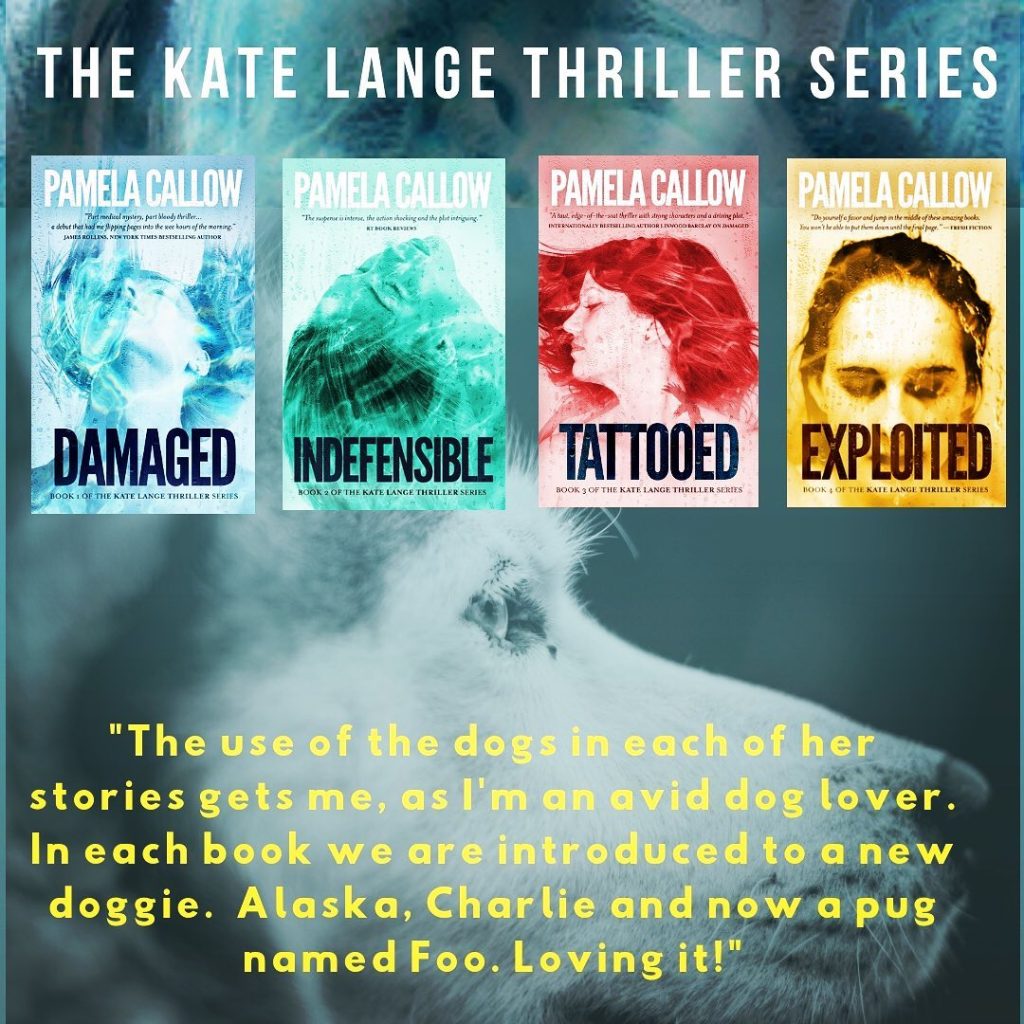 Exploited
What if the face of justice belongs to… the accused?

When Kate Lange is hired to defend an unconscious woman shot while committing a puzzling crime, she is stunned to discover that the gunman is none other than Parliament's own golden boy, Harry Owen.

What if the face of the victim belongs to…us all?

As Kate pieces together the case, the lines between guilty and innocent become blurred–while a devious cyber mastermind puts the finishing touches on an explosive plan.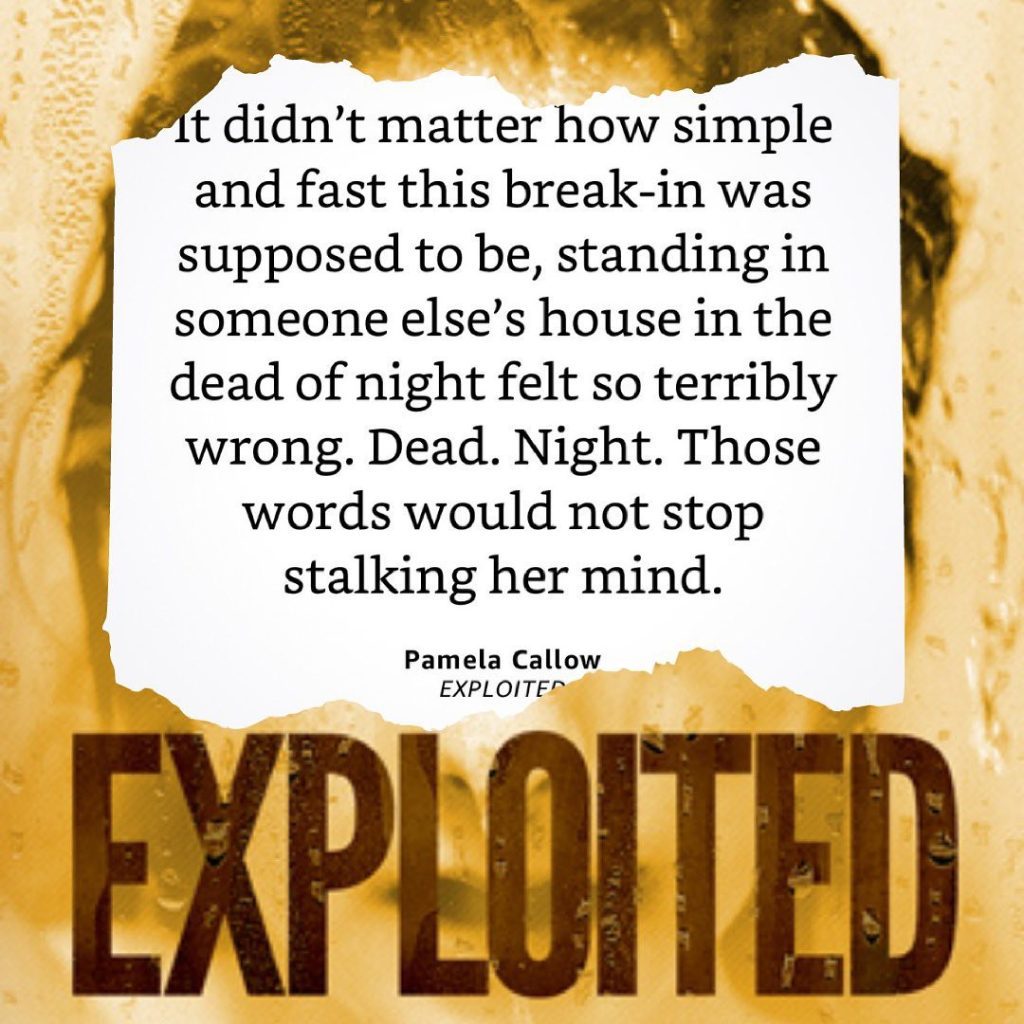 Review: I read all 4 in the Kate Lange series in less than a month and I am pleased to say that each one of them was completely different, with the perfect amount of suspense and intrigue. I am now at loose ends, as I have to wait along with the rest of Pamela Callow's fans for her 5th installment. I am very much looking forward to seeing what will happen next in Kate Lange's professional and personal life. Sue Slade Goodreads March 2022
Review: Staff Read #8-Kate Lange Series-Exploited
This was the 4th book in the Kate Lange series and my absolute favorite so far. I really enjoyed the plot of this one. I was so pleased to see Kate and Eddie teaming up and Kate's relationship with Randall progressing. For me, this story played out exactly like my favorite espionage movies, with an exciting and fast-paced ending. Ms. Callow did it again! Now sadly I have to wait until the next Kate Lange is published. Absolutely loved this one! 5 plus stars Amy McIsaac Goodreads March 2022