Feb - 03
2018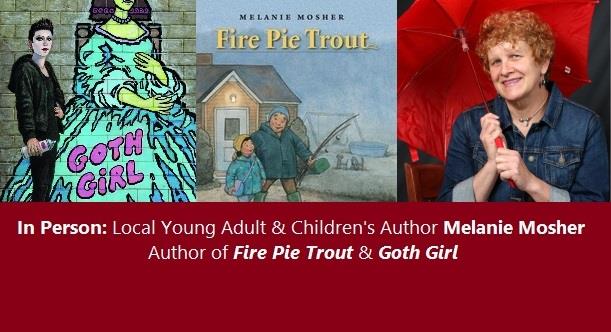 In Person: Local Young Adult & Children's Author Melanie Mosher
In one week we welcome: Local Young Adult & Children's Author Melanie Mosher Author of Goth Girl and Fire Pie Trout. She will here Saturday, February 10th from 1:00pm to 4:00pm to talk about, sign & sell her books.
We look forward to seeing you for our very first special event here at Dartmouth Book Exchange. Bring in your children to meet, speak & question Melanie and maybe to inspire dreams of becoming a Local Author one day.
Check our our events page on Facebook.
Goth Girl, ages 12-15- There's one thing that really irks fifteen year old Vic Markham–the way people judge her based on her appearance. And now she's stuck with a bunch of delinquents doing a crappy mural just because she got nabbed doing illegal graffiti. At least there's Zach, a handsome rich guy, who seems to catch Vic's interest. Will Zach help Goth Girl find her way, or lead her down a path of destruction?
Fire Pie Trout, age 5 and up- Grace loves being with her gramps, but there are things she is not so sure of: the dark; scary movies; trying new things she has never tried before. So when Gramps takes her fishing on a dark, foggy morning, she has her doubts — lots of them. How can she tell Gramps she's not as keen on adventure as he is without spoiling their time together? Some bemused assurance from Gramps and a timely flash of creativity from Grace solve the problem and prove once and for all that no one is too young to go fishing or to face new challenges. Fire Pie Trout brings the warmth of a special family relationship and the excitement of growing just a little bigger to the darkest, foggiest of mornings.