Dec - 12
2021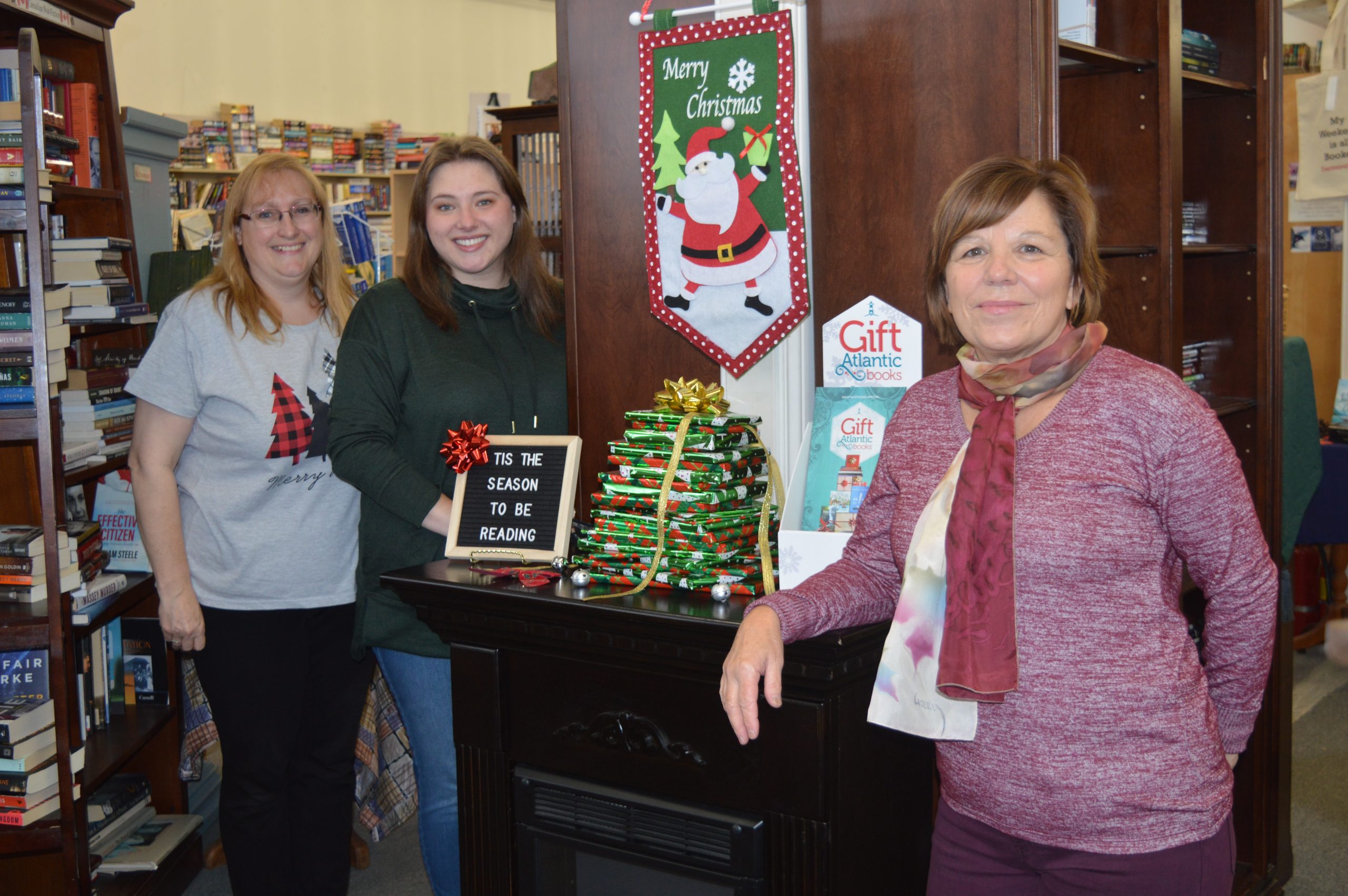 Dartmouth Book Exchange- 2021 in review
As the year is winding down we would like to take this opportunity to thank each and every one of you who supported us throughout another unprecedented year. Without you, our loyal customers, we would not have made it through.
Wishing you all Happy Holidays Amy, Sue & Erin.
Dartmouth Book Exchange- 2021 in review
In February, because of restrictions, our 2nd annual I Read Canadian event needed to be moved online. So, instead of celebrating for just one day, we decided to celebrate all week. I'm pleased to say our event was a huge success. We had 35 readings totaling over 3 hours of reading time. 12 Authors participated and 14 friends took part, honouring 16 more Canadian authors. 32 books were read from and we even had 2 readings done in french!!!
Where we held this event online more people were able to participate. We had readings submitted from all over the province and even as far away as Calgary. Next year we plan to keep the online part of this event. Every young Canadian should have access to Canadian books.
On February 24 we held our first Locally Authored Book Club meeting. We started out with only a few members but continued to grow and after 9 meetings, we have had 5 guest authors and read & reviewed dozens of locally Authored books.
*Our Book Club aims to promote local authors, their books, and the writing of reviews.
In June we teamed up with OC Publishing and in the celebration of the Mi'kmaw language and culture, we gave away 14 copies of Nɨsqnanamuksit Sqolj – The Purple Frog written by Angela Jeffreys, translated into Mi'kmaw by Dr. Bernie Francis. To get their free copy, customers had to tell the staff person working: "I Love The Purple Frog".
In July, on our Website, we showcased a selection of local books that could be joined up with a day trip to different parts of the province to accompany that book; including Piper, Two Crows Sorrow, & King of Keji. From picture to middle-grade books, to novels, trip ideas for all age groups.
On August 1st we co-hosted a very successful and well-attended book event with Ronan O'Driscoll and his book Poor Farm at the Cole Harbour Heritage Farm Museum. 30 people attended the event, including Ronan's writer's group; the Tufts Cove Writer's Collective. During the event, the Rose Tea Room sold lots of delicious cookies, brownies, and lemonade. Ronan read some choice selections from his book and he answered several questions from attendees. The event was enjoyed by all.
In August we celebrated the 3rd Annual Bookstore Romance Day and we became a signature store for a couple of our local Romance Authors.
Michelle Helliwell did a limited print run of her Prequel to her Enchanted Tales series No Place for a Lady and they are available only at Dartmouth Book Exchange! This is the first time this gender-flipped Rapunzel historical romance has been available in print!
New York Times Bestselling Romance author Donna Alward, a huge supporter of our store, donated a stack of books for a give-away for Bookstore Romance Day and in late October, Dartmouth Book Exchange became her signature store as well. We now carry her complete Jewell Cove series and her Darling, VT series in Trade Paperback, signed. We are so excited that we are the only store to carry these novels in that format!!!
Still Moments Magazine donated another generously filled Romance Book gift basket that was also drawn for on Bookstore Romance Day.

In December, we teamed up with Atlantic Books Today to promote #GiftAtlantic #ReadAtlantic and the books in their Gift Atlantic Books catalogue. They made a cute video of Sue's top 5 picks from the catalogue and together we wrote up a feature story on altanticbooks.ca about these picks, and what was on the top of Sue's TBR pile. https://atlanticbooks.ca/stories/dartmouth-book-exchanges-top-5-from-atlantic-books-giftatlantic-collection/

We continue to do weekly spotlights on local authors and their books. This year we gave away more than 50 books promoting more than 40 authors! As well, our locally Authored book collection has grown, almost doubling!!! . In 2020 we carried books published by 5 local publishers; Nimbus & Vagrant Press, Acorn, Moose House, Nevermore & OC Publishing. In 2021 we've added books published by Somewhat Grumpy Press, Moose House, Bradan Press, Goose Lane Editions, Engen Books, Pottersfield Press & WindyWood Publishing. Let's not forget that we now have even more self-published books as well.
We hope to continue to make more community connections in the New Year and we thank you for your continued support of the store.