Aug - 14
2023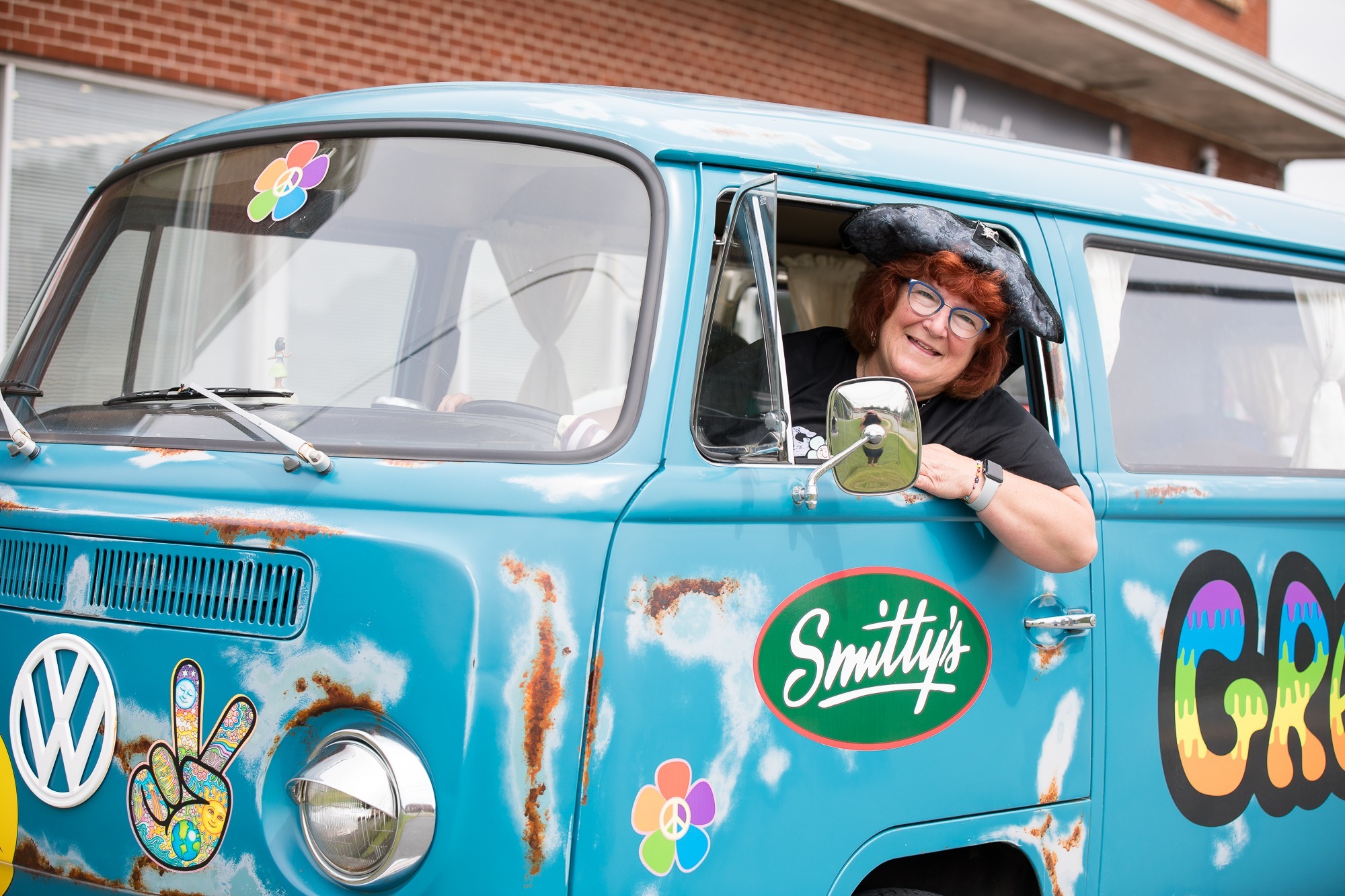 Cool Vibes Only were had at our Hippie Pirate event with Lana Shupe
A GROOVY and RAD time was had by all at our Hippie Pirate event at the store Sunday, August 13th. Heather and Ernie from Smitty's Dartmouth brought their Waffle Wagon Volkswagon Camper Bus and we had a blast taking pictures. Jen Robley, a friend and customer of the store, made us a Photo Booth, which meant even more fun pictures. The kids made peace sign necklaces and Lana read a selection of her book. Thanks to Warren Hoeg and Nicola Davison who showed up with their cameras in hand.
The Hippie Pirates is a brand new beginner chapter book set in Shelburne, Nova Scotia written by Lana Shupe, published by Running the Goat out of Newfoundland and illustrated by Caroline Clarke.
About the book: There are many things that Kent, Ryan, and Amy love about their somewhat eccentric hippie-pirate grandparents; best of all are their wonderful stories about travelling the world in search of hippie-pirate treasure. Central to all their stories is their beloved VW pirate ship bus, the SS Fiona. And now the three children are going to join in on a hippie-pirate adventure, and sail on the Fiona! Where will they go? Liverpool? Norway? New York? No. Three disappointed children learn their destination is Nova Scotia, their home province. But very quickly Kent, Ryan, and Amy come to realize that there's a lot more to "their own backyard" than they'd realized, and that the Fiona knows a trick or two as well. This time-travelling adventure, the first in a planned series, introduces young readers to some unique aspects of Canadian and Nova Scotian history, including the establishment of Birchtown and the plight of Black Loyalists.
"The hippie pirates loved wearing colours. But the most colourful thing about them was not their clothes, their gumdrops, or their pockets of treasures. The most colourful thing about the hippie pirates was their ship!"
― Lana Shupe, The Hippie Pirates
Review: Joining in on a Hippie Pirate Adventure is now at the top of my bucket list after reading Lana Shupe's upcoming release The Hippie Pirates. This fun and ridiculously cute chapter book is the first book in a proposed series of adventures with Kent, Ryan, Amy, and their Hippie Grandparents in their time-travelling VW pirate-ship camper bus, the SS Fiona.
Just like the beautifully illustrated cover, Shupe has a way with words that paints a vivid and detailed picture of the Hippie Pirate's adventures. I can almost envision the Queen "sitting in her library, cuddling her corgis, drinking tea, and reading Anne of Green Gables."
This adventure has the family travelling in their own backyard in Shelburne, Nova Scotia, where young readers learn a little about the neighbouring community of Birchtown. This book scratches the surface of the difficulties the Black Loyalists had establishing a community and finding work 240 years ago and is sure to raise not only awareness, but to invite questions about the plight of the Black Loyalists.
I am very much looking forward to their next adventure and will be packed and ready to go. I think Grandma and I would get along famously since I like the orange gumdrops best and I would always leave her the blue ones, pinky promise. Sue Slade Goodreads June 2023
Review: What a wonderfully sweet and fun book! These grandparents are the grooviest ones around and the grandfather reminded me of my own Dad and the adventures my son had when he was younger. While they didn't have a hippie pirate ship the message was the same. Love and making fun memories are anywhere you make it. The author integrates the history of the Black Loyalists and all the struggles they faced. It was an adventurous loveable read!! Jen Robley Goodreads, August 2023
Review: Simply opening this book brought me back to my younger days. The nostalgia of learning to read through chapter books, with short chapters, captivating words and a whimsical nature was exactly what I needed and it kept getting better.
The magic, the mayhem, the mystery of the unusual pirate ship and bizarre grandparents balanced this celebration of local Nova Scotian history and the treasures within our own backyard. An easy read, fast-paced wonderful adventure highlighting developed characters, a wonderful plot and the sweetness of family relations is simply fantastic!
Kent, Ryan and Amy have a delightful love for their grandparents, The Hippie Pirates themselves) and a typical sibling relationship between themselves. At 10, 8 and 6 years old, Shupe was able to beautifully capture their personalities while being so relatable and interesting. The perfect mix of reality, poignant lessons we all need to learn and fantasy we can all appreciate, I feel this is a great read for that reluctant boy reader and trust it is just the beginning of many fantastic adventures! Sarah Butland Goodreads, April 2023
"The hippie pirates were rather old and slightly stooped, but that didn't stop them from consulting their beloved maps and planning their next grand pirate voyage. They would always be young at heart; everyone said so."
― Lana Shupe, The Hippie Pirates
"As their eyes roamed around their grandparents' cottage, the children thought about the time when each had realized that not all grandparents were adventuring hippie pirates with cottages full of cool and unusual treasures."
― Lana Shupe, The Hippie Pirates