Jul - 02
2021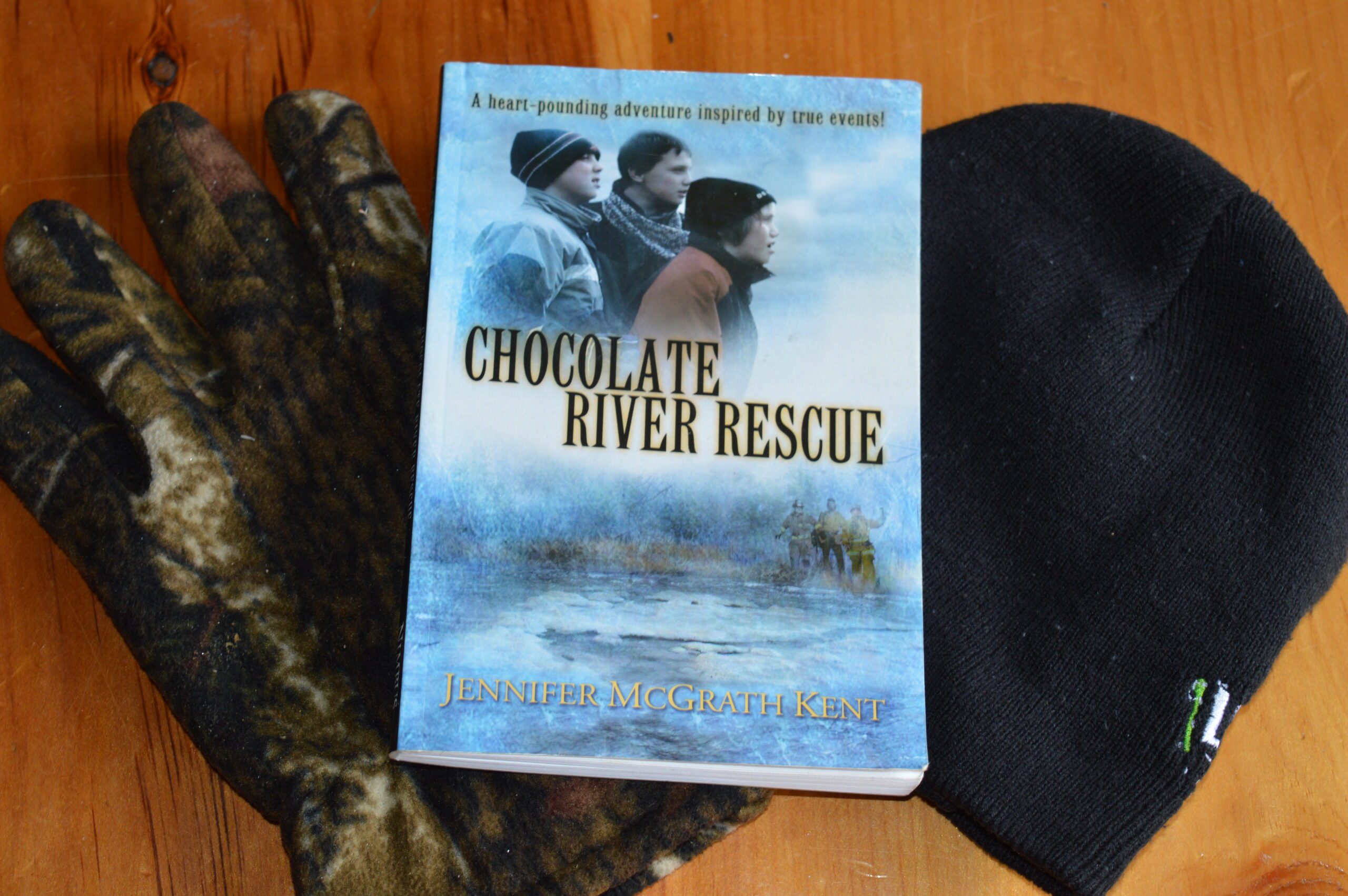 'Chocolate River Rescue' by Jennifer McGrath, published by Nimbus Publishing. Read the book, do a field trip, then make a treat.
"Get off of there, Craig!" shouted Shawn.
"I can't! I'm slipping!" wailed Craig.
Shawn leaped back onto the ice. He took a breath and jumped over the widening crack, grabbing his little brother by the coat as he flew through the air. Both boys fell heavily to the ice on the other side.
The boys stared in horror as the crack widened to reveal an eddy of churning, foaming brown water.
Shawn Mahoney and Tony Steeves, both ten, and Shawn's younger brother, Craig, eight, are trapped on an ice floe and speeding down Chocolate River. They are quickly spotted by a passerby, who calls 911 and sets the police and fire departments in motion. What ensues is a complicated and dangerous rescue mission. The water is moving fast, and it will be terribly difficult to intercept the boys at the right point on the river. If they float all the way out to sea, they could be lost forever.
My favourite quote "My Mom's book club is coming over today. It's like having a whole herd of librarians in your living room." Pg 5 Chocolate River Rescue by Jennifer McGrath.
Review: An amazing fast-paced, sit on the edge of your seat, suspenseful rescue. I couldn't put the book down until it was finished.
All set to make some homemade trail mix with my son after reading this. Sue Slade Goodreads June 2021.
Read the book, do a field trip, then make a treat.
"It's trail mix.", said Petra, in a low voice. "Peanuts, raisins, dried fruit, and granola, a few chocolate chips. It's a good energy booster. I know it's not much." Petra sounded apologetic. "But it might help them fight off the cold a bit better." Pg 74 Chocolate River Rescue by Jennifer McGrath.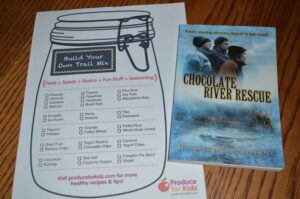 https://healthyfamilyproject.com/build-your-own-trail-mix/
https://www.eatingbirdfood.com/healthy-trail-mix-recipes/
https://www.chelseasmessyapron.com/trail-mix/
https://www.fivehearthome.com/trail-mix-recipe/
Review: Chocolate River Rescue is a fast, exciting geronimo down a well-greased water slide. The story deals with the adventures of Tony, Craig, Shawn and Petra as they try to escape from an ice floe that is being dragged out to the open sea by the fierce tidal current of the Petitcodiac River. The book is based on a true story and is a real page-turner. From the first chapter onwards the reader will find themselves caught up in a breathless adventure that begs to be read at a single go.
Yours in storytelling, Steve Vernon Goodreads December 2009
Great news! There is another adventure with Shawn, Petra, Craig, Tony, and Hobart in White Cave Escape.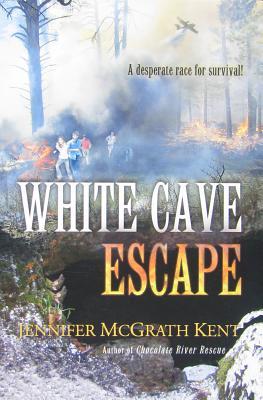 A summer hike in the New Brunswick woods turns into a nightmare when Shawn and his friends find themselves trapped by a raging forest fire. Now their only chance for survival may be the legendary White Caves…but can they find them in time? Join Shawn, Petra, Craig, Tony, and Hobart the dog–the heroes of Chocolate River Rescue–in their newest wilderness adventure!
Review: White Cave Escape brings back the characters of the author's Chocolate River Rescue and throws them into the mouth of danger once again. I found it started a little stiffly but once we were firmly in the middle of being lost in a quarry/cave in the middle of a raging forest fire I was a happy reader. Definitely a good yarn for young boys and girls alike.
Yours in storytelling, Steve Vernon Goodreads December 2009
Jennifer McGrath is a professional writer and award­winning children's author from Moncton, New Brunswick. Her two Middle-Grade adventure books, Chocolate River Rescue and White Cave Escape are popular with teachers and students alike. Jennifer is known for her enthusiastic storytelling style, her fascination with fairytales, and her fondness for sparkly things. She loves animals (especially dogs and ponies), the outdoors, and curling up in front of the fire with a good book.