Aug - 22
2018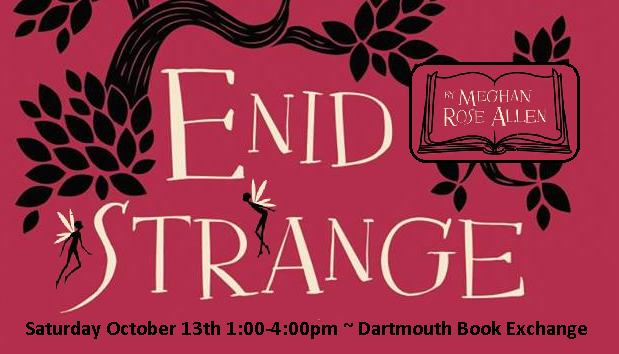 Children's Author Meghan Rose Allen's Enid Strange
Please Welcome Meghan Rose Allen author of the recently published Enid Strange, a middle grade magical/ fantasy chapter book for ages 10-13, October 13th from 1-3pm. A resident of Sackville New Brunswick, Enid Strange is Meghan's first novel and we are excited to host an event at Dartmouth Book Exchange providing an opportunity for our community to come and meet this up and coming new author.
Enid has never fit in with kids her age. They don't speak the way she does, and they never get accused of cheating by teachers who refuse to believe Enid, and not an adult, writes at such an adult level. They're not like Enid at all. And they also can't see the faeries. They don't know how the faeries interfere with peoples' lives – not the way Enid and her mother do. So, Enid is writing a book on how to see the faeries. But she doesn't know if she can get it written before the faeries completely ruin her life. If only she can trap one …
​Enid Strange is a hilarious story told from the point of view of an eleven-year-old girl who, encouraged by her mother, believes faeries are real.
Meghan will be signing copies of her book, which will be available for purchase from her- cash only.