Aug - 11
2020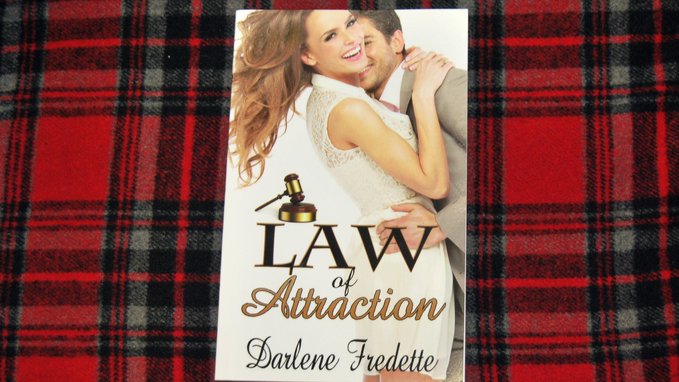 "Author Spotlight and Book Give-a-ways" with Local Author Darlene Fredette
We have 2 books that we are giving away this week by local Contemporary Romance Author Darlene Fredette as part of our Bookstore Romance Day Celebrations. Please see our Facebook page for give-a-way details
The First book is Law Of Attraction:
Lawyer Christina Crawford has a successful career and stable financial future, but is it enough? Her world is disrupted when a routine divorce case means working with a man she never expected—or wanted—to see again. During their first meeting, she can't deny a connection still exists. Her head warns her to run, but her heart yearns to stay.
Steven Mitchell is ruthless in the court room, but outside those doors, his easy charm, good looks and unlimited stream of female companions gives him an unscrupulous reputation. Six years ago Christina saw beyond his façade, but the emotions she evoked scared him and he pushed her away. Now he wants a second chance and he is determined to get her back…even if he has to play dirty.
The second is an eBook give-a-way on the August 3st release of His Candy Christmas:
It's going to take more than a few pieces of chocolate to fill this Scrooge's heart with Christmas cheer. Luckily Candy has a whole shop full.
Who knew returning home would contain a cool nip in the air, irresistible chocolate, and a Santa suit?
Candice Cane is not proud of the way she acted after her last encounter with Jackson Frost. Sure revenge was fun, but now Jackson is angry and looking for answers, and standing on the welcome mat in her chocolate shop. Now he's after some revenge of his own.
Jackson returned to his small hometown for one reason and one reason only. So, he's not sure how he ended up in a Santa suit in the middle of a chocolate shop, at the behest of its beautiful owner, instead of high-tailing it back to the city as fast as he can.