Mar - 02
2023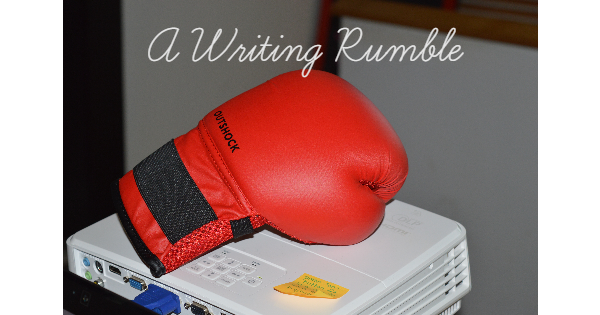 A Writing Rumble
Dartmouth Book Exchange was so pleased to support our local authors during their Tuesday night Writing Rumble Fun-raiser at the Propeller Brewery in Halifax! Organized by the Writer's Federation of Nova Scotia, it was a fundraiser to raise money for writers' residency programs at their newly acquired Jampolis Cottage, a place for writers to get away and focus on their work.
What is a Writing Rumble? Two teams of authors were created. The first team, called Coming of Rage, was comprised of six young adult authors. They were pitted against six adult fiction authors called the Draft Dodgers. Writers from each team went head to head, writing a chain short story.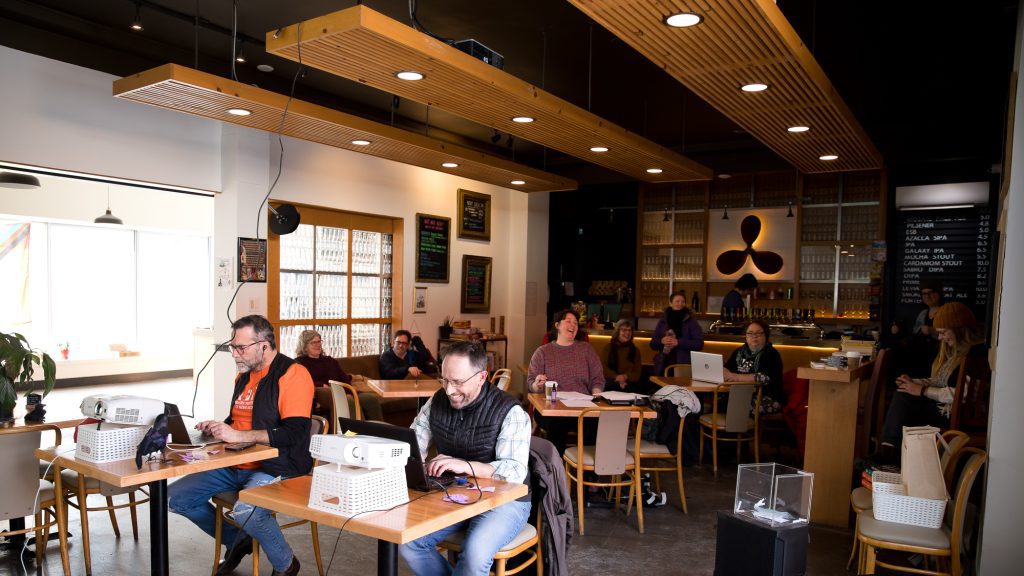 Both stories had to be a nature thriller, where no one escapes entirely unscathed and they had to begin somewhere outdoors. Each author was to write 300 words and had 45 minutes in which to write. Sound easy? Now comes the fun part. While the authors were writing their stories, spectators could buy a "Writing Prompt". These prompts ranged in difficulty and were priced accordingly. For example- I purchased a $5- prompt and got: High-Speed Chase. I gave it to Ronan "Rodzilla" O'Driscoll while he was writing and he had to include it in his part of the story. This was another great idea to raise extra money. Spectators such as I, could buy as many writing prompts as we wanted and give them to any current Rumbler.
***Note: More of the writing prompts that were used during the event are listed at the end of this blog.
In the weeks leading up to the event, authors encouraged their followers on social media to sponsor them. The back-and-forth banter between authors on their posts was so much fun to see. Jane "The Dominator" Doucet went so far as to promise her fans that she would wear a black leather corset and cowboy hat, both featured in her novel Fishnets & Fantasies, should she get $1,000 in sponsors. Dartmouth Book Exchange did not want to appear to favour any particular author, so we sponsored each member of both teams the same amount.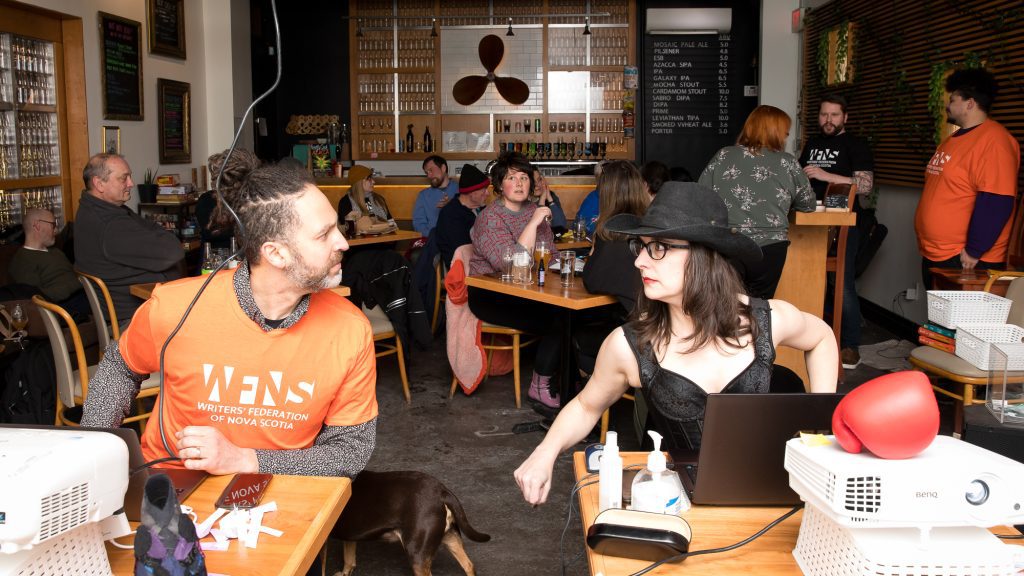 After both teams typed THE END, it was time to read the completed stories. Chad "The Impaler" Lucas read for Coming of Rage and Ronan "Rodzilla" O'Driscoll read for The Draft Dodgers. Whitney Moran then asked for the audience to vote for the winning story with applause. The story written by "Coming of Rage" won for the evening.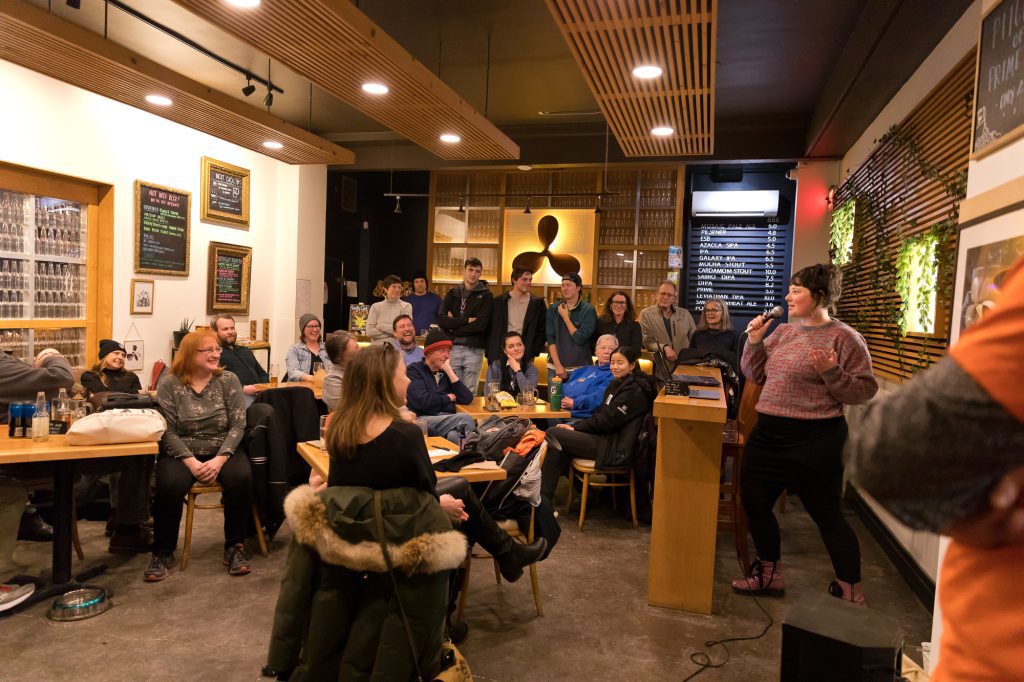 By the end of the night, the Writing Rumble succeeded in raising $6,642.00. A very successful night! The night was described as a "sweaty, wonderful, wordy nerdy night".
The Teams
Team "The Draft Dodgers"
Stephens "Mayhem" Malone
KR "The Grammar Hammer" Byggdin
Michelle "Wrecking Ball" Wamboldt
Amy "Sucker Punch" Spurway
Ronan "Rodzilla" O'Driscoll
Jane "The Dominator" Doucet
Team "Coming of Rage"
Richard "Paper Tiger" Levangie
Nicola "Headshot" Davison
Melanie "The Sentencer" Mosher
Andre "The Infamous" Fenton
Natalie "Cobra Clutch" Corbett
Chad "The Impaler" Lucas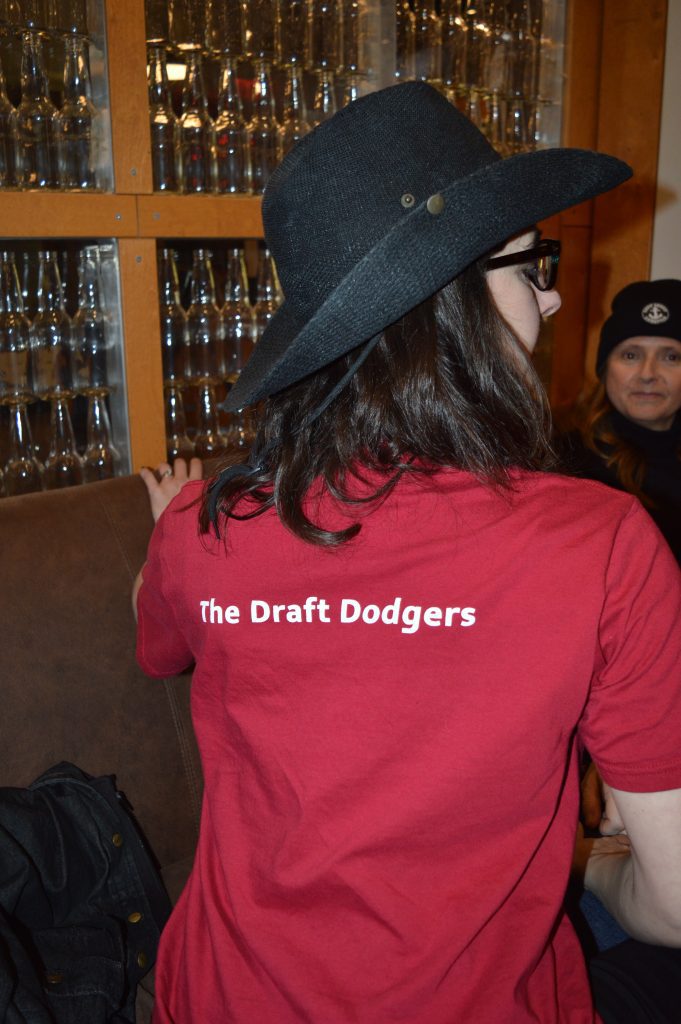 More "Writing Prompts":
-Copious amounts of cheese are eaten
-There's an election
-Use the phrase "A fate worse than death"
-A character must kiss a frog
-Use the phrase "It's an uphill battle"
-A character realizes they're wearing mismatched socks
-An underground search
-A scent wafts
-Lightening strikes
-The phone rings in the middle of the night
-A secret message arrives
-Use the word "ferret"
-A sasquatch is spotted in the distance
-A window opens
-Use the phrase "A blast from the past"
-Suddenly, the sky goes dark
-A character imagines what their childhood hero is doing today
-Use the phrase "a new lease on life"
-A drastic outfit change
These are some of the amazing graphics used by the authors to promote the event