Feb - 10
2023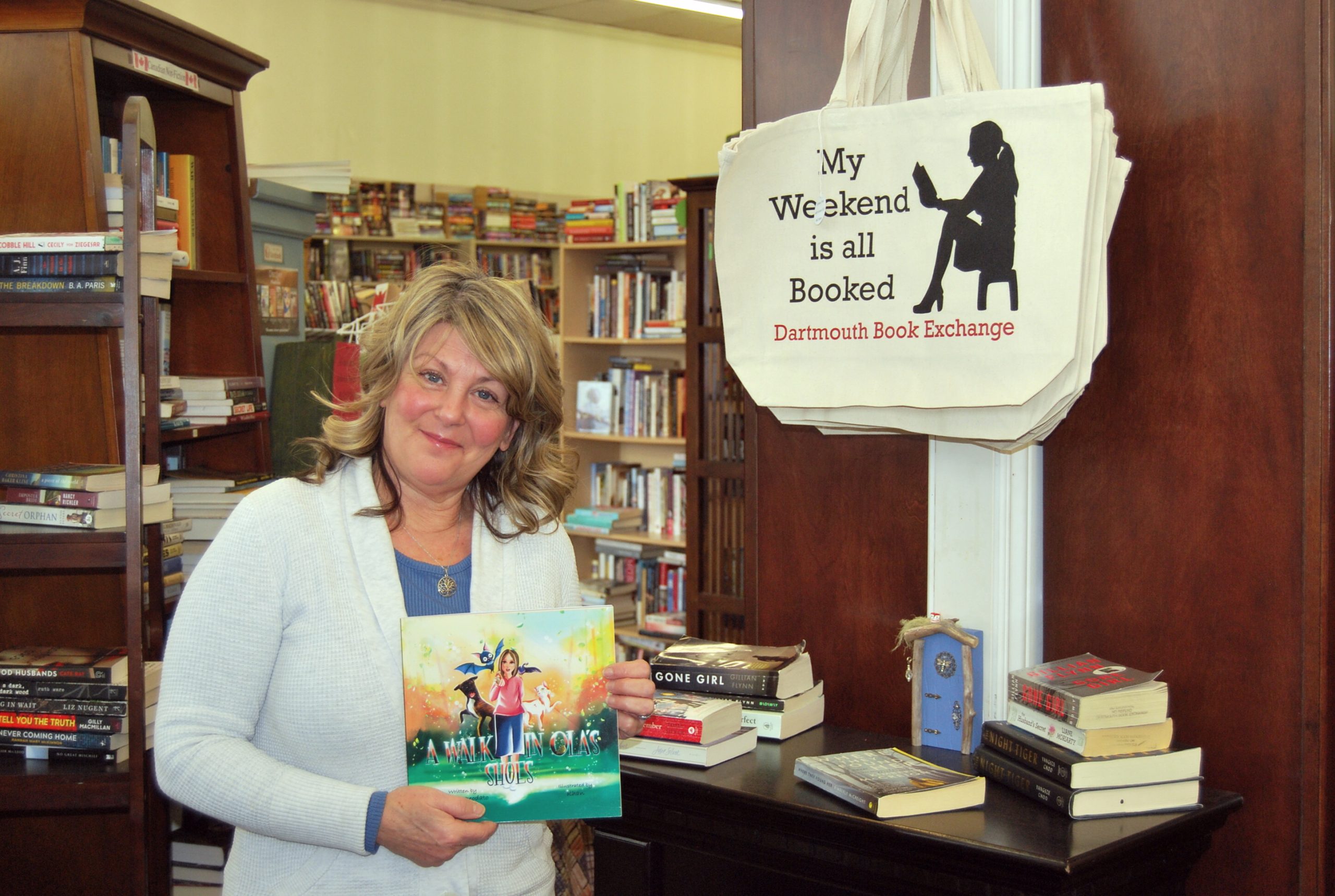 A Walk In Ola's Shoes by Victoria Deodato and the 4th Brookhouse Girl Guide Troop
On Thursday, February 9th, Dartmouth Book Exchange had the pleasure of hosting 8 amazing Guides from the 4th Brookhouse Girl Guide troop, their leaders, and local author and teacher Victoria Deodato, who wrote the picture book: A Walk In Ola's Shoes.
First, a little bit about the book. A Walk in Ola's Shoes, written in verse was released on November 24th, 2022. This is Victoria's first self-published picture book and the main character, Ola, is based on her daughter. The illustrations, done by Khan, were constructed on real people in Victoria and Ola's lives, there are some pictured at the end of the book. Another interesting tidbit, in the book Ola is ten and a half years old and the Guides that took part in this event were all within a year of this age.
From the time Ola was little, her parents would say, "Our Ola will change the world one day."

Ola has always had an overwhelming desire to help animals. From injured bats to stray cats, her love of all creatures knows no bounds. Even simple family strolls can turn into rescue missions, and her beloved dog, Gordy, is always by her side.

When Ola and Gordy spot a Grand Opening Party, they decide to take part in the celebration. Before they know it, a thousand balloons are released into the air. Ola, ever the optimist, sees it as the perfect opportunity to teach her community about the impact balloons have on the environment. Will the crowd listen when she begins to speak?

A Walk in Ola's Shoes was written to inspire children to follow their passions and stand up for what is right. With relatable characters, colourful illustrations, and lyrical rhymes, this story will inspire its readers to change the world and create a brighter future.
Below are the 3 badges the Guides were working on during our event:
Local Communities: Connect with the people, places, and things that surround you. Discover how your communities work, and find your own place and space within them.
By coming out to visit the Dartmouth Book Exchange and attending our author event, the Guides learned about how a community comes together to support a newly self-published author and that they also have an Independent Bookstore in their community that not only supports local authors but is a welcoming space.
Gender Power: Explore girl empowerment and feminism, and discover the power in being who you are. Learn about the barriers girls and women face, whether at school, work, or in your community and build the skills you need to tear them down!
During this event, the Guides met, spoke to, and asked questions of an amazing, strong woman from their community who has followed her passion and written a wonderfully inspiring story for young people. They may have also taken note that the owner and the manager of the Dartmouth Book Exchange are both women, who run a successful independent local business that brings community and books together.
Our Shared Planet: Investigate how humans fit into Earth's environment and find ways to be a good neighbour to all living things. Learn about how people in the past and present have cared for the planet as you brainstorm what you can do to build the Earth a better future.
With the theme of Victoria's book about a young person stepping up to help take care of the world around them, we are presenting a world of possibilities for each Guide to explore for how they can lend a hand, or inspire change.
Victoria Deodato being first and foremost a teacher has developed an activity booklet to go along with her picture book which the Girl Guides completed at the end of the night. Here are some examples of her 8-page activity book which you can get free by e-mailing Victoria at vdeodato.author@gmail.com.
At the end of Victoria's book is a little bit about the organization Balloons Blow. "Balloons Blow provides information to educate people about the destructive effects released balloons have on animals, people, and the environment, and strives to inspire and promote an eco-conscious lifestyle." Go to https://balloonsblow.org/ to find out more.