Aug - 21
2023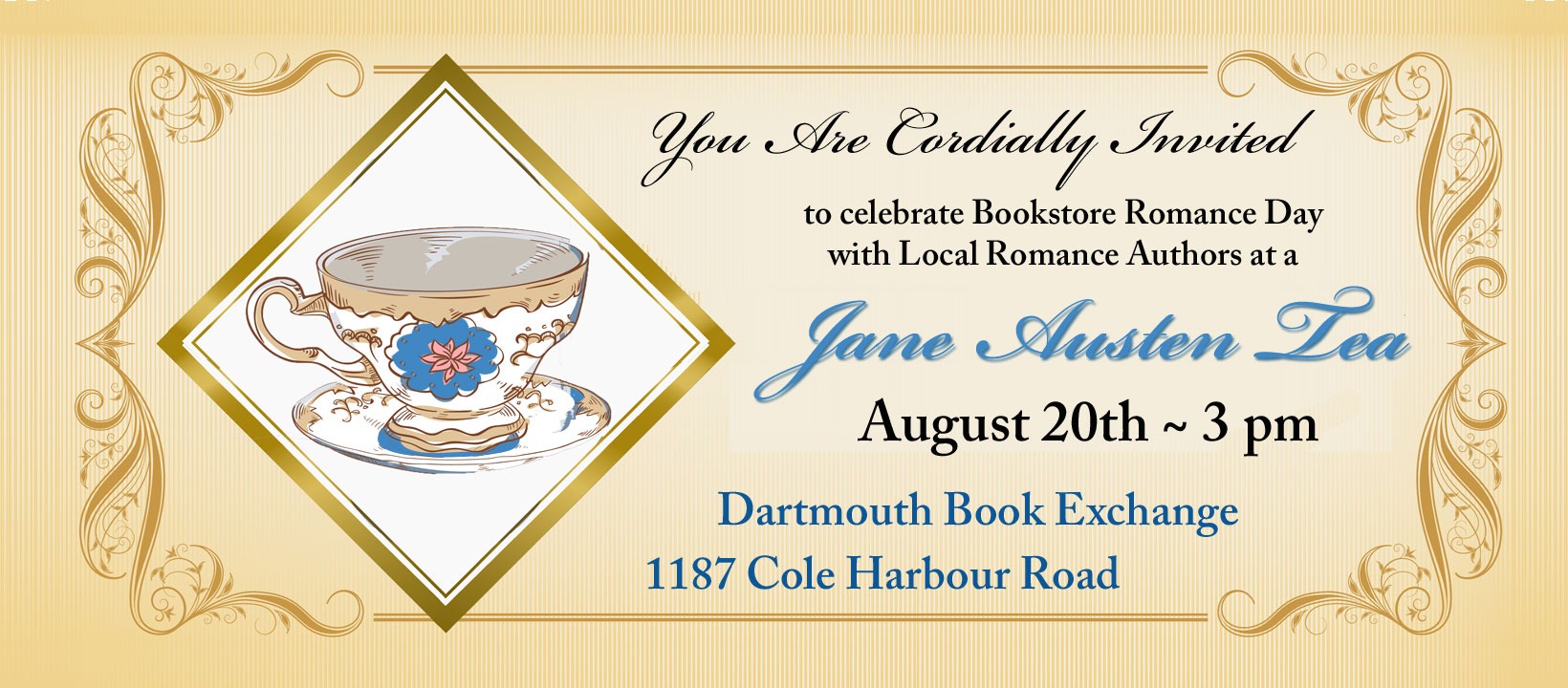 A Jane Austen Tea for the 5th Annual Bookstore Romance Day
We had a wonderful afternoon sipping tea, eating sweets, and listening to 6 local romance authors read from and discuss their books at our Jane Austen Tea in celebration of the 5th Annual Bookstore Romance Day! In attendance were Deborah Hale, Donna Alward, Cathryn Fox, Nicole Bea, Kelly Boyce, and Michelle Helliwell, along with 22 Romance Fiction Fans. Bookstore Romance Day is a day designed to give bookstores the opportunity to celebrate Romance Fiction, its books, readers, and writers, and is held on the 3rd weekend in August each year.
A little bit about the tea: Today we served Jane Austen's Sense & Sensibility tea which is Lavender Cream Earl Grey Black Tea made by NovelTea. NovelTea is a female-owned, mother-in-law and daughter-in-law team, based out of Truro, so we are women supporting women. We currently carry 12 different types of NovelTea, see staff for details.
"If a book is well written, I always find it too short."
― Jane Austen, Sense and Sensibility
Jane Austen was born December 16th, 1775 (248 years ago), and was the 7th of 8 children, she had 6 brothers and one older sister. She received most of her education at home from various family members. Her Father Reverend George Austen had an excellent library and she started writing at the age of 12. They had a barn in which she and her siblings would put on plays. She also enjoyed charades, dancing, and embroidering. Her first published book was Sense and Sensibility (1811) at age 35 which she started when she was just 18 and finished her first version at 20 in 1795. Throughout her life, she went to unusual lengths to avoid public scrutiny and insisted all her novels be published anonymously. Published by a lady. Of her 6 books 4 were published while she was alive and Northanger Abbey and Persuasion were published under her name after her death. She died of Addison's disease on July 18th, 1817 at the age of 41, and is buried in Winchester Cathedral.
"The more I know of the world, the more I am convinced that I shall never see a man whom I can really love. I require so much!"
― Jane Austen, Sense and Sensibility
Each of the 6 authors spoke for about 15 minutes about the following:
A short introduction of themselves
Why do they write (Contemporary/Historical) romance and not some other genre?
Do they write better in the morning, afternoon, or evening?
Do they put pen to paper or fingers to keyboard?
Where do they prefer to write?
Do they read the same genre as they write or something different?
They talked about one of their books and if they had a future book in the works
Then they did a short reading
"I declare after all there is no enjoyment like reading! How much sooner one tires of anything than of a book! — When I have a house of my own, I shall be miserable if I have not an excellent library."
― Jane Austen, Pride and Prejudice
The results of the draws
Darcy Johns and Courtney MacNeil won the 2 $25- Gift Certificates courtesy of the Romance Writers of Atlantic Canada (RWAC). Jody Poole won the stack of new local romance books and swag in our online spotlight and Meaghan Cormier won the other bag with a ballot she earned by buying a romance book at the event. And everyone left with a signed Harlequin by Donna Alward.