Dec - 22
2022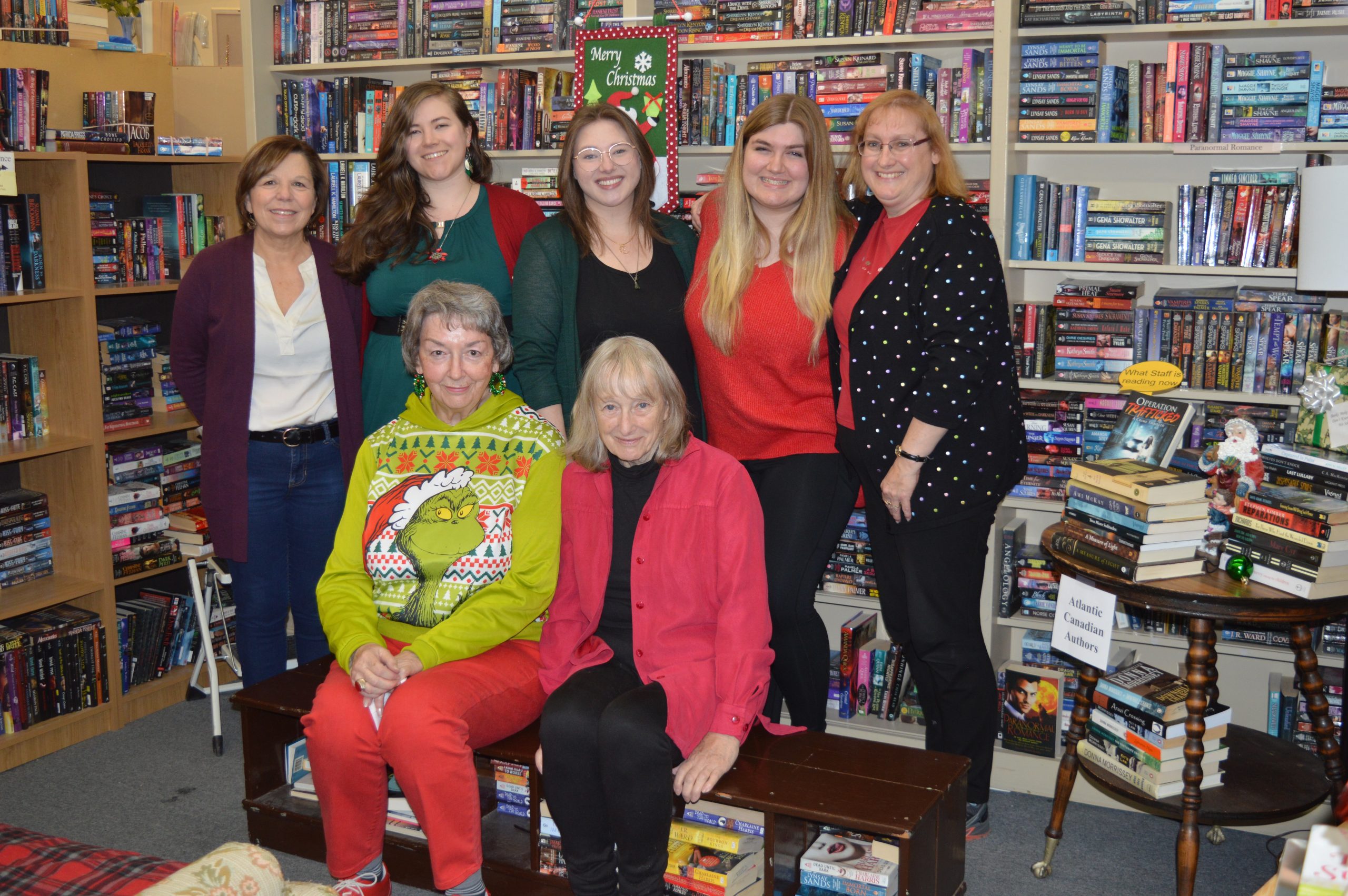 2022 Year-end Review
With less than two weeks left of the year, we would like to take this opportunity to thank each and every one of you who have supported us throughout another unprecedented year. Without you, our loyal customers, we would not have made it through.
Wishing you all Happy Holidays Amy, Sue, Erin, Kiara, and Sophia.
Dartmouth Book Exchange- 2022 in review
First, did you notice in the introduction that we have gained 2 more staff this year? Kiara joined the team, first as a volunteer in February and then as a part-time staff in July. Then, Sophia, another part-timer joined our team in September. With their much-needed help, we have finally managed to make a dent in the mountain of books coming into the store. Welcome to the team, guys. You may have also noticed that we now have a 3rd computer at our credit intake station for the extra staff on shift.
In January we started a "Staff Book Club" or "Staff Reads". The first book we did was Ami McKay's 'The Witches of New York'. We invited our customers to read it along with us and we had a couple of them join the challenge. Most of the books selected this year have been written by local authors in a variety of genres. Currently, the staff are reading 'This is it, Lark Harnish', by Laura Best. This is our 15th staff reads selection.
On February 2nd we held World Read Aloud Day with an Atlantic Canadian Twist Event online. We had 15 readings submitted. Videos came to us from all over Nova Scotia and as far away as Calgary! We had 9 authors do readings, 6 of them read from their own books. Customers, volunteers, and of course staff shared readings from local books that they enjoyed. We are in the process of planning this event again for Wednesday, February 1st, 2023, on #WorldReadAloudDay and maybe doing a combination of online and in-person readings.
With the increase in good book donations to the store, Dartmouth Book Exchange has increased the number of Little Free Libraries it's able to fill. This year we filled 52 different LFLs around the province, and several were filled on a regular basis. We love discovering new LFLs to fill and we keep an album on Facebook of all the ones we have visited along with their addresses so that anyone who is interested in visiting can do so. We also keep our blog up-to-date on new library locations.
In June we held our first in-person event at the store in over 2 years and we did it by celebrating #25YearsOfHarryPotterMagic. Sunday, June 26th 2022, marked 25 years since readers were first welcomed inside the halls of Hogwarts. The novel Harry Potter and the Philosopher's Stone, after being rejected 12 times, finally got published. This was a very well-attended event and we were quite pleased with the number of people who not only came to participate but dressed up as well.
In August we held our first-ever Romance Fiction Literary Salon celebrating the 4th annual Bookstore Romance Day with special guest authors; Michelle Helliwell, Cathryn Fox, and Tim Covell! The aim of the salon was to celebrate Romance fiction- its books, readers, and writers, which I must say, we succeeded in spades! What is a Literary Salon? It's a gathering of like-minded individuals that meet to discuss a particular literary theme, in this case, it was Romance Fiction. This immersive event was such a success that we plan to host more literary salons in 2023, perhaps even for other genres.
On Sunday, November 6th we had the pleasure of hosting Mary Janet MacDonald's Tunes & Wooden Spoons Live Show in the Avery Room at the Fairbanks Centre in Shubie Park. We had 45 people in attendance and the afternoon was described as an entertaining and first-rate Cape Breton Kitchen Party brought to Dartmouth!
If we have learned anything from the pandemic it's that we need to support each other in our community. In that spirit, we have joined forces with other like-minded businesses and venues to put on events. This summer we collaborated with the Cole Harbour Heritage Farm and Museum for the book launch of Vivien Gorham's middle-grade novel Spirit of Summerwood. We collaborated with Nimbus Publishing with the book launch of Jacqueline Halsey and Carrie Muller's The Terrible, Horrible, Smelly Beach at Fisherman's Cove. We also teamed up with Nimbus and the Halifax Public Libraries for the launches of Lesley's Crewe's Nosy Parker and the Honourable Mayann Francis' picture book One Summer on Whitney Pier.
Other items worth noting: In August, coming all the way from Calgary, we had the pleasure of hosting Lana Shupe of Atlantic Book Reviews and the book launch of her picture book, The Lonely Little Lighthouse. In September we hosted our very first wedding at the store! During the same week, we also joined Instagram. In October we hosted the first-ever Everwell Society meeting to discuss the latest exploits concerning a Captivated Caper, with Michelle Helliwell. In December, we teamed up with Atlantic Books Today to promote #GiftAtlantic #ReadAtlantic and the books in their Holiday Gift Guide. We promoted more than 100 local books on our Facebook page and Sue's top 5 picks from their Holiday Gift Guide were featured on the Atlantic Books Today website in an article they titled 'A Lark for Anne Fans'.
We continued to do week-long spotlights on local authors and their books. This year we gave away more than 50 books promoting more than 40 authors! Our locally authored book collection has also grown, almost doubling again this year!!! 
We hope to continue to make more community connections in the New Year and we thank you for your continued support of the store.