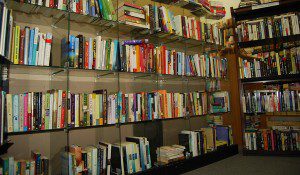 BOOK BUYING/BOOK CREDIT POLICY:
(Updated April 2nd- 2018)
Bringing in Books for Credit:
We give up to $1.50 in credit for current Mass Market Paperbacks, and up to $3.00 in credit for Trade Paperbacks (larger softcovers) and Hardcovers.
We check for condition, format and number of copies on hand. Generally we look for newer current books that are in very good condition (i.e. free of: rips, stains, cracked spines, water damage, mustiness, mildew or any bad odors). Please understand that we only take books we can use. This is a guideline and we may offer more or less for a book depending on its condition.
---
Using Your Book Credits:
When you are ready to purchase books you can apply up to fifty percent (50%) in book credits towards your purchase. For instance if your purchase comes to $50.00 before tax you can apply up to $25.00 in book credits. If you purchase $10.00 before tax you can apply up to $5.00 in book credits and so on. All unused book credits will be kept on file in our system to be used at another visit.
Book credits never expire and will remain on file in our system until fully used.
*Note: Some Local & Collectable Books may be exempt from Credit use
*Book Credits can only be used on Books. They cannot be used on baskets, bookmarks or tote bags. Blind Date books are already set a specialty rate and are also exempt from Credit use.
Bringing In Books To Sell:
The store owner handles all Cash Purchases of books. Please always call ahead before bringing books in for cash.
Shipping
We do ship books.
We charge a $5.00 processing/handling fee for shipments of under $100.00 plus actual costs for shipping.
For shipments of over $100.00 the processing/handling fee is waived. Actual shipping costs will still be added.
The processing/handling fee covers the cost of the shipping materials & packaging. (You will be asked for your Postal Code, so that we can get an actual shipping cost through Canada Post.)
Thank-you